Hello everyone! Revision week has come and gone and now it's officially exam time, which is two weeks long, in contrast to the three-week exam period in June. During this time everyone is a just generally a little bit more stressed than usual, the library is packed at all times and it can feel like there is no time for anything else but writing notes and doing past papers. Exams here are a lot earlier than at German universities, which means that all of my friends back home still have a few weeks to revise after Christmas while we're already in the middle of our exams.
As a Biomedical Science student, I have four modules, one of which was entirely assessed on tests during the semester. This leaves me with three final exams for the other three modules. For the past two weeks I have been focusing on my first and hardest exam, which is now finally done so I can relax a little bit! My next two exams are just 50% of the module, while the first one made up 70% of the module mark.
Second year actually only counts towards 35% of your degree, but I'm still trying for 1sts. A first is the top mark that you can get at an English university and it's a 70% and above. A 1st is followed by a 2:1, which is a 60% and normally the degree required to go on to do a master's degree, and after that is a 2:2, a standard pass, a fail is anything below 40%.
Revision at uni is really different to school as you have to be so much more independent. Time management and prioritising are definitely some of the most important skills I've learnt here so far. At Surrey there is always so much going on and so many friends in such close proximity, but somehow you have to keep up with your deadlines and exam revision. It's easy to lose a sense of structure, especially when there aren't any lectures so it's important to set yourself a timetable to be more productive. Personally I like getting up really early and going to the library when it's not that busy and then having either a part of the afternoon or the evening off to go to the gym or see friends!
During this time of second year, most students also have placement interviews to prepare for next to revising for exams, although many of my friends already got theirs at this point! I applied for a few international placements in research labs at partner universities and will have an interview for one of them just after exams.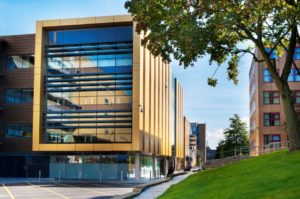 This is a picture of the library on campus, my second home during exam time!