Hi everyone!
All my exams and placement interviews are done and I'm back in Munich for reading week! When I wrote about the differences between German and UK universities, there were quite a few social aspects I left out I wanted to mention to you too.
One characteristic of British universities I really enjoy is the international environment. In general, there are so many more international students and lecturers here in the UK than in Germany, as the language obviously makes it a lot easier to come here. During my time here I have met people from so many different countries like France, Canada, Cyprus and India, just to name a few.
Extracurricular activities like sports teams and societies are a lot more established than at German universities. In addition, universities don't schedule lectures on Wednesday afternoons in order to make time for sports clubs, societies and language classes. This is amazing as I know that some of my friends back in Germany can't participate in the sport/activity they want to because their academic timetable gets in the way.
The societies and sport clubs are probably one of the biggest differences between UK and German universities, there are so many different groups and activities you can get involved in!
Campus in general is very different to German universities. In terms of accommodation, in Germany you can live in halls, but they are usually located a bit further away of the university itself. You might end up living with people in a completely different semester or even university, which, of course, can have many advantages as well. Most students, however, live in shared flats with typically 2-3 other students.
At Surrey, as an international student you're very likely to get student accommodation on campus in your first year. This is amazing because it makes moving abroad a lot easier and you already get to know a few people before lectures start. In first year I lived in a house of 14 and my housemates ended up becoming some of my closest friends and now in my second year I share a house with three girls I lived with last year.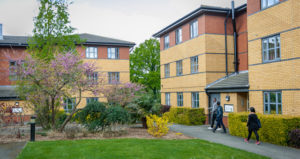 Here are some examples of student accommodation at Surrey, Manor Park on the left and Twyford Court on the right.
Lots of events are organised by the Student's Union, which represents the students and is led by a team of full time and student officers, who are elected by students. At Surrey, the Student's Union also organises weekend trips to places around the UK.
There is a fruit and vegetable market in the Union building every Thursday, which makes it so easy to cook healthily when living on campus! There are also lots of stands offering international food like paella or Greek souvlaki.
The nightclub Rubix on campus hosts events every week, which is a great way of socialising and meeting new people! Citrus on Wednesdays is typically for Socials of Sports Clubs, as matches are on that day too! Fridays often have a theme, like Halloween or Superheroes (be prepared for the fact that British students love their 'fancy dress'). Sometimes there are even acts like Example, Sigma or Jonas Blue!
Hope this will give you a better insight into student life in the UK!