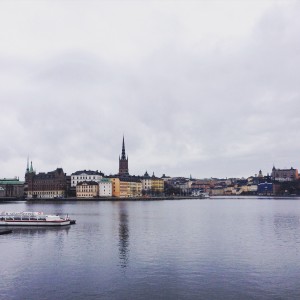 みなさん、こんにちは。今日はツーリズムのクラスメート3人と弾丸で行ってきたストックホルム週末旅行についてお話しします。Ryan AirとAirbnbを駆使した格安旅行でしたが、最高に楽しい時間を過ごすことができました。
ストックホルムに到着して最初に出会ったのは、空港のパスポートコントロール担当官の男性。とてもフレンドリーな方で、スウェーデンの印象が一気にポジティブなものになりました。エアポートリムジンに乗り、ストックホルム市内に到着。バスターミナルからアパートまで歩いていると、ちょうど近くに雰囲気の良いタパスのお店があったのでそこで昼食をとることにしました。一皿55クローナ(約4.5ポンド、約700円)のタパスを12品注文し、4人でシェアしました。そこで出会った女性の店員さんもまたとても暖かく、旅行前に抱いていたスウェーデンの人たちのイメージはいい意味で大きく覆されました。親切で、思ったよりずっとおおらかな人たちだと感じました。寒い国の人たちはどこか心も冷たいイメージがありましたが、そんなことは全くありませんでした。社会システムがしっかりしていて生活基盤が守られている安心感からか、何に対してもガツガツ感がありません。しかしそれでいて、南ヨーロッパのような「リラックスしすぎ感」はまったく無く、現実的でやるべきことはしっかりやり、仕事もきちんとこなします。バランスが取れていて、非常に理想的だと思いました。その後はアパートへ行き少し休憩をしてから、夜のストックホルムの街へ。バーに2軒行き、2時頃帰宅して就寝。
翌日の日曜日は9時頃起床し、街歩きへ出かけました。海辺を歩くと、空気があまりにも綺麗なことに驚きます。マイナス3度の世界は私たち(日本人、エジプト人、ギリシャ人)にとってはとても寒く感じられましたが、スウェーデン人にとっては暖かいのか、ランニングをしている人たちをそこかしこで見かけました。これはいつも思うことなのですが、寒い土地には寒い時期に、暑い土地には暑い時期に旅行するのが一番です。「その土地らしさ」を一番感じられるのは、まさにその時期だからです。そのままウォーキングを楽しみながら、15分程歩いて市庁舎へ。ここはノーベル賞の授賞式が行われる場所で、さすがの建造物。中庭の雰囲気も非常に荘厳で圧倒されました。その後はさらに歩いて旧市街を散策。建物の、カラフルだけれど暗くて淡い色合いが街の雰囲気にしっくりきていて、とても素敵な空間でした。
3時頃に市内を出て空港へ向かい、6時の飛行機でロンドンへ。とても短い旅行でしたが、十分満喫することができました。今回の旅行の大きな目的は、グループ課題に一緒に取り組むメンバーとの絆を深めることでした。ひたすらコミュニケーションをとり、価値観を共有し、時にはくだらない話をしながら、お互いのことをより深く知ることができました。またツーリズムの観点からも観光目的地(デスティネーション)を見ることができ、有意義な時間でした。例えばストックホルムの観光名所について、実際に行ったことがない人はどれほど知っているでしょうか。またストックホルムという場所に対するイメージを、人々はどれだけ持っているでしょうか。「行ってみたら良さがわかった」と言うことは簡単ですが、観光地をマネジメントする側としてはこれでは観光政策が成功しているとは言えません。観光地の魅力を的確に理解し、それを有効な手段を用いて旅行者に発信する必要があるのです。それを肌で実感したという点でも、今回の旅行は非常に意味のあるものでした。また機会を見つけて他のデスティネーションへも旅行したいと思っています。
---
Hello, everyone! Today I will talk about the weekend trip to Stockholm with my tourism course mates. It was a spontaneous trip with a relatively low budget by using Ryan Air and Airbnb, but it turned out to be spectacular.
The first person we met in Stockholm was the immigrant officer at the airport. He was very friendly and we enjoyed talking to him a lot. I believe all the pople we encounter during the trip are like ambassadors of the country, as we formulate the typical personality out of our communication with them. We took the airport limousine bus to the city and walked to the Airbnb. On the way to the apartment, we found a nice tapas restaurant and decided to stop by for lunch. A dish of tapas cost 55 SEK (4.5 GBP, 700 JPY) and we ordered 12 different plates. The lady at the restaurant was also extremely friendly and warm, which changed my image of Swedish people in a positive way. I had an image that they would be cold and unfriendly, possibly because of the gloomy weather. However, the image was totally wrong and I found Swedish people warm and open-minded. It might be because the social structure is well established and people are securely protected in many aspects. They are not stressed, but not too relaxed either; they know what to do and they do things just in the right way with the right amount of efforts. Their life style seems well balanced and I find it very ideal. After having a rest at the apartment, we went out for dinner and some drinks.
We started our Sunday with a nice walk by the sea, and we were surprised how many people were running in such a cold weather! We straggled with the temperature very much. However, I always prefer going to a cold destination when it is cold and a hot destination when it is hot, because this is the best way to experience the destination's unique characteristics. After walking for 15 minutes, we reached the "famous" city hall; this is where Nobel Banquet takes place after the ceremony of Nobel Prize. We were impressed by the magnificent building as well as its beautiful garden. Then we enjoyed strolling around Gamla Stan (old town) where we found a number of old colourful buildings.
It was such a short weekend trip but totally worth spending money and efforts. One of the main purposes of the trip was to strengthen the bond between the group members (we are in the same team for the group assignment). Throughout the weekend, we talked about various matters, shared our past experience, and most importantly, laughed a lot; we surely feel bonded much stronger than before. Finally, this trip was meaningful from a perspective of tourism studies. Stockholm is indeed a beautiful place to visit, but its destination image has not been developed well enough. What would you imagine when you hear the word "Stockholm"? How well do you know about the attractions in the city? To manage a tourism destination, they precisely need to know what the visitors expect and they must provide them with necessary information effectively. It was a great opportunity for us to experience it in the actual context. Needless to say, we have already started planning our next trip together!