こんにちは! テストも徐々に終わり、夏休みの雰囲気となってきたサリー大学。私も12日にテストを終えたばかりで、いまは帰国の準備に追われています。
そんな今日、日本に帰る前に、このブログでは、サリー大学のキャンパスを歩いて紹介していきたいなと思います。
Hello! I've just finished exams on 12th, and am now looking forward to going back to my country, Japan. Before leaving the UK, today, I will casually write about the campus with photos.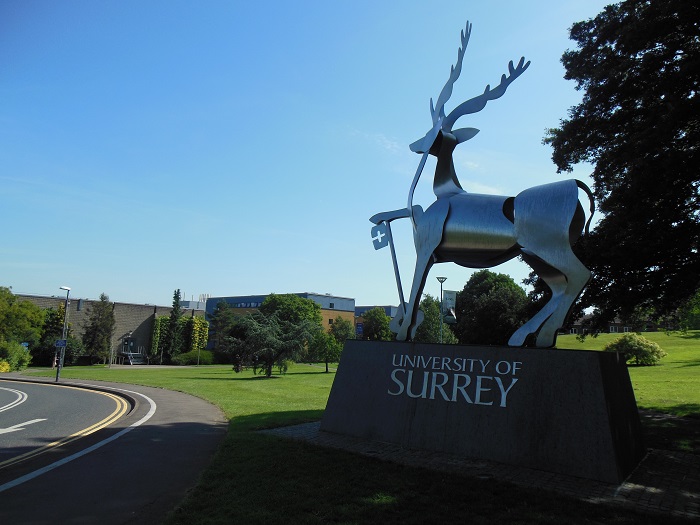 <photo 1>
こちらは、サリー大学の敷地へのメイン・エントランス。Stag(シカ)はサリー大学のシンボルです。ここはよく記念写真スポットになっています。
This (photo 1) is the main entrance of University of Surrey.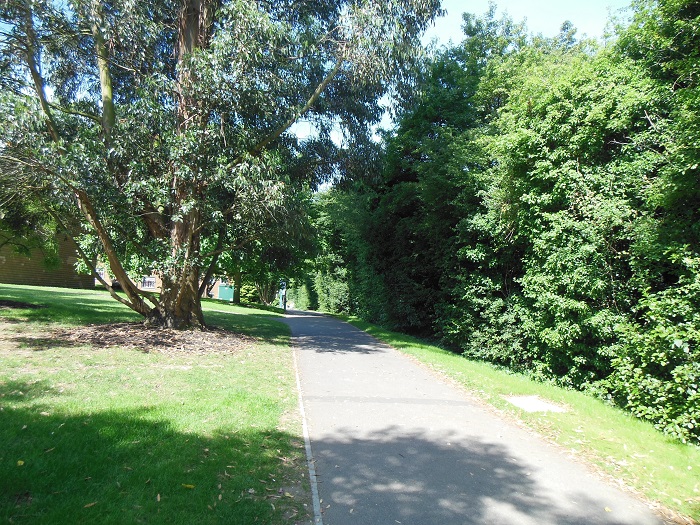 <photo 2>
さきほどの写真奥、横に伸びる道路を右のほうへと歩いていけば、こんな感じ。正確に書けば、こちらは振り返って撮った写真なので、方向は逆になっています。写真で言う後ろ側に歩いていっています。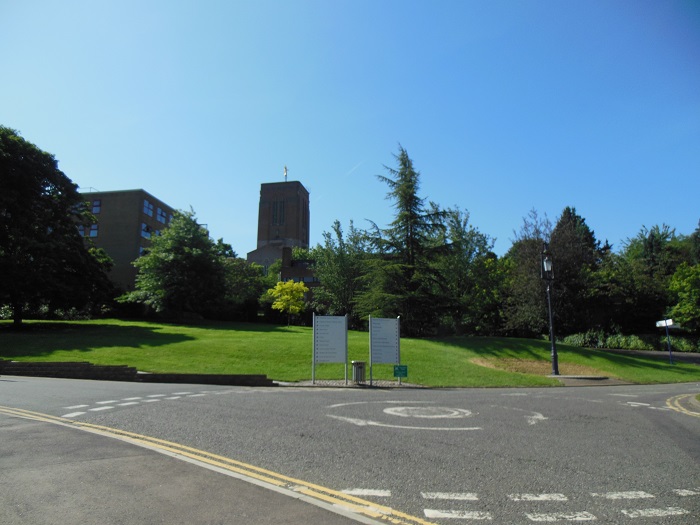 <photo 3>
ずっと歩いていくと、Teaching Block Building(TB)と図書館の間、開けた場所に。ギルフォード大聖堂が見えます。大聖堂の位置は、大学のすぐ南側、丘の上。日曜日には鐘の音が聴こえてきます。
Here is the place between TB and Library. There's Guildford Cathedral just next to the university area. You can hear the bell in the campus on Sunday.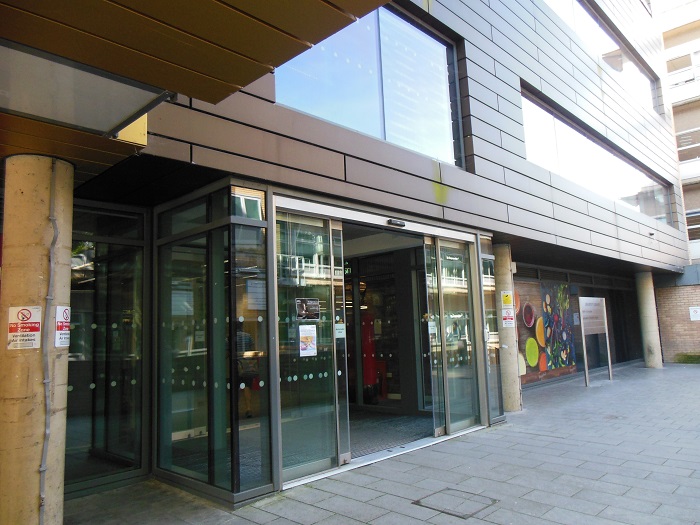 <photo 4>
写真は少し微妙なアングルになってしまいましたが、こちらが図書館の入り口。地上階には書店と食料雑貨店、オープンスペースがあり、図書館は1階から5階のスペースとなっています。ここの食料雑貨店には野菜からお菓子からヨーグルトからアルコール類まで様々なものが置いてあります。が、全体的に値段は高いです。また、大学内の郵便局もこの食料雑貨店のなかにあります。
The picture above shows the entrance of the library, although the angle of the photo may not be very nice (sorry!) There are book shop and grocery store on the ground floor, and the library itself is on the 1st to 5th floor. Everything in the grocery store is, to be honest, expensive, but the store is really necessary for student life with having water, snacks, yogurt, bread etc.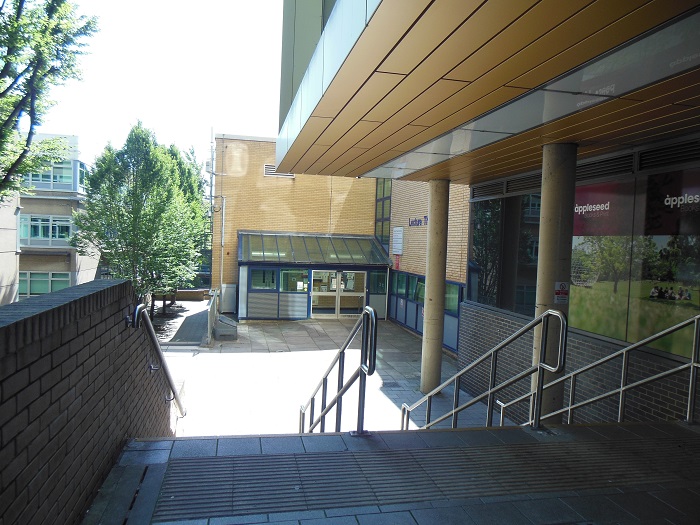 <photo 5>
そして、階段を降りて左側、キャンパスの北側のほうに行ったところがAP。広い大学内、公共のバスが敷地のなかを通っていて、バス停も幾つかあるのですが、ここがそのメインの発着場というイメージ。
Walk to the north part of the campus from here, and you will arrive at AP, main arrival place/bus stop on the campus.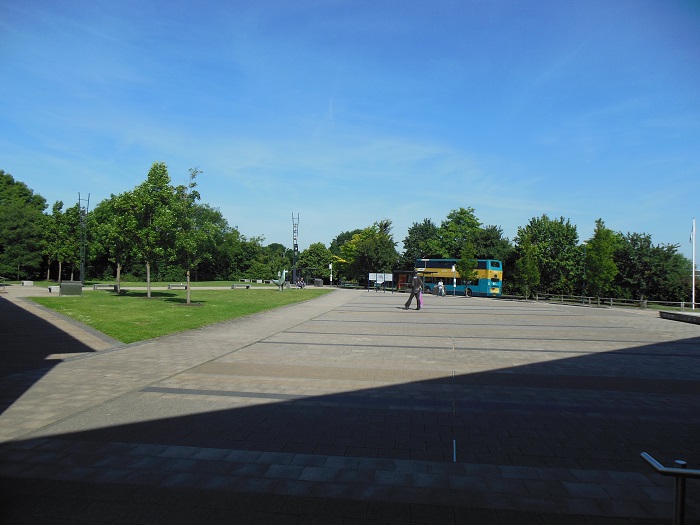 <photo 6>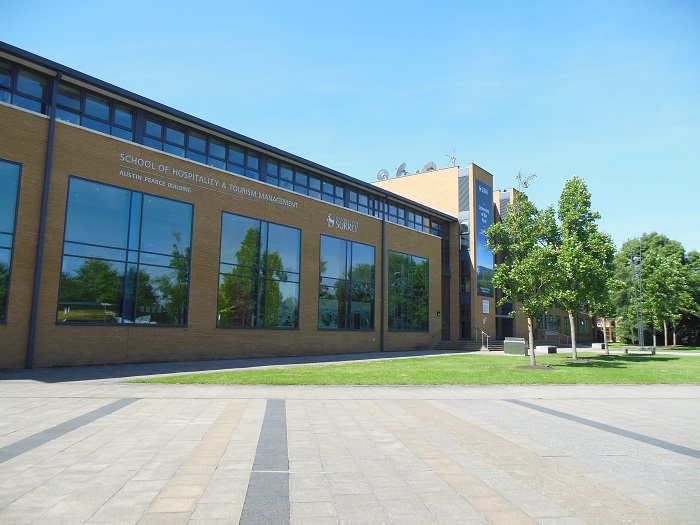 <photo 7>
このAP buildingには大きなレクチャーホールがあります。サリー大学内、レクチャーホールもセミナー型の水平な部屋も色々な場所にあるので、「この建物はこのためのもの」とはっきり言うのが難しいのですが、私もこの一年間、APでレクチャーやテストを受けたことはありました。
それから上の二枚の写真の最初のほう、真ん中あたりに見える銅像は、数学者、アラン・テューリング。下は別の日に撮った写真ですが、近くで見るとこんな感じです。等身大よりも大きいです。
The statue of Alan Turing is standing here.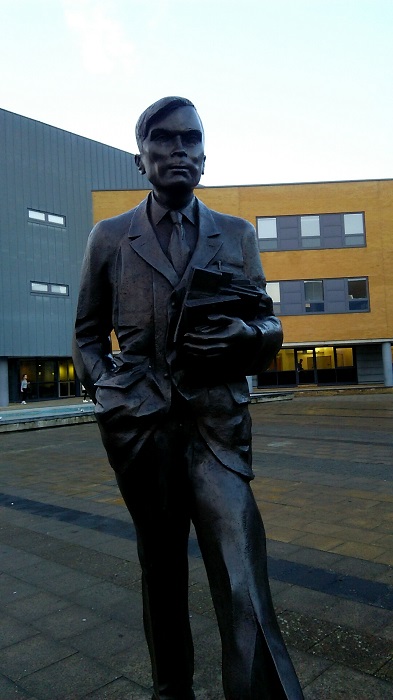 ここからまた南東のほうへ、写真右に見える建物はSenate Houseです。
Walk to south east from AP. The building in the right side in the photo is Senate House.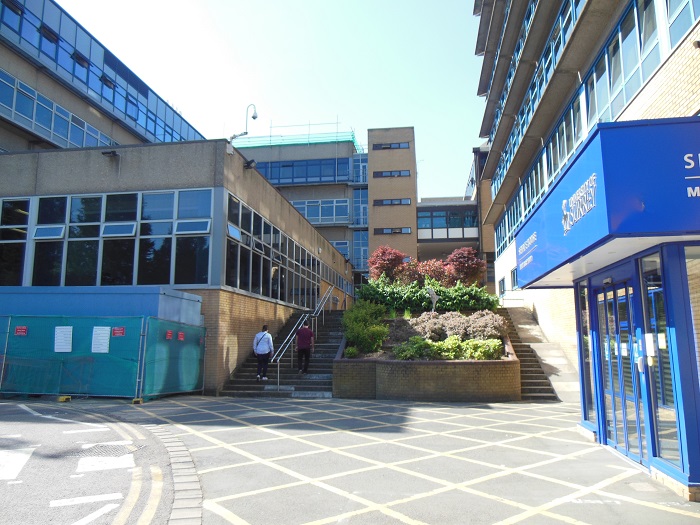 <photo 8>
階段をのぼり、左に曲がったところ、(写真はまた逆光の関係で振り返った写真になっていますが、)スターバックスがあります。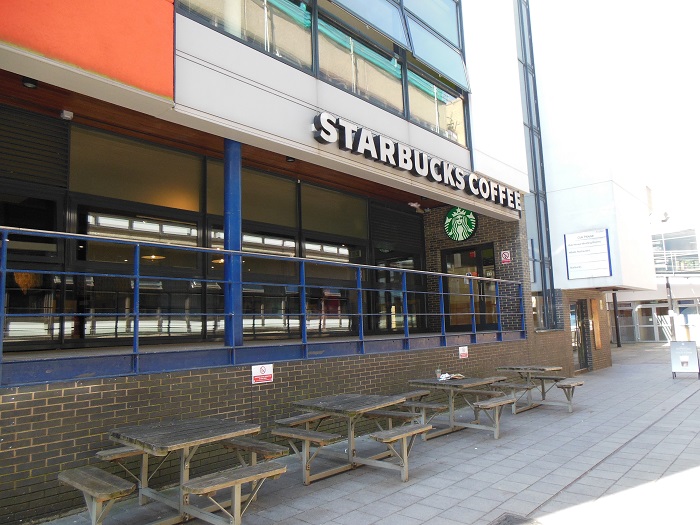 <photo 9>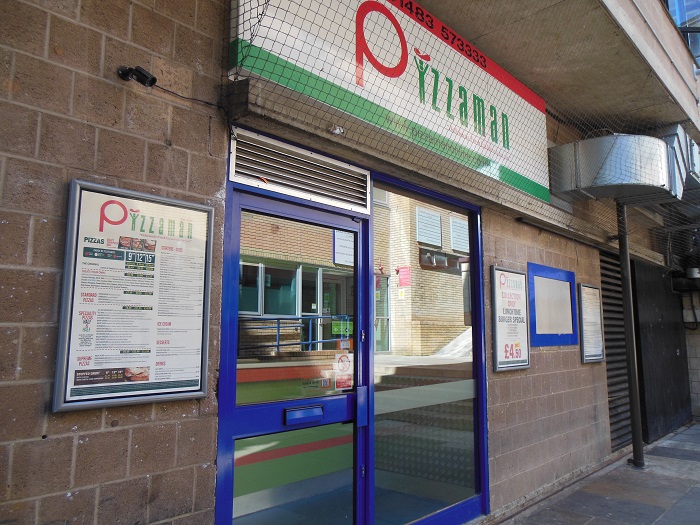 <photo 10>
そしてしばらく歩くと、こちらがDuke of Kent (DK) Buildingの横からの景色。先ほどから階段が多いように見えるかもしれませんが、アップダウンは実際に結構あります。キャンパス自体が「Stag Hill Campus」と呼ばれ、実際に丘の中腹に位置しています。
The picture below is beside the DK building. It seems there are so many stairs in this university, but actually yes, the campus is located on Stag Hill.
<photo 11>
ついでに、ここから右側に少し行くと、そこがキャンパスの敷地のもう一端になります。
If you walk down to the right side, here is the opposite of main entrance (the picture below).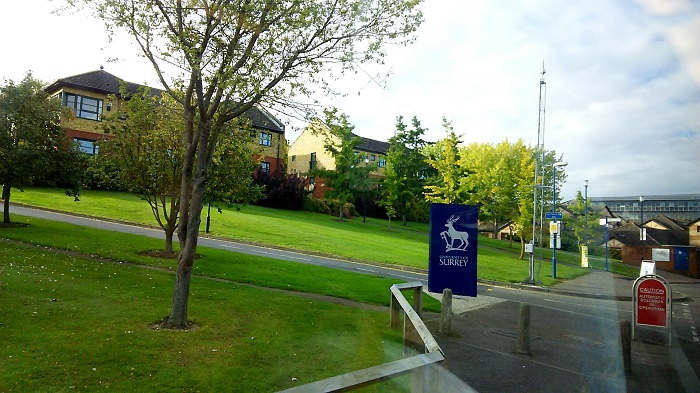 <photo 12>
DK Buildingの前まで戻り。ここから、さきほど見たSenate Houseの前まで、湖のエリアが広がっています。
Back to DK building, there is the large lake area in front of DK to Senate House.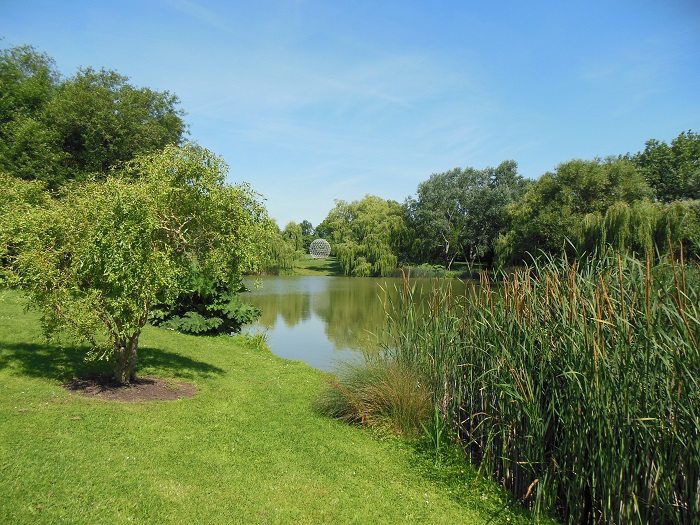 <photo 13>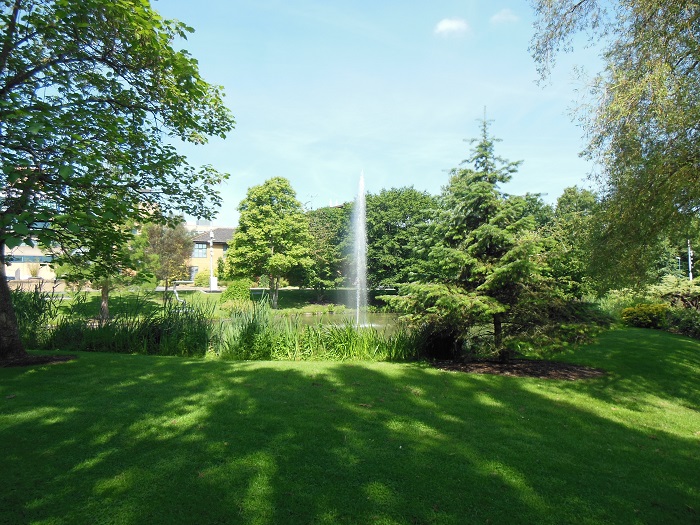 <photo 14>
と、すごく大雑把でしたが、以上、サリー大学のキャンパスでした! 紹介できなかった部分もたくさんあるので、これからのブログで少しずつ、書いていけたらいいなと思います。
There are so many things about campus that I could not include in this post, and I would like to write about these things in the future.