Our Open Days are coming up on 30th June and 1st July, so we'd like to build up as much conversation online as possible to get visitors and prospective students excited about the university and the event.
That's where you come in.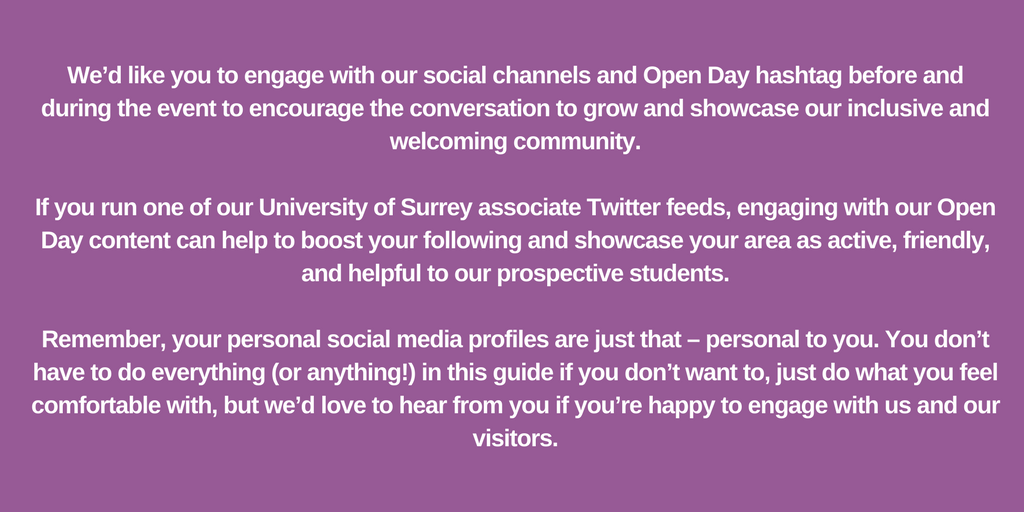 What you can do to help
Follow us!
Firstly, make sure you're following all our primary social media channels!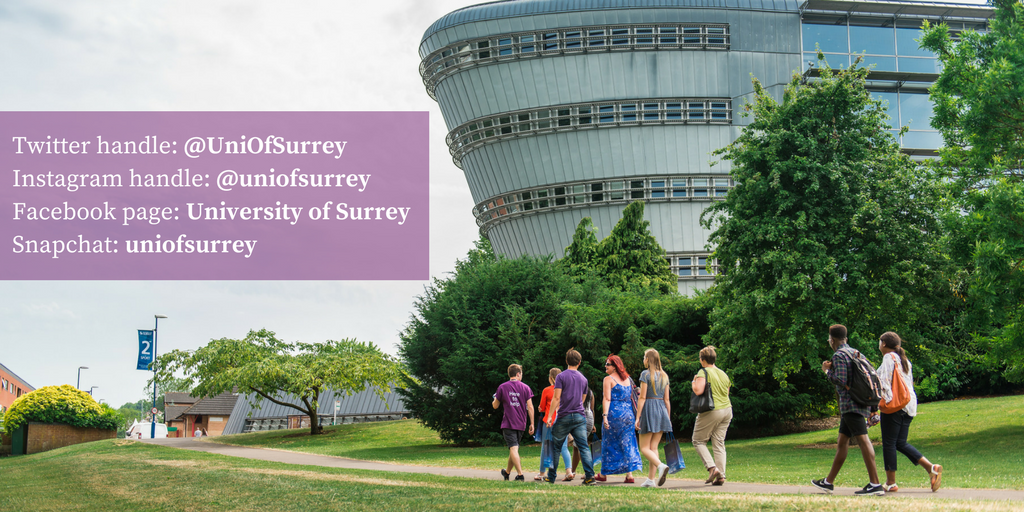 Use the hashtag!
Remember, use the hashtag #SurreyOpenDay if you want to join the conversation on Twitter or Instagram!
Share our content!
We'll be sending out a number of tweets and Instagram posts using the hashtag #SurreyOpenDay, as well as some posts on our Facebook page.
We encourage you to like these posts and share them with your own social networks.

Share your expertise!
It's great to receive personal advice from the people who know what they're talking about at the university, so here are a few ways you can share your expertise:
If you see someone on Twitter asking a question that you feel you can contribute to, feel free to reply
If you see something on our social channels that you feel you can add a positive comment to, please do!
If you use the hashtag, we'll be sure to see it and engage back!
Let people know where you are!
If you tag your location on Instagram stories it could get added to the Guildford story which will be visible to everybody in the local area
Show off your photography skills!
If you're attending one of our Open Days, please share your photos on Twitter and Instagram using the hashtag.
Help us promote our next event
We're holding our next set of Open Days in September and October and we've already started preparing!
If you've got any advice for visitors, or want to share your Surrey experience, please email e.chandler@surrey.ac.uk and she'll discuss how you can help us by giving us a quick quote, taking part in a short interview, or event creating a video vox pop!
What not to do
We're pretty sure you won't do any of these things, but just in case…
Please don't set up any new University of Surrey associated accounts, we've already got quite a few, so just use or engage with the ones we have.
If you're not sure whether something is appropriate to share, the best rule of thumb is probably not to share it!
Please don't share anything negative about the university, if you have any negative feedback the university is always open to receiving it, but it should go through the right channels.
How to deal with any negative comments online
Sometimes people use social media to vent about things that are annoying them or make them angry. Our community managers will be monitoring the University of Surrey channels and the hashtag, looking out for any negative comments to respond to, so you don't need to take any action.
If someone responds negatively to one of your posts, there are a few actions you can take, depending on the type of comment:
Respond to them in a calm and polite manner (ideally without our hashtag)
Ignore it
Block the sender
Top tips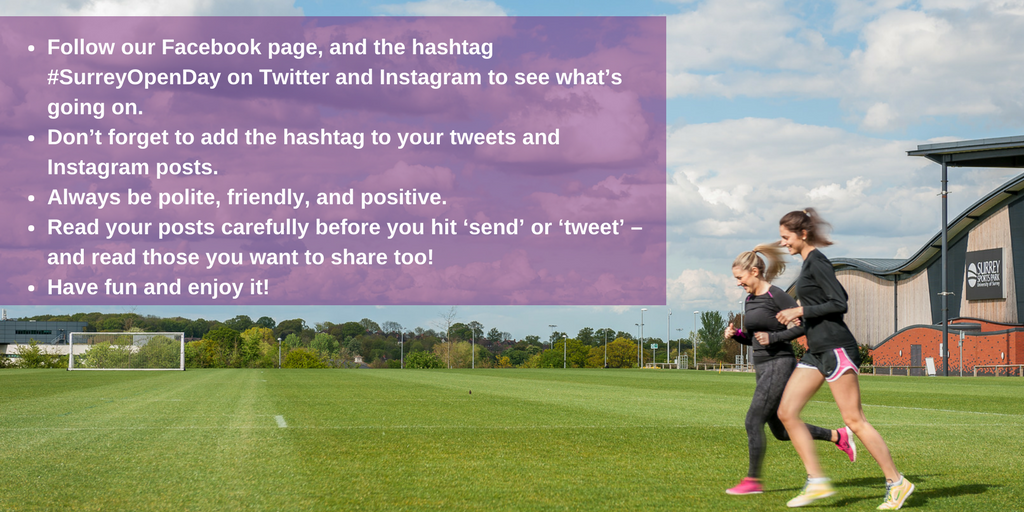 If you have any questions, please contact e.chandler@surrey.ac.uk.