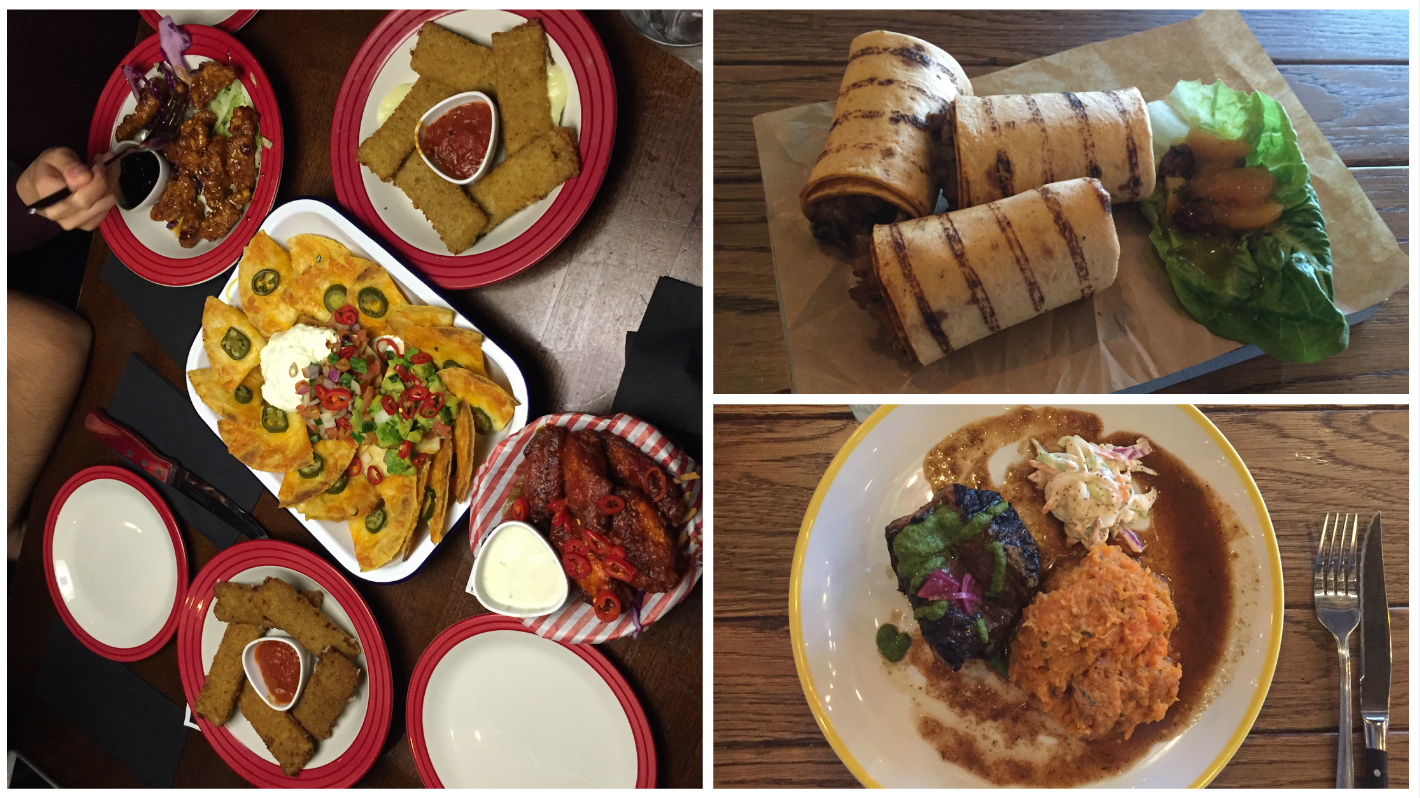 You wake up and the first thing you think about is breakfast.
You go to lecture and during that time you think about what to have for lunch.
Your mood depends on your hunger level at times. Have you ever gotten upset and irritated because you're simply starving?
Well, if you find food as important as I do, you better not miss this blog out as today I will be talking about my top five restaurants in Guildford a.k.a where to make your way when you have nothing left in your fridge!
Kokoro

I would classify Kokoro as a high-end Japanese fast food restaurant. However, it is not like your typical "fast-food" that are extremely greasy and unhealthy but it does have the speed and the price that you are looking for.
They sell both hot dishes, which are rice dishes and ramen or soup, as well as cold, including sushi, sashimi and salads. My favourite dishes have to go to the Chicken Katsu curry (do ask for lower amount of curry sauce to keep your chicken crispy!) and the Sweet Chilli Chicken. Its cost 5.25 pounds for a small and 6.25 pounds for a large.

Top tip: They give a big portion so if you want to try both of my favourites, ask them to combine the two styles of chicken to give one large portion (Mix and Match)!

Best for: Quick and easy Japanese food

Downside: This small restaurant is in town so you will have to spare some time before your next lecture. Also, the long queue at lunch time could scare you off!

T.G.I.F (T.G.I.Fridays)

T.G.I.Fridays offers authentic American food and legendary drinks such as milkshake. This American restaurant is a must-go when you have some friends visiting over in Guildford. It is certainly not overpriced for the portion and the taste offered for us students. My favourite starter is the Mozzarella dippers and I never miss those full rack ribs for my main. (the famous Jack Daniel's® glaze)
*Do book a table online because it really does get crowded, especially in the evening.*

Top tip: Download the T.G.I.Fridays app on your mobiles to get special offers e.g. 2 for 1 cocktails!

Best for: Social gatherings

Downside: The food here are very slow but you know what they say about the best comes last.

Young's Kitchen

If you are tight on schedule with your timetable, look no further. Young's kitchen is an oriental restaurant on campus which normally serves you rice with sides to go with it such as sweet and sour chicken, etc. Rice with two sides cost five pounds and don't worry, they give us a huge portion, enough to keep you up for those long lectures afterwards. However Young's Kitchen always have special menu everyday for example on Wednesday, they usually have a signature Korean dish called Bibimbap.

Best for: Food on campus

Top tip: Look out for the specials menu everyday. (Different on most days)

Downside: It does get a little boring sometimes as there aren't many dishes to choose from the main menu.

Turtle Bay

Turtle Bay is a unique restaurant in Guildford with a reggae vibe and relaxing atmosphere that serves you amazing Caribbean food. I don't know what's the best way to describe the food here but it's like a fusion of Asian and European food (in a good way that is!); the food here are mainly wraps, ribs, burgers, etc. but the spices and seasonings in these food really give it an extra kick. Their cocktails are worth trying too.

Best for: Spicy foods.

Top Tip: If you are a lamb person, you must have their 'Jerk Lamb'.

Downside: Can be a little pricey.

Thai Terrace (T.T.)

As a Thai student, Thai Terrace really makes me feel homesick because of its traditional taste of food. The restaurant is located on 7th floor with an extraordinary view of Guildford. With their varieties of dishes, I really recommend the T.T. Sizzling Nua Yang (sizzling version of Thai Weeping Tiger grilled beef sirloin with spicy chill dressing, peppers and rice powder) and Ped-Ma-Karm (Roast duck on bed of vegetables with honey-tamarind sauce & crispy). T.T. is also known for its lounge bar with many cocktails to choose from.

Best for: Special occasions

Top Tip: Do come and have a pre-drink to enjoy the view of Guildford before having dinner.

Downside: The dishes are pretty costly from students' view.
If you get a chance to try any of this, please let me know which one is your favourite or even better, share some top tips with us.
Until next time,
Son