It's been a busy week at 5GIC with the announcement of new staff and new collaborations.
Firstly we welcomed Imagination Technologies as a Gold Member. Imagination will invest significant resources into 5GIC over the next five years, including both people and IP platforms, to help 5GIC develop technologies that will be highly scalable and easily deployable by the widest possible semiconductor, electronics goods and service provider community. Read more on our news pages.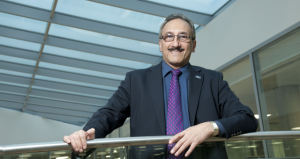 Hossein Yassaie, CEO, Imagination Technologies
We also expanded our SME technology partner programme with the addition of Blu Wireless, integrating its Blu Wireless 'Lightning' millimetre wave gigabit modems within the 5GIC 5G mobile testbed.

To learn more about our SME programme see here..
New faces at 5GIC; Dr Dritan Kaleshi has joined the Digital Catapult Centre as 5G fellow, to be based at the University of Surrey's 5G Innovation Centre. Dritan's work will help to enable innovators to gain early experience with new 5G systems via real pilots and demonstrators. Read more about Dritan's experience here.
5G around the World
The headlines this week…
Huawei makes breakthrough in 4.5g/5G – Enterprise Innovation
Huawei said it has made achievements in realizing key 4.5G/5G technologies in all small cell products, including LampSite, Pico, Micro, and Book RRU.
Ericsson CEO foresees new mobile data revolution – Fortune
"Historically the mobile industry has been focused on the consumer, getting better performance and throughput to their devices," Vestberg said. "Now we're seeing demands from the industry that are different from those of consumers—things like security, location and especially latency."
Telecoms firms positioning themselves early for 5G in China – China Times
Chinese telecom operators have begun planning for the arrival of the fifth-generation (5G) wireless telecommunication technology, which is expected to be commercially launched in 2020, Chinese web portal NetEase reported.
That's all for this week. For the latest news remember to follow us on Twitter @Surrey5GIC.