Reflections on our first Grad Cert workshop:
I was recently asked to run a session for staff from across faculties (tutors, lecturers, PhD researchers) undertaking the Grad Cert in Learning and Teaching, run by our Department of Higher Education. So along with colleagues Julia Anthoney and Heather Barker from SPLASH, we facilitated a session focused on exploring the potential of 3D modelling using Lego and /or Playdoh for student learning and the development of interactive and creative teaching and learning activities.
As a warm up, participants were asked to build models of 'secret' concepts which were distributed to them in envelopes. Nobody was aware from the start that they were all in fact modelling the same concept – 'originality' – but a couple got to thinking along the way…."wouldn't it be hilarious if we were all modelling the same thing?"  Wouldn't it indeed!
So, the resulting discussions of this first activity in Playdoh centred around feeling a little out of one's comfort zone (perhaps feeling a little of what students may feel on a daily basis), how people approach tasks in different ways despite the same instructions and same materials, and having widely differing interpretations of what something means and how it could or should look.  Some interesting feedback and positive noises being made around the room so we moved on to our main activity – the BIG build!
Now our participants had to think of a concept / process / theory which in their experience proves troublesome to student learning in their discipline. Their task was to represent this physically, using either Lego or Playdoh. The excitement was tangible as various members of the group received their boxes of Lego, and the rummaging and chattering began. As expected though, we had some very mixed responses, with some very evidently  struggling to think of what to represent (modelling doesn't necessarily appeal to everyone; we all have our own preferred learning styles after all), some very simple but powerful models, and some extravagant and complex structures.
Here's an example below of what one of our group, a PhD researcher in Sociology, made and what  she had to say about the model and the approach:
"When asked to explain a concept from my discipline using lego I reflected on an idea that had been challenging to explain in a way that students could understand – the difference between equality and equity. Recalling a useful infographic of these concepts, I realised that I could use the 3D modelling to replicate that image."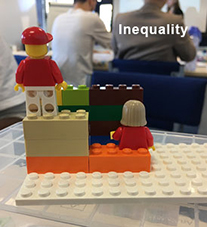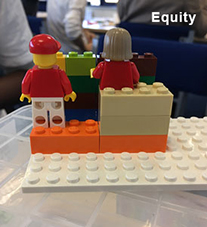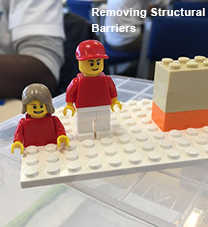 "My feeling is that using 3D modelling would provide a more engaging and memorable explanation of the concepts than simply showing the infographic to my students. In particular having the students move the lego blocks around would provide a very clear representation of the distribution of 'resources' and how different distributions produce different outcomes. I would definitely like to try using this in the future, and to also think further about how I and my students might use 3D modelling in class to encourage engagement with, understanding of and enthusiasm for their learning." 
Jo Smith, PhD Sociology, University of Surrey
A great evaluation and one which tallies closely with Lego's own explanation of Constructionism as a theory of learning:
"Constructionism is a way of making formal, abstract ideas and relationships more concrete, more visual, more tangible, more manipulative, and therefore more readily understandable."    
(The Science of Lego Serious Play http://www.strategicplay.ca/upload/documents/the-science-of-lego-serious-play.pdf)
Overwhelmingly, everyone in the group reported that the activities and the session had prompted them to reflect on their own teaching and learning which at a fundamental level was our main objective. And expressions of interest to explore these approaches further from representatives from all 3 faculties have been very encouraging.
What have I learnt? Well, what seemed like such a crazy idea three years ago seems to have grown wings and people are enjoying and really engaging with these playful approaches to learning. It can feel very intimidating to be faced with a room full of VERY clever academics – the temptation being t0 hurry through the activities and discussions in a 'race-to-the-finish-line' fashion.  Next time (and glad to say I've been invited back) I need to slow down a bit and trust mine and their judgement – they chose to be here and they will take from it what they will.
And breathe…… 🙂