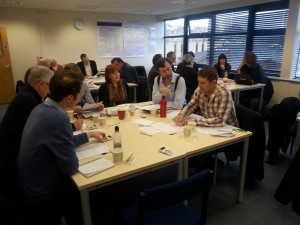 The School of Arts held a one-day Learning and Teaching Symposium themed around 'Enhancing Assessment and Feedback' on 16 January 2014, attended by over thirty academic staff from Music, Sound Recording, Dance, Theatre, Film, Digital Media Arts, and the Guildford School of Acting, as well as e-Learning and Library & Learning Support Services.
The event comprised speaker-led sessions, poster presentations, and discussion workshops focussing on Grade Descriptors and on reviewing current Feedback practices in the School. Also included as part of the Symposium was a dedicated session for Associate Tutors on Assessment and Feedback.

Highlights included Peter Morris's engaging paper 'I'll give it 5. The search for perfection in 360 ̊ feedback' (previously delivered at the Surrey ExciTeS Symposium), Remy Martin's presentation 'Learning and Teaching as Embodied Experience', and an informative demonstration session from e-Learning Advisor Anne Irving on delivering online feedback using SurreyLearn, the University's Virtual Learning Environment.
The event also witnessed some productive discussion workshops facilitated by the School's Director of Learning and Teaching, Christopher Wiley, as staff engaged in lively debate across their different subject areas about Assessment and Feedback practices.
The full programme for the Symposium may be viewed here: School of Arts Learning and Teaching Symposium, 16 January 2014