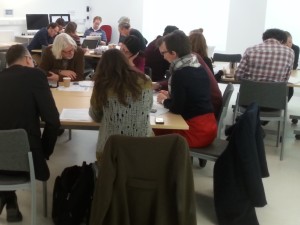 The School of Arts held a Learning and Teaching enhancement event on 14 January 2015, following the success of previous symposia in September 2014 and January 2014.
In a change from previous events, this one adopted a seminar-style format throughout. It included a discussion forum on the School's Personal Tutoring system as well as a training session on module descriptors and programme validation, the latter facilitated by the University's Directorate of Quality Enhancement and Standards.
Over 30 academic staff were in attendance representing the range of disciplines encompassed by the School, including Music and Sound Recording, Theatre and Dance, Film and Digital Media Arts, and the Guildford School of Acting.