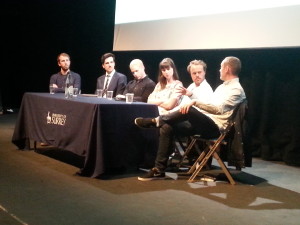 The School of Arts, in collaboration with the Careers Service, hosted a 'Careers in the Arts' evening panel discussion at the Ivy Arts Centre on Thursday 7 May 2015.
Chaired by the Director of the Careers Service, John Watkins, the panel comprised six speakers who were all recent Arts graduates (contact details below), all but one from the University of Surrey or Guildford School of Acting:
Davy Berryman – Musician and General Manager, Gingerline
Stephen De Vere White – Accountant, Barclays
Will Evans – Musician and Public Relations Manager, Focusrite/Novation
Rikki Lawton – Actor and Founder Member, Hotspur Theatre
Molly Roberts – Actress and Artistic Director, Poleroid Theatre
Johnny Sachon – Actor and Company Director, Camelot Films
Over 100 students from across the School were in attendance. The evening concluded with pizza and a chance to network more informally in the Ivy Foyer.
The full programme for the event, including biographies for the panellists, may be downloaded here: https://blogs.surrey.ac.uk/arts/wp-content/uploads/sites/17/2015/05/Arts-Events-brochure.pdf
Contact details for speakers 
Seastacks (Davy Berryman): @seastacks www.seastacks.co.uk
Gingerline (Davy Berryman): www.gingerline.co.uk
Rikki Lawton: @rikkilawton
Flat 32 Series (Rikki Lawton, Molly Roberts): @flat32series
Johnny Sachon: @JohnnySachon Facebook LinkedIn IMDb
Camelot Films (Johnny Sachon): @CamelotFilmsUK Facebook
Shadows the Movie (Johnny Sachon): @ShadowsTheMovie Facebook