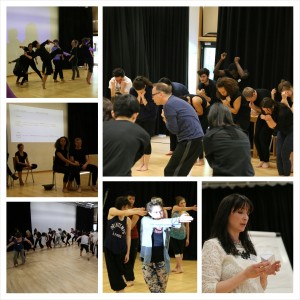 On 18th April 2015, The Guildford School of Acting (GSA)/School of Arts at Surrey University, in conjunction with the National Resource Centre for Dance (NRCD) hosted the event – Rudolf Laban and Warren Lamb: Shaping Dynamics for Theatre and Dance – A Symposium on Movement and Physical Behaviours. This one-day event explored the applications of Laban and Lamb's theories of movement and physical behaviours to dancer and actor training for performance.
James McBride, a Movement Pattern Analyst (Coaction Consulting http://www.coaction.dk/eng/eng_contact.htm) trained by Warren Lamb, gave the key-note address, opening up discussions about believability in acting through use of Integrated Movement or "posture-gesture mergers".  This is a new and emerging application of movement analysis to performance and a strand which is currently being researched by Juliet Chambers through practice at GSA. It was the connection of Warren Lamb's work with current applications of Laban Movement Analysis to theatre and dance which inspired Juliet Chambers and Helen Roberts (NRCD) to create the event, as well as a desire to make stronger collaborative links between Dance in the School of Arts and GSA under the shared Department of Theatre and Dance.

Alison Curtis-Jones MA, (Trinity Laban, http://www.alisoncurtisjones.com/page2.htm) put delegates through their paces in an historical re-creation workshop exploring the choreography of Laban's original work Green Clowns (1928). Delegates were left suitably exhausted from an Effort-ful exploration and embodiment of the work which highlighted themes of repetition, repression and the de-humanisation of war.
Laura Weston MA, (GSA) demonstrated her approach with 2nd year actors from GSA in applying LMA to performing Shakespeare and there were a number of lively and energetic performances by these young artists. This presentation inspired questions by delegates around the 'size' of physical performance in contemporary theatre and the demands of industry on the performers' body.
Juliet Chambers MA, CMA (GSA, Drama Studio London, Mountview) who organised the event with Helen Roberts, Manager of the NRCD, presented with 1st year actors from GSA. They took a topological approach to the Dynamosphere by moving from mood to mood and modelled how an actor might 'map' emotional and psychological changes within a scene for deeper embodiment and connection through the psychophysical. Delegates commented on the excellent quality and nuance of the students performances and were shocked to discover they were only 1st years!
The National Resource Centre for Dance displayed highlights from the Laban collection as well as from Warren Lamb's collection for which they are raising funds for cataloguing, details of which can be found at  http://www.surrey.ac.uk/nrcd/projects/warrenlamb/
Special thanks goes to archivist Sharon Maxwell in the Archive & Special Collections for preparing precious archive materials for display and to Helen Roberts, Manager at the NRCD for her help in organising and promoting the day, to Euan Henderson for technical support and to the School of Arts at Surrey for funding the event.
Delegates represented a broad mix of professionals and students from dance, theatre and therapy and throughout the day discussions were lively and engaging.
Juliet and Helen are currently looking to broaden the approach to reaching out to academics and practitioners  interested in Laban and Lamb's work with research and practice driven outputs which will be made widely available.