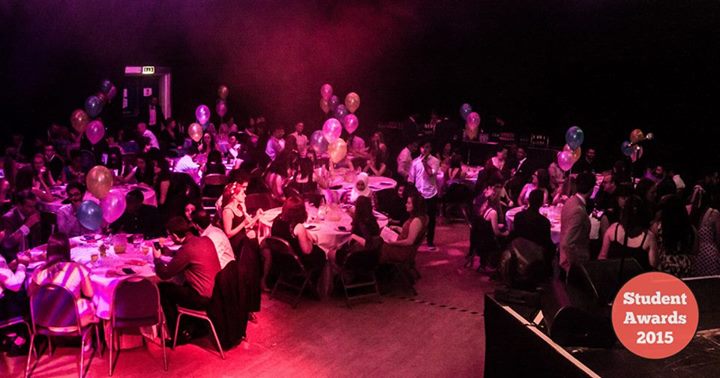 The School of Arts is celebrating a long string of successes at the 2015 USSU Annual Student Awards, which were announced at an evening ceremony hosted by the University of Surrey Students' Union on Thursday 21 May (pictured).
Becky Ibbotson (BMus Music) was one of the winners of the Society STARS Award for Outstanding Contribution, as well as being shortlisted for Best Newcomer, for her exceptional work as Societies Executive Chair (amongst various other roles) this academic year. Becky becomes Students' Union Chair in August 2015.

Christopher Pidgeon (BMus Music) was one of three students shortlisted for the Student Course Rep of the Year. This is an exceptional achievement given that the University has over 500 registered student course representatives.
Daniel Bishop (BMus Music & Sound Recording) received a nomination for the extremely prestigious Vice Chancellor's Award for Contribution to University Life, acknowledging his excellent work for Stage Crew and in live-streaming university events online throughout the year.
Gospel Choir, directed by Kirsten Parry (BMus Music), won the Arts Society of the Year award and was shortlisted for the university-wide Society of the Year award, in recognition of their recent achievements and success.​ Ru Lemer (BMus Music & Sound Recording) also received a Society STARS Award for being a non-committee member but nevertheless making an exceptional contribution, as the Gospel Choir's pianist. He and Kirsten wrote and arranged the group's songs throughout the year, which received much praise from the University Gospel Choir of the Year Competition judges in the finals in March. The Gospel Choir is now looking forward to its end of year showcase on Friday 12 June, 7:30pm, in Wates House.
The Musical Theatre Society's (see below, top left and bottom right) excellent production of Jekyll & Hyde (Frank Wildhorn/Leslie Bricusse/Steve Cudden) won the award of Student-Run Event of the Year. The show featured many School of Arts students in key positions including Andy Plom (BA Theatre Studies) as Director, Sam Read (BA Theatre Studies) as Assistant Director, Ashley Walsh (MA Creative Practices & Direction) as Musical Director, Leah Franks (BMus Music) as Assistant Musical Director, Kim Bourlet (BMus Music) as Production Manager, Elin Jones (BMus Music) as Set Designer, and several students in the main cast including Matthew Westrope (BA Theatre Studies) in the role of Stride.
Also receiving a nomination for Student-Run Event of the Year was RAG (Raising and Giving)'s 'Winter: a Charity Ball', an event organised by Ruth Wyatt (BMus Music). Ruth served as Chair of RAG Committee in 2014–15, in which capacity she presented one of the Awards at the ceremony (see below, top right) and was publicly thanked for her industrious and transformational work this year.
Music's staff were strongly represented among the small handful of University staff nominated for The Lynne Millward Award for Academic Staff Member of the Year, with Peter Morris, Professor Clive Williamson, and Chris Wiley all receiving nominations for their excellence in contributing to learning & teaching and enhancing the student experience.
Finally, TheatreSoc was shortlisted in the Most Improved Society category.
Many congratulations to everybody on these fantastic achievements!
Further photos are available from the University of Surrey Students' Union on Facebook.