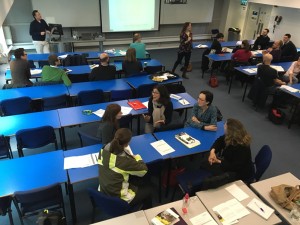 The School of Arts and Guildford School of Acting were well-represented at the University's annual Surrey ExciTeS (Excellence in Teaching Symposium) event on 6 January 2016, just as they had been at the two previous events in 2014 and 2015.
Jo Franklin (GSA) delivered a paper entitled 'Students take the lead – learning and motivation in a group project', in which she discussed an innovative group project that required undergraduate students themselves to be responsible for taking the lead as creative practitioners in a range of contexts, in order to develop their self-confidence and employability.
Christopher Wiley (School of Arts), Sean McNamara (GSA), and Anna McNamara (GSA) co-facilitated a discussion forum (pictured), 'How can we increase teaching quality without increasing teaching preparation time?', in which they explored strategies by which teaching may simultaneously optimise preparation time and increase student engagement.
Several other School staff were prominent contributors to the discussions that took place during the course of the Symposium, while a total of five were presented with certificates for having completed the University's Graduate Certificate in Learning and Teaching.
The full programme for Surrey ExciTeS 2016 may be found here: http://www.surrey.ac.uk/dhe/surrey_excites/Surrey%20ExciTeS%202016%20Programme.pdf