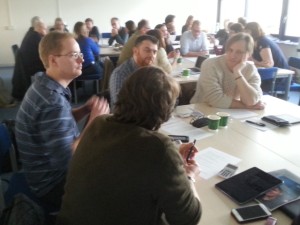 The School of Arts held its fifth Learning and Teaching event on 12 January 2016. These internal development forums for School staff were established two years ago and run biannually in January and September each year (see information about previous symposia here).
The half-day event incorporated a training session run by the University's Student Services on the pastoral side of Personal Tutoring, as well as a discussion forum on student evaluation of teaching, which considered how academic staff might seek to maximise the effectiveness of feedback received from students for purposes of ongoing teaching enhancement.
Between the academics who attended from across the subject areas of the School (including Music and Sound Recording, Dance, Theatre, Digital Media Arts, and the Guildford School of Acting) and the University staff who facilitated and contributed to the training on Personal Tutoring, some 40 staff were involved in the event.
A blog post written by the School's Director of Learning & Teaching, in which the School of Arts Learning and Teaching symposia are discussed, has recently appeared on the Association of National Teaching Fellows blog.