School of Arts students and staff are among the 6 Exceptional Students and 3 Inspiring Academics profiled in the University of Surrey's Annual Review 2015. Read it in full here: http://ow.ly/XEIuO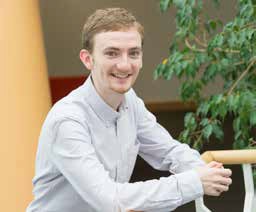 Nick Smith (pictured; profiled on p.9 of the Review), a final-year BMus Music student, organised a highly successful tour for the University's Big Band, which saw the ensemble perform gigs on canal boats along the River Avon for a week in June 2015. Alongside his degree course, Nick is a member of 5 different music ensembles, including 3 bands founded with friends (The Imaginary Hat, Ragtime Marmalade, and Bare Jams), which perform at a range of venues and events in and around Surrey. He has worked as manager of the University Orchestra and as President of Big Band, co-organised the annual Department Ball for the last 2 years, and won the Joyce Dixie Composition Competition last year. He has also performed on Eagle Radio and in the annual Surrey's Got Talent competition, and carols he has composed have been performed at the University Carol Service for the last 2 years.
Nick says: 'I have gained an incredible amount of experience in management, team leadership, and organisation from being part of these ensembles on top of my degree as well as with a part-time job. I see University as an incredibly diverse and expansive toolbox full of opportunities and achievements, just waiting for you to get stuck in and try something new.'
Dr Christopher Wiley (profiled on p.11 of the Review), the School's Director of Learning & Teaching, discusses highlights of the year including the 'Careers in the Arts' panel discussion and Opportunities & Networking Event, being nominated for the Students' Union Academic Staff Member of the Year award, gaining Senior Fellowship of the Higher Education Academy, and writing a report on the use of electronic voting systems in arts and humanities teaching, as well as his prolific activity in 2015 as a research-active Musicologist, publishing book chapters, organising an international conference, presenting papers at major UK universities, and giving talks for the Royal Philharmonic Orchestra and Glyndebourne Tour.
Also mentioned in the Annual Review is The Freedom Game, a community opera commissioned by Surrey Arts to commemorate the 800th anniversary of the Magna Carta and performed at the Royal Albert Hall in May 2015, upon which four recent graduates worked.