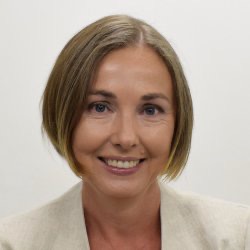 Dr Katarzyna Zdunczyk is SBS Director of Internationalisation responsible for international relations, partnerships and programmes. Katarzyna is an experienced academic leader, having previously held responsibility for MA, MBA, and DBA programmes at Newcastle University Business School.
Katarzyna is committed to developing innovative solutions in higher education and designing globally relevant and distinctive programme curricula and student experience schemes. During her time at Surrey, she has driven key developments of the SBS MSc programme portfolio, including the introduction of postgraduate professional placements, study abroad pathways, and novel formats of dual degrees. To date, her most satisfying accomplishment at SBS is the creation of the MSc Management programme, which is positioned as the innovation incubator in the SBS postgraduate portfolio and encapsulates Katarzyna's philosophy of learning and teaching.
Her ambition is to develop graduates who will be critical thinkers, expert professionals, impactful leaders, engaged global citizens, and open-minded life-long learners. Her teaching approach is informed by enquiry-based learning, whereby students, together with the teacher, learn by developing questions and planning enquiries; reviewing and critically evaluating academic sources; accessing, evaluating, and using evidence; applying disciplinary concepts and tools; developing critical insights and arguments; drawing conclusions and taking informed action. Within that framework, Katarzyna sets out to create engaging and impactful learning experiences that offer opportunities for applying imaginative and rigorous academic thinking to relevant practical problems and situations, e.g. through applied research, immersion, and consulting projects.
In her research, Katarzyna explores questions regarding power, knowledge, change, and learning in institutional fields through the application of practice theories. Her recent work, in collaboration with Marco Mongiello, focuses on the study of business schools and higher education with a view to informing strategy and policymaking. One of the resulting papers – a commentary on the value of higher education and the Teaching Excellence and Student Outcomes Framework (TEF) – was featured by the British Academy of Management and attracted attention from seventy different media outlets, including Times Higher Education and ITV News.