This post is written in both Chinese and English.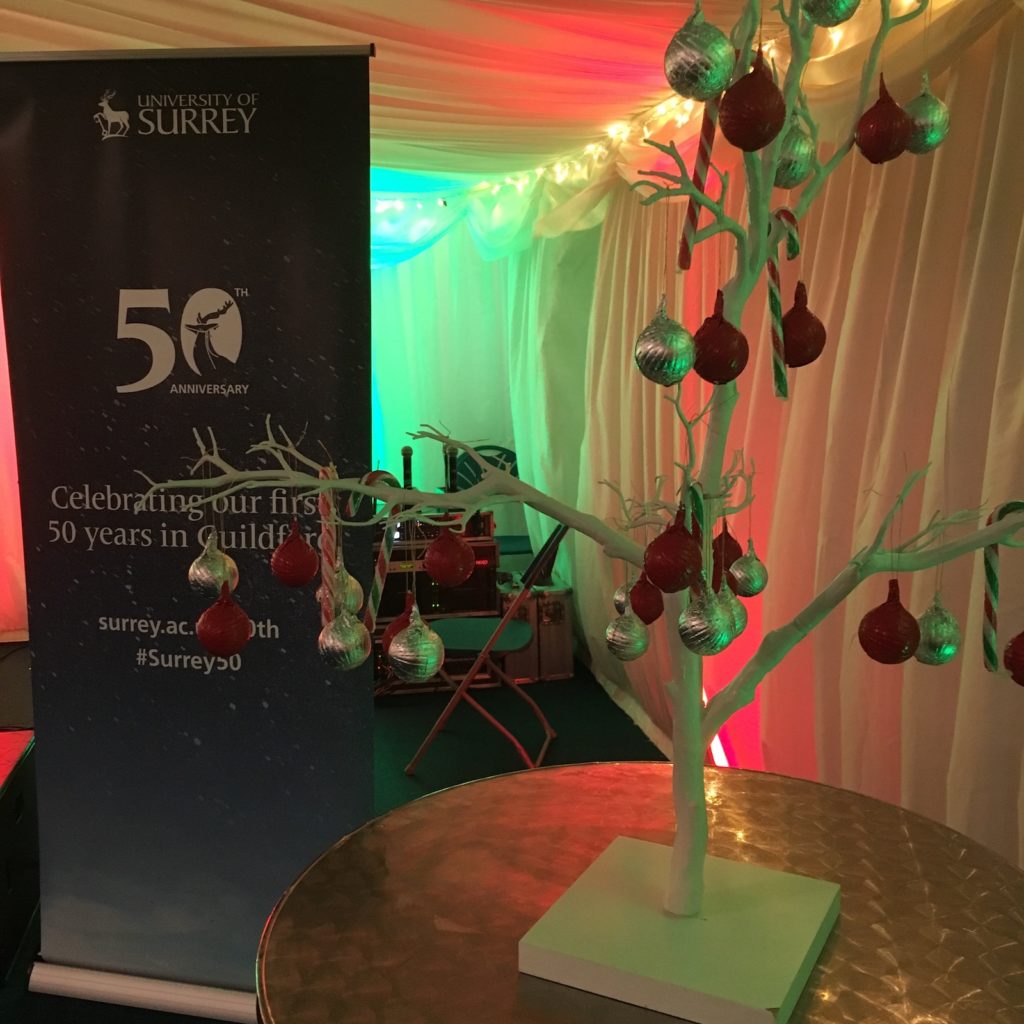 圣诞节真的快要到了。在 12 月 14 日星期三,萨里大学在吉尔福德大教堂门前举办了今年的圣诞集市。今天我们就来聊聊它。
所谓集市就一定会有摊位。今年的圣诞集市有 20 个左右的摊位出售各种各样的物品,从手工香皂到纯棉睡衣。现场还提供免费的脸上油彩绘画、雪中拍照机会,以及由学生乐团、兽医学院合唱队、音乐剧社团等团体进行的现场音乐表演。当然,热红酒和百果馅饼这样的传统圣诞食物也是必不可少的。我自己也第一次尝试了网络直播,向国内直播了圣诞集市现场的情况,至今已经有数百的观看量了。
实际上我在国内的时候并不怎么庆祝圣诞节。但是在英国生活了三年多之后,圣诞节对我来说也变成了一个重要的日子。这不仅仅是个节日,而是一年结束时的一段特殊的时期,家人朋友聚在一起,感受平和的圣诞气氛,回想过去的一年所取得的成就,展望一下即将到来的新年。
我很喜欢参加圣诞集市。去年圣诞节我是在北欧度过的,我去了赫尔辛基的圣诞集市(离圣诞老人家更近);而今年我决定留在英国过圣诞。我发现无论在什么地方,人们享受圣诞氛围的感觉都是相似的,就像我们的农历新年一样。虽然与西方有着不同的文化背景,但是中国家庭也会聚在一起,享受相似的心情。
当我们在庆祝圣诞的时候,仍有很多人在忍受战争与冲突。在萨里大学圣诞集市期间,访客们共向英国红十字会叙利亚救援行动捐款 £1500。希望这能给不幸的人们带来一些希望。
最后,祝大家圣诞快乐!
附:查看 2016 圣诞集市照片请戳这里,观看我的直播回放请戳这里和这里。
Christmas is literally around the corner. On Wednesday 14th December, the University of Surrey held Winterfest in front of Guildford Cathedral, and it is the topic of this post.
There were ~20 stalls offering various items, from lovely handmade soap to cotton pyjamas. Other activities include free face painting, snowy photo opportunities and live music by the University's Big Band, Vet School Choir and Musical Theatre Society. Of course, mulled wine and mince pies were also provided. Personally I also tried my first ever live streaming to China, which has attracted hundreds of viewers so far.
Actually I am not a religious person, and I didn't really celebrate Christmas when I was in China. But after living in the UK for over three years, it feels like Christmas has become an important date to me as well. It's more than just a festival; it's a special period of time at the end of year when you can settle down in the peaceful Christmas atmosphere, gathering with your friends or family, reviewing your achievements during the last 12 months and looking forward to the upcoming year.
I do enjoy attending Winterfest. Last year I spent my Christmas in Scandinavia and went to the Winterfest at Helsinki, where was quite near to Santa's home; this year I decided to stay in the UK and went to the Winterfest by our uni. Wherever the place, people are always enjoying the Christmas spiritual, warm and peace; which reminds me of Chinese New Year, when Chinese families sharing a similar mood in spite of the different culture background.
When we are enjoying the festival atmosphere, there are still a lot of people suffering wars and chaos. During our Winterfest, visitors denoted £1500 to the Syria Crisis Appeal, British Red Cross. Hopefully it will help bring some positive news to the unfortunate people.
Lastly, I wish you all a merry Christmas!
Xin
PS: For photos of Winterfest 2016, please click here. If you want to see the replay of my streaming (in Chinese), please click here and here.