This post is written in both Chinese and English.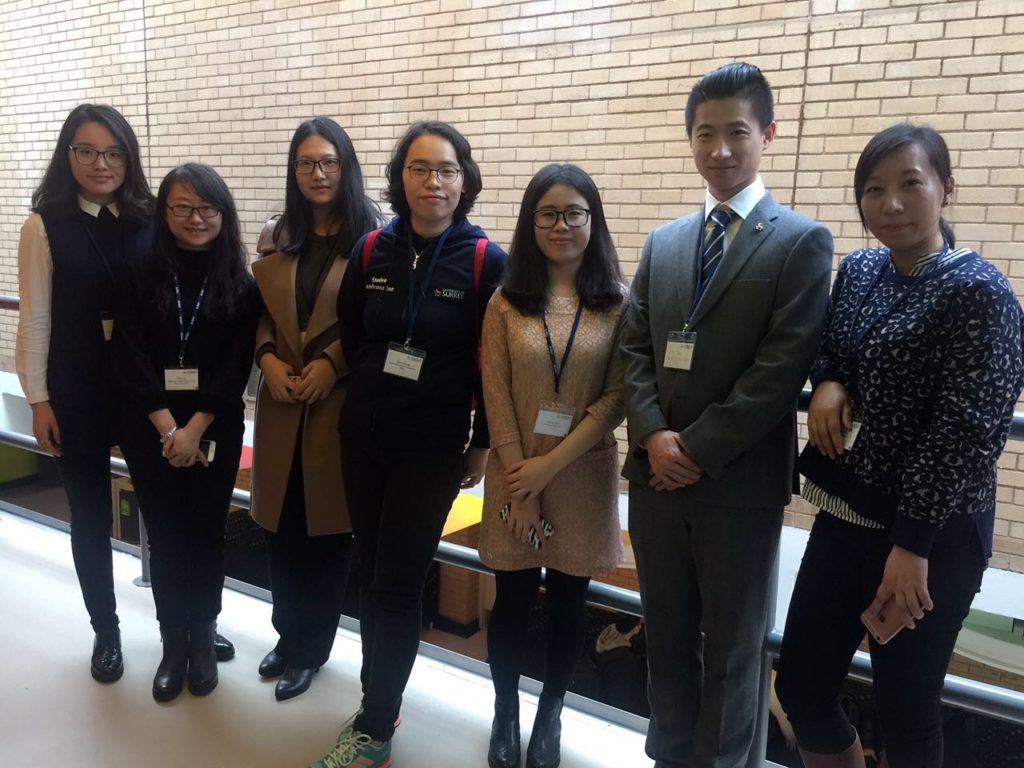 上一周我们欢迎了 30 多位来自世界各地的留学中介代表们来到萨里大学一同讨论萨里大学的未来发展。我也很荣幸地加入他们共进午餐,并且见到了几位来自中国的代表们。
对于打算出国留学的人来说,中介可以起到很大的帮助。比如,我来自中国,中英之间有着不尽相同的教育模式、说着完全不同的语言。所以三年多以前,当我决定要来英国攻读硕士的时候,我找到了一家本地的留学中介。由于他们比我更加了解英国的教育制度和申请流程,他们帮我节省了很大的时间和精力。在我出发前他们也帮助我做了十分完善的行前准备。(为了避免广告嫌疑我就不在这里说出具体的中介名字了)
如果你决定找一家留学中介帮助你申请学校,在签订合同之前请一定多做一些背景调查。留学中介有很多,其中有好有坏、良莠不齐。尽量选择一家口碑好的中介,如果必要的话可以问问身边的朋友或在网络上搜搜相关的评价。祝大家都能顺利拿到自己心仪的offer!
注:上方合影中还有萨里大学的中国硕士学生大使 Danni,查看她与中国本科学生大使 Eva 的博客请戳这里。
Last week we welcomed 30+ agents from different countries to attend a conference discussing Surrey's future. I was pleased to join them for an informal lunch while I met some agents from China.
Agents could be really helpful especially if you are planning to study in another country. For instance, I am from China, which utilises not-exactly-the-same education system and uses a totally different language. So when I decided to study an MSc over three years ago, I sought help from a local agent. It did save me a lot of time and efforts, because they were much more familiar with the education system and application process than myself was. They also helped me get better prepared before departing. (I will not write down the agent's name here, for the sake of possible advertising.)
If you decide to find an agent to help your application, please do some background research before signing the contract. There are numerous education agents in most countries; some of them are quite helpful, but some could be a scammer. Try to use the one with a high reputation. Ask your friends or search reviews and feedbacks online when necessary. Sincerely wish all of you get your offer successfully.
Xin
PS: The Chinese MSc Student Ambassador, Danni, is also in the photo above. To read the blog of her and Chinese undergraduate Student Ambassador, Eva, please click here.