This post is written in both Chinese and English.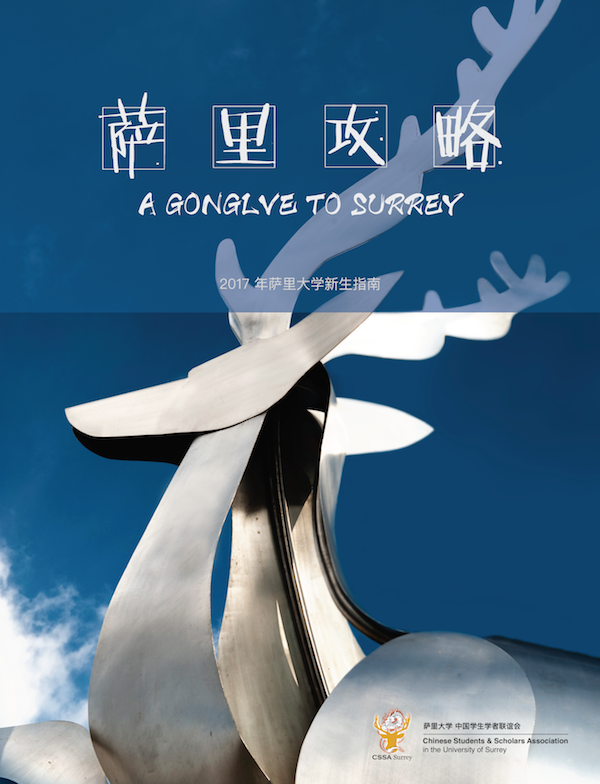 萨里的朋友们,大家好啊!很抱歉消失了几个月的时间。最近有点过分忙(因为我找到了一份工作!)现在我回来继续更新博客了。
我知道你们中的许多人是第一次来英国生活。现在感觉如何?激动吗?希望没有感到沮丧或恐惧。即使有也没关系,一切都会变好。我们会在这里帮助你。
今年初的时候我为萨里大学的新生们写了一份 "萨里攻略"。坦白地说,这种东西真不好写,断断续续写了三个月,最终只完成了中文版。下载链接已经附在文章最后了。这个攻略都写了些什么呢?
学校在哪:萨里大学坐落在英格兰东南部的平静小镇吉尔福德,离伦敦市中心大约 30-40 分钟的火车车程。从伦敦希思罗机场和伦敦盖特维克机场都能方便地到达。
吉尔福德:古老的小镇。小镇虽小,五脏俱全。高街上可以买到各个价位的商品,非常适合购物。镇中心还有餐馆提供世界各国风味的食品。
怎么来学校:我们有 Meet & Greet 团队免费接机!(我也是其中的一员)M&G 的团队成员会在希思罗机场和盖特维克机场等着你,免费把你一路送到校园。如果你错过了免费接机日期的话(这篇文章发出的时候应该基本已经是错过了),在机场叫辆 Uber 吧,到学校大概 £40 左右。
来了之后做什么:网上预注册、现场注册拿学生卡,警察局注册,医生注册,开银行账户。如果有任何一步不知道该怎么处理,直接去学生服务中心 Student Service Centre 就行,那里的工作人员会帮助你的。
交通:经常坐公交车?你能以学生优惠价格办一张公交卡,无限乘坐公交车。经常坐火车?办张铁路卡吧,一年 £30,但每次坐火车都能节省 1/3 的价格,值。
运动:别忘了我们的校园内就有一个顶级的体育场馆!萨里体育公园 Surrey Sports Park 离 Manor Park 校区大概 5 分钟路程吧,离 Stag Hill 校区 15-20 分钟左右。(你住 Hazel Farm?那你会有免费的公交卡。SSP 门口就有一站。)作为萨里大学的学生,我们能以折扣价办理会员:闲时会员 £185,全时会员 £235。跟场馆和器材相比,这个价格绝对物超所值。
攻略上还有更多的内容。如果你想了解那些内容但我没写在攻略上的话,给我留言吧!
下篇文章见!
Hi, my fellow Surrey friends! Sorry for my absence during the recent months. I was quite busy with my own research (and I found a job!). Now I am back on blogging.
I know this may be the first time to live in the UK for some of you. How do you feel now? Excited? Hopefully not frustrated or scared; even if so, don't panic, everything will be alright. We are here to help you.
Earlier this year, I wrote a guide to the Surrey freshers, with an unsurprising name of "A Guide to Surrey". Honestly, it was quite difficult to write such a thing (cost me roughly three months from beginning to finish!), and I only managed to write the Chinese version. If you know how to read Chinese (or want to learn to read Chinese), I will provide the download link later on this post. Considering Chinese is a quite complicated language and many of you cannot read it, here I will also provide some of the content from the guide.
Where we are: University of Surrey located in Guildford, a peaceful town in Southeast England, roughly 30-40 minutes away by train from central London. It can be easily approached from both London Heathrow Airport and London Gatwick Airport.
Guildford: a historic town, small but fully functional. The High Street is a fantastic place for shopping with brands covering all price range. There are also restaurants provide cuisine from all over the globe.
How to get to the campus: we have a brilliant Meet and Greet team! (and I am one of them) M&G team will wait for you at both Heathrow and Gatwick airports and will provide free transportation all the way to the campus. If you have missed the M&G dates (which is almost certain when you read this post), just call a Uber. It should cost ~£40.
What to do after arriving at the campus: pre-registration online and registration at the University Hall, register with the police if you are certain nationalities (Chinese for instance), register with a GP, open a bank account. If there is any step you are not clear, just go to the Student Service Centre, they will be happy to help.
Transportation: travel a lot by bus? You can buy a bus travelcard for unlimited bus travels at a student discounted price. Travel a lot by train? Apply a 16-25 railcard as soon as you can. It costs £30 per year but will save 1/3 for any journey you have on a train.
Sport: don't forget we have a fantastic Surrey Sports Park right on the campus! It's about 5 minutes away from Manor Park campus and 15-20 minutes away from Stag Hill campus. (Living at Hazel Farm campus? Don't you worry. You can use your compulsory bus travelcard to get there. There is a bus stop just in from of SSP.) As a Surrey student, we can get a full student off-peak membership at £185 or a full student membership at £235. It's a bargain if you have experienced the facility quality. Super.
There are also many other things on the guide. If there is anything you want to know but I haven't included here, please just leave me a comment.
See you on the next post!
Xin
《萨里攻略》下载链接 | Guide download link: https://1drv.ms/b/s!AqLKFzebSPmjgiMWl8QUZRYSI3RJ