Aaron Mason and Georgios Michalakidis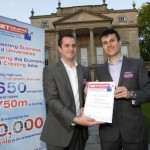 It was very motivating to hear that our University spin-out company, Thoughtified, was nominated for an award by SETsquared, the enterprise incubator partnership between the universities of Bath, Bristol, Exeter, Southampton and Surrey.  The award that it was nominated for was "Best Graduate Start-Up", for which there were a number of contenders.  The University of Surrey also had been nominated for "Student Enterprise Champion" and "Best Student Start-Up" awards.
The nomination for Thoughtified was for the development of a cloud application for the management of land and other assets that are remotely located, which was developed using technology that originated from studying MSc at the University of Surrey as well as PhD research under the supervision of Paul Krause.
At the award ceremony, there was a warm reception followed by inspirational talks by speakers that included Glynis Breakwell, Vice-Chancellor of the University of Bath, Keith Robson, Director of Research and Enterprise Support (RES) at University of Surrey, and Nick Hynes, CEO of Somo, the leading mobile marketing agency in Europe.  Following the talks was the prize ceremony.
There were an interesting selection of innovative businesses being showcased at the event, ranging from online guitar lessons to branded notepads and soup!  The University of Surrey had a strong presence at the event and it is hoped that at the next ceremony that this can be kept up to promote the number of inspiring innovations that are being developed within the university.
From the nominations and prizes, it was clear that technology businesses were most popular.  The prize winners included:
It was a good experience (champagne always helps) and, as always, it was great to meet new people.  The journey from Guildford to Bath was a little long-winded – hopefully it will be hosted a bit closer to Surrey next time round.
The Computing Department has been very supportive of the work of Thoughtified to date and the prize would not have been easy without its help and the help of SETsquared and Research and Enterprise Support.  If you are interested in starting an enterprise, or commercialising research, I would recommend that you turn thought into action and get in touch with SETsquared, and colleagues in the Department of Computing.