Owen Jones, BSc Computer Science graduate 2011
We'll I can't believe it is all over but graduation seems several weeks ago but not as long ago as when I was a student at St Columba's College in St Albans.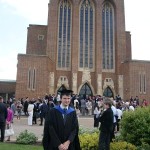 Looking back the Computer Science course was perfect for what I wanted to study going into University as it covered many major topics in computing. The location was also ideal due to the proximity to London. I preferred the idea of a campus university, and Surrey's is ideal as it is so close to the town centre as well as having all the key locations close to halls of residence which was brilliant in my first year.
I think one of the best bits of being at Surrey was my placement year at Detica, an information security consultancy firm based in Guildford. I was part of Managed Services who were in charge of supporting the various projects that were developed throughout the rest of the company.
I am going to work at Detica again as of September following on from a successful placement year with the company.  I will be moving to London as I will be based there instead of Guildford this coming year.