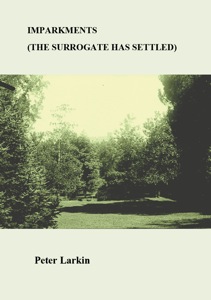 The first Veer Books publication to be produced at the University of Surrey, Peter Larkin's Imparkments, was launched as part of the Veer Books readings on Saturday November 17th at the Small Publishers Fair 2012 at the Conway Hall, Red Lion Square, London WC1.
The SPF is organized by RGAP (Research Group for Artists Publications), and has been running for many years now. This year's event was busy and well attended both by the public and by publishers producing some really exciting and beautiful work, from hand-made book art works, lovingly created luxury editions, and high-end printed postcard and other visual works to letterpress and digitally printed books, pamphlets and other publications.
Billed as 'the international fair celebrating books by contemporary artists, poets, writers,
composers, book designers, and their publishers; together with a programme of 
readings and talks. With more than 50 publishers taking part there will be thousands of books and other editions to browse and buy!' it really did live up to its claims.  As admission is free every year, and it went on all day Friday and Saturday, between 11am and 7pm, and with a showcase exhibition of work by Hans Waanders and a series of very fine readings on the Saturday (also free to attend), it was a really enjoyable way to spend a few hours (at least)!
It's an annual event, so if you missed it this year, look out for it in 2013.
From a poetry point of view, the fair always has a very strong contemporary poetry press contingent; presses putting interesting, innovative and exciting work to the fore. These are usually well reflected in the Saturday readings, for many the highlight of the whole event.
Of particular interest in the 2012 fair were the book stalls from Reality Street Editions, West House, Shearsman, Veer Books, Etruscan Books, seekers of lice, VerySmallKitchen, Coracle, Poetic Practice MA at Royal Holloway University of London, Equus Press (which is connected to the Czech based Litteraria Pragensia), and a special appearance by Allen Fisher's Spanner press.
This year the readings line-up was particularly impressive. What with co-staffing the Veer Books stall, buying books and generally circulating, I managed to catch some, but not enough, of these. Particularly interesting were the West House Books & Reality Street Editions reading (Geraldine Monk, Johan de Wit, Giles Goodland, Sean Pemberton & Robert Sheppard), the seekers of lice & VerySmallKitchen launch, 'Theatre of Objects' (Becky Cremin & Ryan Ormonde), the reading by students of the Poetic Practice MA at RHUL (Jennie Cole, Rachel Deakin, Annie Runkel, Juliet Troy, Emma Wootton), and, of course, the Veer Books reading.
Traditionally, Veer gets the last reading slot of the evening, and we always get a good crowd, so between 5:30 and 6:30pm this year, we were really pleased with both the turnout and the quality of the readings. This year we featured some new recent publications, and a selection of those we have in the pipeline, plus a special reading by Veer editor William Rowe from his forthcoming Nation book.
The more I watched and listened to these readings unfold, the more strongly I registered the breadth of the work we're interested in at Veer, something I'd been aware of intellectually, obviously, but seeing these poets read their work live really did remake that observation in a visceral way that I had not expected – its true, you really can't beat a poetry reading for that immediate sense of the texture of poetic language.
We began the evening with the launch of Peter Larkin's new Veer Book Imparkments. This is the first in a new series of Veer Books to be produced and published jointly by the University of Surrey and the CPRC, Birkbeck College. Thanks must go to Wafik Doss and Christina Webb at Surrey for their design work on the publication. Peter's reading displayed a poise and accuracy of language that did the complex and sophisticated text proud. Have a look at the video, and you'll see what I mean.
Carol Watts's reading from the forthcoming Sundog was strident, confident and arresting, completely changing the space of the reading room and working particularly well alongside the Peter Larkin reading, and that of Doug Jones who followed. Jones's Posts will be the next publication from Veer, and the next to be worked on at Surrey, and as you'll see from the video it's punchy, forceful and relentlessly modern in its engagement with medical and blogified language. The three poets that followed were just as surprising. Holly Pester's rhythmic earbashing of language changed the aural space of the room yet again in a wonderfully disjointed way. William Rowe's reading from Nation was intelligently passionate and powerful in its delivery of uncompromising resistance poetry grappling with the hands of corporate and political greed around our necks, while Danny Hayward's reading engaged the space of Rowe's reading in a curiously intense way, his poetic analysis of the power relationship between work and leisure measured but forceful in its insistence.
Veer will be back at the SPF next year, and will hopefully feature a string of new books edited, designed and printed here at Surrey.
There is much more information about the SPF on the RGAP website. On the wesbite you'll also find a link to an interesting article by Les Coleman, 'The Independent Bookcase', on small press publishing.
For more on Veer Books, you can have a look here and at our brand new website coming very soon.