Some weeks it's tough to squeeze the sabbatical highlights and insights into the recommended 500 words. This is one such week.
By Wednesday I knew I was over quota. So I'll have to not tell you about the encounter with the pig on a lead in California Street and the conversation that followed with a Korean banker. And not tell you about the visit to the wonderful de Young 'Bouquets to Art' exhibition (see http://deyoung.famsf.org/exhibitions/bouquets-to-art-2018).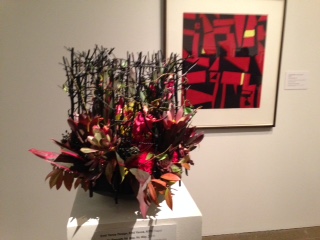 [Floral arrangement: 'Bouquets to Art']
I'm also not able to tell you about the St Patrick's Day Parade. Or the conversation with the professor who witnessed Seamus Heaney recite Yeats in a San Francisco kitchen…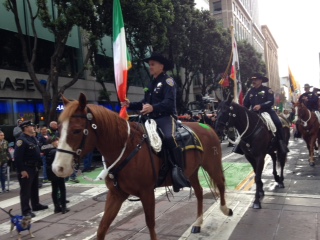 [St Patrick's Day parade in San Francisco]
And I'm afraid you'll have to wait a while longer to hear about the Stoics.
What I can tell you about relates to the following questions: What ethical challenges come up in an elder home care service? Is it good to know how long you have to live? What could a hairdresser have in common with a care-giver? And what might a politicians' author daughter have to share with us?
The Medical Director – On Lok Lifeways
I had the pleasure of meeting the charismatic Medical Director of On Lok elder care service, Dr Jay Luxenberg, and to attend a meeting of the ethics committee.
'On Lok' was founded in the early 1970's. The words mean 'peaceful, happy abode' in Cantonese and the aim of the service is to support older people to live at home within their community. On Lok started the PACE (Program of All-inclusive Care for the Elderly) model of care which has now been adopted by over 30 U.S states (see https://www.medicare.gov/your-medicare-costs/help-paying-costs/pace/pace.html).
Comprar Viagra Genérico (Sildenafil) en España
Viagra Generico es un análogo completo de la Viagra de marca y también tiene en su composición el componente activo Sildenafil, en dosis desde 25 hasta 100 mg. Consecuentemente, al tomar el genérico obtienes el mismo efecto que durante el tratamiento con el medicamento original.
Si ambos medicamentos funcionan igualmente, entonces ¿cuál es la diferencia entre ellos? El genérico no se produce en Europa, sino en la India, gracias a lo que es posible comprar Viagra Genérico por un precio barato.
Para aquellos que no están acostumbrados a cruzarse de brazos, se ha creado un fármaco capaz de eliminar este problema: ¡la legendaria Viagra de marca! El medicamento original es caro y, en relación con ello, los últimos tiempos está ganando popularidad su análogo absoluto, Viagra Genérico, que se diferencia de su prototipo solamente por su precio más bajo. El genérico está hecho en base a Сitrato de Sildenafil, porque es igual de eficaz en el tratamiento de distintos trastornos de la erección.
It was a privilege to be shown around the well-resourced day centres and to witness, mostly, Chinese elders enjoying the social activities and wide range of services that included dental care, foot care and meals (including to take home). A fleet of On Lok mini-buses ferry elders to and from the day service. Care is also delivered at home.
The ethics committee discussion revolved around a situation where family preferences to enable an elder to remain in On Lok temporary accommodation had to be balanced against rules and the deprivation of a precious resource to others. An ethical conflict, it seemed, between an ethics of care and an ethics of justice.
Dr Luxenberg showed me an inspiring video, relating to the On Lok programme, that you might like to check out. You can find it here: https://itunes.apple.com/us/tv-season/rx-the-quiet-revolution/id980582386
The Singing Researcher – The Veterans Hospital
This week I also met with researcher/doctor, Alexander Smith, at the Veterans Affairs Hospital near Land's End (a very scenic part of San Francisco). The Department of Veterans Affairs runs the country's largest scale 'integrated health care system' with more than 1,700 hospitals and other care facilities (https://www.va.gov/) serving those who served in the U.S. military.
Much of Alex's research and practice relate to prognosis and is based on the view that 'people make better decisions when informed.' Alex and co-researchers have pioneered an online prognostic tool that offers a calculation of prognosis (see http://eprognosis.ucsf.edu/). You can put in your details or the details of a patient to have an indication of prognosis with the caveat that there will always buy modafinil be uncertainty. The website also has useful bite-size teaching materials relating to communication.
Alex and his colleagues have an interesting blog with podcasts (see http://www.geripal.org/ ). These are worth checking out with topics such as 'good death' and 'voluntary stopping eating and drinking'. In addition to input from experts in the field, you can hear for yourself why I've referred to Alex as the Singing Researcher. Listen out for 'Hello' and 'Knocking on Heaven's Door'.
The Hairdresser
A door you may not think of knocking on to learn about professional ethics is that of a hairdresser.
Surely, you might think, hairdressers don't experience ethical challenges? Timothy Scott, a local hairdresser, will tell you different. Put yourself in his shoes for a moment: A client asks you to perm their hair after they've coloured it at home. The client says 'well, the hairdresser down the street would do this for me'; and A client insists on a style or colour that you believe will not suit him or her.
Timothy's responses to such situations are based on ethical, aesthetic and practical values, for example, respect, tolerance, beauty and manageability. He said he would refuse to add more chemicals to hair that has recently had other chemicals applied due to the potential for harm (even if it results in a loss of income). He is keen to suggest styles that are most becoming to the client, however, he will do what a client insists on if taste rather than harm is what is at stake. Timothy says his values come from three decades of experience.
You might be interested to know that there is a literature relating to 'hairdresser ethics' – see https://www.modernsalon.com/article/7511/9-essential-work-ethics-for-salon-success and https://www.scribd.com/document/106606572/Professional-Ethics-for-the-Hair-and-Beauty-Industry
The final report this week relates to engagement with a different kind of literature…
The Politicians' Author Daughter
If you are struggling to select an inspiring gift for a child you know, I may have just the thing. On Wednesday I attended a book signing of 'She Persisted Around the World' which has short stories of '13 Women Who Changed History'.
The book's author is Chelsea Clinton (daughter of Hillary and Bill) and the illustrator is Alexandra Boiger. Chelsea was charming. She signed the book, shook my hand, asked who 'Kiera' was and said she would be in Dublin soon. She also said she was impressed I'd come all this way for the book signing. I didn't spoil the moment by saying I was here on sabbatical.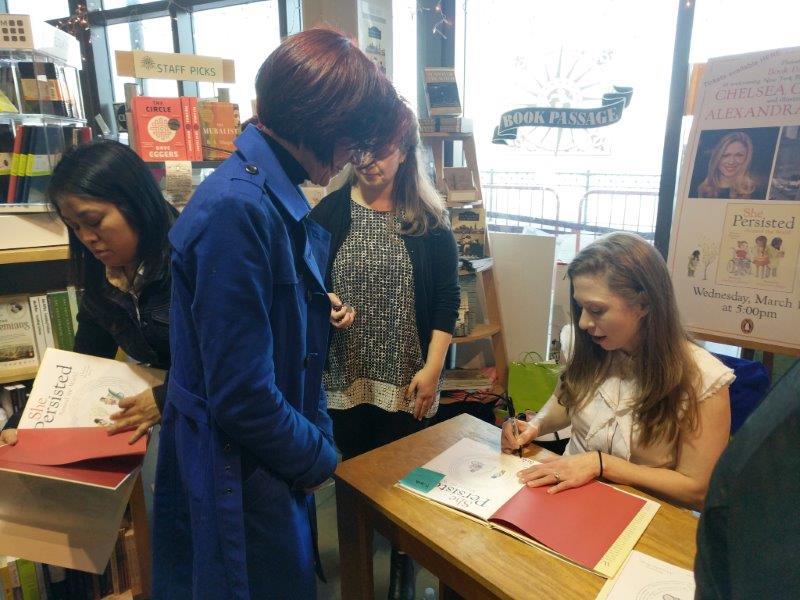 [Book signing by Chelsea Clinton at Book Passage, Ferry Building, San Francisco]
Have a great week.