This week, and it is hard to believe it is just that, has been an amazing adventure. I owe much of this experience to the kindness and generosity of Professor Vicky Traynor and my new-found colleagues (Alera, Amy, Miriam, Nadine, Nicole & Rita) from University of Wollongong who have welcomed me in to their group as an adopted Aussie.
Vicky's and Co's work at Wollongong is very much focussed on providing patient centred care, and it has been really uplifting to see this in action throughout the week during our meetings and at the IAAG congress.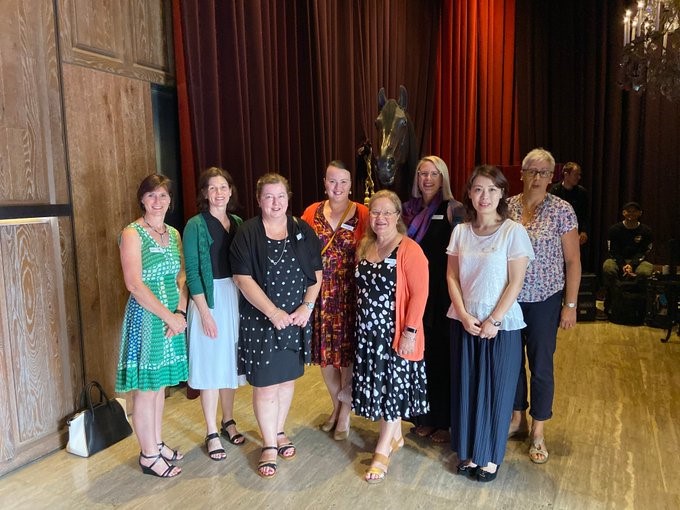 The week started with a visit to Taipei Medical University, who have teamed up Wollongong to collaborate on mutual areas of interest and recently started offering students the opportunity to undertake a joint PhDs between the 2 institutions. An interesting concept indeed.
Next up, fighting through ongoing jet lag, a day spent with the Taiwanese Alzheimer Disease Society (TADA) supporting practitioners attending a Dementia Driving Awareness workshop. Although in Taiwan people aged >75years undertake mandatory driving tests, to date only 3 people have ever failed the test.
It was a real privilege to have the opportunity to participate in the event, a highlight of which was when attendees were asked to develop and act out a driving related scenario. The group really came alive at this point and the energy in the room was phenomenal, with a lot of humour throughout.  Given the increasingly older population around the world, there is clearly much work to be done, not just for practitioners, but for us as individual's regarding when and how to 'have the difficult conversation' about stopping driving with our friends and family.
Midweek was spent with the Taiwanese Ministry of Health where Aussie colleagues gave an overview of the various nursing career pathways e.g. nurse practitioners, clinical nurse consultants, clinical nurse educator, and nurse educator. The newly developed gerontological nursing competencies in Australia for use by nurses who work in nursing homes were also discussed. This was followed by an overview of the current state of play in Taiwan regarding nurse practitioners, and current challenges in their workforce.
Taiwan like many countries around the world has problems with retention of nurses in the workforce. Unlike the UK, and many other countries around the world, there are no part time opportunities for qualified nurses in Taiwan. As one of the fastest aging societies in the world, alongside changes to family structures, radical change is required.  It was reassuring to hear about recent changes and government policies that have been introduced to support the 'super aging society' of Taiwan. Informed by WHO policy key initiatives including a drive to provide more home nursing, effective nursing and SMART nursing (using technology) to support the future workforce. Sounds familiar??
Many of these changes are in line with those reported in other countries around the world underpinned by the Nursing Now campaign. https://www.nursingnow.org/. It was great to hear that nurse prescribing is on the agenda, and will hopefully be coming soon!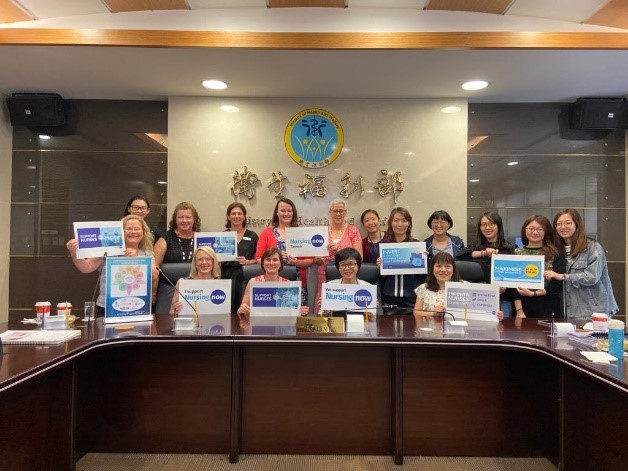 The latter part of the week was spent at the 2019 IAAG Asia/Oceania Regional Congress. Aptly titled 'Health and Wellbeing in the Silver World: From Bench to Policy', the congress provided an eclectic offering of keynote presentations, symposia, oral presentations and posters. Content was vast, with many common themes throughout. Some of the more unusual presentations included a 'Topiary based intervention for older adults with mild cognitive impairment' from Korea, and a powerful talk about the 'barriers to improving death literacy in an oriental background culture' from a Taiwanese based Doctor who was also a nun.
The main thing that stood out for me was that despite the different healthcare economies of the world, we are united by the challenges of our aging population, workforce shortages, and a need to provide more homebased care, so people can live well and for longer, not just live longer.
Of course, in addition to all this hard work, there has also been downtime including a lot of laughs, some fabulous Taiwanese food, and a trip up the Taipei 101 building. As the highest building in Taipei, that has a damper ball that moves to stabilise the building, it is definitely not a one for a windy day.
With just a few remaining hours left in Taiwan, packing and airport transfers to be done, next stop Brisbane.