Having safely arrived in Wollongong I was able to set up at this seaside location for the remainder of the trip, Wollongong, referred to as the 'Gong' by locals, is a seaside city about 1 ½ hrs down the coast from Sydney, and the location of a large steel works boasting an almost continuous chain of beaches for surfing. In theory the pace of the trip should really have slowed down at this point. Not me. With all this in sight, I turned on my heels travelling back up to Sydney to make a flying visit to Adelaide the very next day.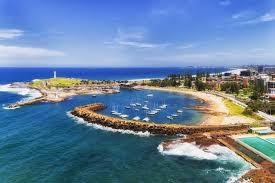 Meeting with Jenny Hurely, Chief Nurse and Midwifery Officer, Paula Medway Senior Midwifery Advisorand the team based at South Australia Health provided another great opportunity to share the delights and challenges associated with the implementation of non-medical prescribing in the UK.
Despite the convoluted approach to pharmacist and allied health professional prescribing, the agenda for introducing prescribing by a wider population of nurses in Australia is gathering pace and heading towards significant policy change. It is likely that when the Nursing and Midwifery Board, release their new standards on prescribing at a national level, South Australia (SA), which has quite liberal jurisdictional poison regulations, will be in good position to be an early pioneer of this change in SA Health facilities. Discussions focussed on learning from the UK experience to inform their approach to implementation. Adopting this approach to knowledge translation should mitigate against reported barriers, expedite the potential benefits of prescribing across Australia, and strengthen the impact of our UK work in this area.
Returning to Wollongong and arriving on campus I have been able to reconnect with the 'Gong gang', and my status as an adopted Aussie. As in Taiwan, the Aussie gang have been instrumental in facilitating a smooth transition to the area. Midweek I was privileged to give a master class on frailty and an overview of current thinking in the UK, at the local hospital, , and join the ADHERe 2020 planning meeting, both of which were key opportunities for information sharing and exchanging ideas.
Outside of this the 'Gong gang' have done a grand job of orientating me to the campus, public transport, local amenities, and linking me in to local care providers, and aged care facilities. Finding the best coffee, and brekkie location, core components of Aussie culture, have also been high on the agenda. Check out the favourite types of coffee across Australia below.