Hi everyone!
Thought I would share some Christmassy activities around Guildford and the UK in general with you! The last couple of weeks of term can get very stressful with the last few deadlines approaching so little breaks are definitely needed!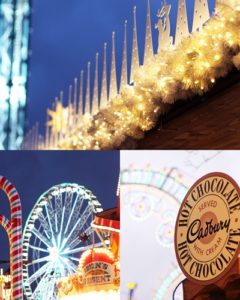 For six weeks during November/December, Hyde Park in London is transformed into an incredibly Christmassy fair called Winter Wonderland. You can have a cocktail at the beautiful ice rink, take a ride on the observation wheel, which offers stunning views of the skyline 60m above London or walk around the Christmas market and Bavarian Village. Last year I went with two friends and after exploring the Christmas market we got some mulled wine in the tent and it was almost like being back in Munich at the Oktoberfest – just with a Christmassy twist! They played lots of German songs like Atemlos durch die Nacht or the Fliegerlied and everyone seemed to have a great time although I'm sure most people did not understand a word. Obviously they played some of the classics like Angels by Robbie Williams. Always worth a trip to London!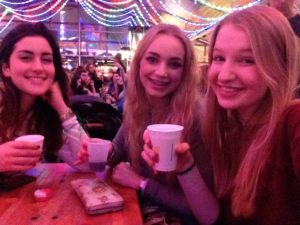 The "Guildford Christmas Lights Switch-on" takes place every year on Guildford high street and is a great start to the festive season. There are different performances and activities throughout the day and vendors offering mulled wine and sweets. The main event is the countdown to the lights switch-on from the Guildhall balcony followed by fireworks. To finish off the evening, there is some live music.
Finally, the Student Union and a few societies organize trips to different Christmas markets, like Winchester or Bath. This year I joined the photographic society for a trip to Bath Christmas market, which is one of the largest festive events in the UK and according to different magazines the most beautiful. Now coming from the country where Christmas markets originated,  the bar was set pretty high, but I really enjoyed the one in Bath! Wooden stalls line the squares and streets surrounding Bath Abbey and offer absolutely everything from hand-made goods to mulled wine to jewellery, art and clothing. Although being very busy on a Saturday – we regularly lost groups of people – the market is definitely worth a trip to Bath and you can always combine it with exploring the beautiful city itself a bit.
Hope you are having a very festive and wonderful holiday season!