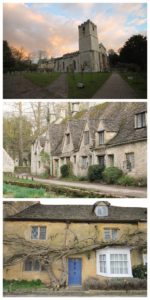 Last weekend I went to the Cotswolds for the second time and decided to blog about it because it is just so beautiful and worth seeing! The Cotswolds cover a huge area in south central England and run through five counties. The area is often described as the "Heart of England" and is one of the most typical English regions of with its historic castles, stone-built villages and beautiful gardens and rolling hill countryside.
We used one of the university minibuses and it took us about 2 hours to get to our first stop, Stow on the Wold. Next, we drove to Chastleton House, which is owned by the National Trust. This is a beautiful country house, which remained pretty much unchanged for about 400 years. The whole atmosphere around it is just so peaceful and we spent most of our time in the gardens. After seeing Bourton-on-the-Water, we reached our final stop Bibury just in time for sunset! Last year we also visited Broadway, which is a very cute village and definitely worth seeing as well.
Last weekend I tried film photography for the first time so I don't actually have many pictures of the trip yet, but I included some I took last year!
Have a wonderful day!