Hi everyone!
So in case you're in first year or even just thinking about applying to a British university that offers a 'placement year', I thought I would write a general post about placement and the application process.
What is a 'placement year'?
The professional training year that some universities in the UK offer is an additional year (between your second and third year at uni) that you spend working full time in a company or at a university. In Germany, this is comparable to practical semesters you often have to complete at universities of applied sciences (Fachhochschulen). The placement year is optional, but it gives you invaluable experience in your field before even completing your undergraduate degree. Also, people who do their placement at a company often get an offer of employment after graduation.
Placement years are offered at many universities around the UK, however the placement scheme at Surrey is special as the university has over 2,300 connections to employers and there is loads of help available to get a placement. The university will follow up with you at least three times during the year and make sure that your work is going well and there are no problems regarding your placement. You are assigned a 'Visiting tutor' who will actually come to your workplace. This way, they can also assure that you are really working on projects that relate to your degree and you're not just getting coffee or making photocopies. If you study natural/life sciences, you will be performing experiments in a lab or working in a company relating to your field. If you study computing, you will be programming or designing software.
The application process
Once you start your second year, you will have to start looking and applying for placements pretty soon.  The process of finding a placement can take up a rather significant amount of your time, so being organised is really important. As I mentioned above, there is loads of help available to get a placement at Surrey. During the first weeks and months of your second year, there will be scheduled lectures about the placement year. Depending on your course, companies might even come to these sessions and present different job opportunities. The careers service team at Surrey offers 15 minute quick query sessions to check CVs and cover letters. You can even book guidance interviews to practice for placement interviews.
The actual application process will be very different depending on what type of placement you are looking for. If you apply for a position in a big company, you will often have to answer many specific questions as part of the application and go through an assessment centre at some point. For other placements, sending off a cover letter and your CV might be enough. The university has an online portal where many placements are advertised, which makes the process of finding a job a lot easier. But you can also contact companies on your own and try to secure a placement this way. As the deadline for finding a placement is not until September, people find their placement at very different times. Some of my friends secured their placements one month into second year. But I also know people who still managed to find a placement in August, already having finished their second year.
The university also offers research related placement opportunities at partner universities, that are often funded by Erasmus. The university has connections to research groups all around the world, including the US, Canada, Australia, Brazil and lots of places in the EU. People I know have gone to New York, Toronto, Barcelona, Stockholm, Milan and Berlin for their placements – the options are endless. The application process for these placements is very structured and there are certain deadlines you have to submit your choices and application by.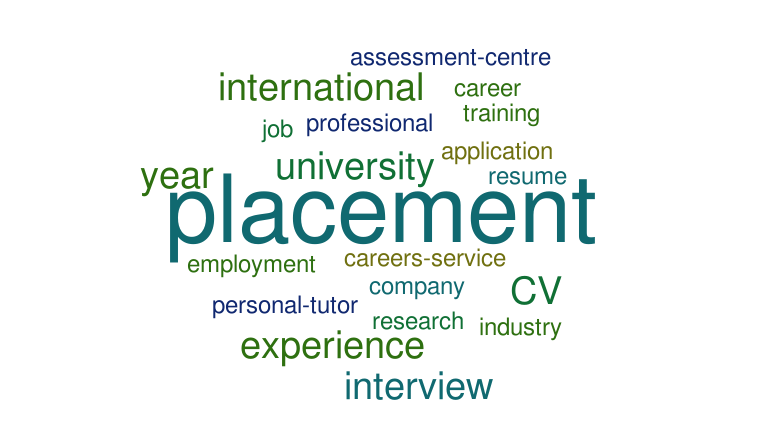 Placement interviews
After you've applied for a few placements, some might call you in for interviews! Most big companies will have multiple interviews, usually starting with a video/telephone interview. This may seem unimportant and telephone interviews are often very basic, but they're vital in your progress. The next stage can be an assessment centre, followed by the final interview. As with all job interviews, the most important thing is to be prepared. Research the company, know your prospective position inside out and prepare answers to the most common questions asked in interviews.
As I mainly applied for international placements, they were via skype or telephone interviews. With the international research placements, a lot of the interviews will be taking place during exam season. The interview for the placement I chose in the end was on the day between two exams, so again, organisation is key!
General advice
As mentioned above, managing your placement applications and university work at the same time can be very difficult, so try to be as organised as you can! It's more important than ever to find a good balance between university, placement applications and other activities. One piece of advice that I can give you is to have an up-to-date version of your CV ready before you even go back to uni, as you will need it for every placement application. Also, set aside some evenings or a few hours on the weekend to research and apply for placements.
Don't apply for placements you are not genuinely interested in. I found my self writing applications for placements in places I love, but I had a really hard time explaining why I was interested in the research being done in that particular group. There is no point in doing a placement just for the sake of it, even if you're the only one in your friendship group who chooses not to do one. You should be enjoying what you do and there has to be something about it that will benefit you in the long run. Of course, a placement year can also show you what you don't want to go into and that can be a highly valuable experience, but don't go into a job already knowing that you won't enjoy it. If you can't find a placement you like, it's not the end of the world. You will have plenty of time after uni to get work experience!
Make use of all the resources we have at Surrey, especially the careers centre. Book sessions to get your CV and cover letter checked and go for a practice interview. In addition to this, speak to your personal tutor and lecturers about placement opportunities and get their advice on any potential issues you might have. They can be extremely helpful, given their expertise in the particular area!
I hope you found this rather long explanation of the placement year and application process helpful! And, as always, if you have any other questions, email me!
Alexandra