Hi everyone!
I hope everyone had an amazing summer! Since I finished my placement at the beginning of June and the semester did not start until October, I got to spend nearly 4 months back in Munich and travelling. I absolutely love my hometown and thought I could tell you about some of the highlights of this city.
The English garden: Surfers and river floating
The English garden is a park in the centre of Munich, it's bigger than New York's Central Park and a good bit more peculiar. It's a great place to stroll along the water and picnic or play a game of pickup soccer or volleyball, but it's also home to a Chinese tower with a massive beer garden. There is a river flowing through this park, called the "Eisbach". At two points there are standing waves and surfers, oftentimes in full-body suits, cutting back and forth between the banks. While this is super fun to watch, the river is also great for swimming. It's veery cold (Eisbach = ice stream), is quite shallow and has a strong current, so you jump in at one end and scoot along effortlessly until you climb out of the water up to a kilometer further. Then you either go back to sunbathing on the lawn or walk back and repeat!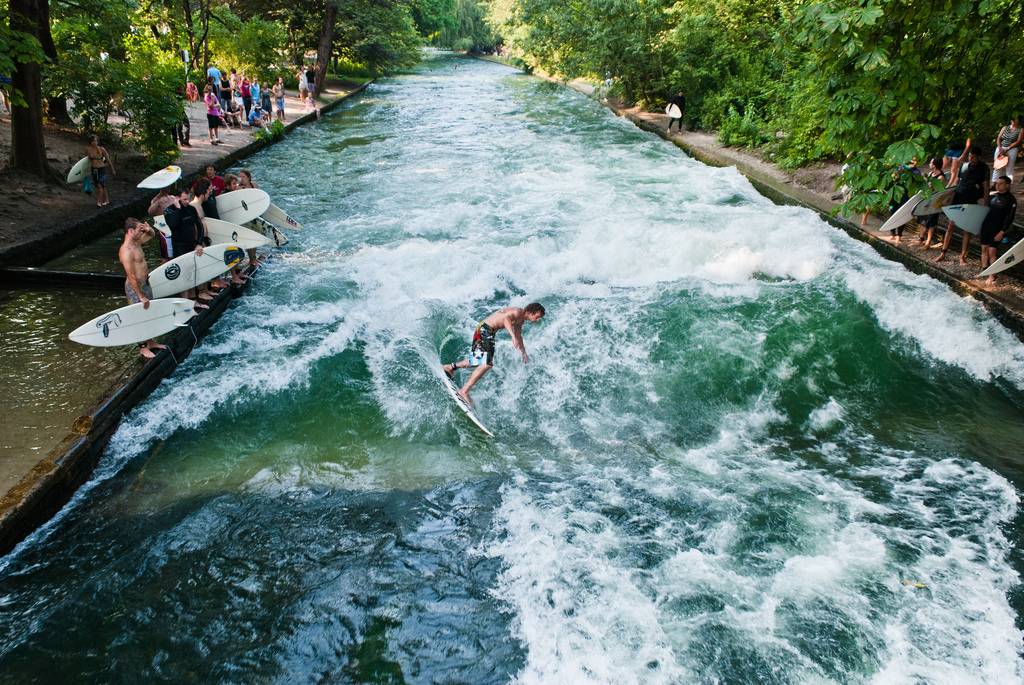 2. Summer festivals and the Olympic Park
There are a range of really cool summer festivals in Munich and one of them is the Tollwood festival. It focuses on different contents like food, concerts and arts and crafts and takes different forms and genres every year. The main aim of the festival is to connect music, theatre, art, and food with an ecological  and environmental consciousness. It is located in Munich's Olympic Park and it's a really good way to spend a summer evening, I love getting some food and a drink and then just to sit on one of the adjacent hills and watch the different shows and concerts from there!

3. Breakfast Cafes and bars with a view
Although Munich doesn't have the most spectacular of skylines, there are still a few cafes/bars that have amazing views of the city and oftentimes also the alps! Two of my favorites are the Glockenspiel Cafe right at the central Marienplatz and the other one is the Vorhölzer Cafe, which is on top of one of the buildings belonging to the technical university in Munich.
Hope you have a wonderful day!