This year, the School of Health Sciences has taken part in the University of Surrey GCC walking challenge. Colleagues have come together to form teams made of 7 people to compete for the most number of steps they can walk, run, cycle or swim. We are very pleased to say that this year we have 8 teams totalling 56 staff taking part: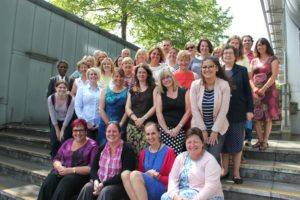 • The Globetrotters R Us
• The TrueNTH Surrey Researchers
• The Blank Hack Racers
• Trotting Tutors
• The Pick and Mix
• The Pod Plodders 2016
• The BlueEmotion and
• Annette's Intensive Walkers.
To support the fantastic success of our teams so far we thought we might use this blog to share the activities we have done to increase our steps.
1. Create a Leader board
Competition seems to be key (in this school anyway). We've all been gently pushing each other to go a little bit further, to walk a few more steps, so our teams aren't last. Watching us all jostle for top position on the leader board has led to some clever tactics to ensure our steps increase.
2. Create a Motivation board
Create a notice board that people can share tips on. We've included all sorts of things on ours. From posters about nutrition, to tips on books you can buy that feature local walks and information on local fitness clubs.
3. A Lunch time stroll
We now run a weekly lunch time walk. The aim was to show that in 30-40 minutes you could escape from your desk and add an extra 5000-6000 steps to your daily total. We always have the same meeting point and time, but the day of the week we hold it on varies, to try and include everyone. We go anywhere and invite people to create and lead walks too. What's great is that you get to speak to people you wouldn't normally get time to speak to and see bits of the area that you might not have seen before.
4. Encouraging people to take the long cut
Gently encouraging people to use the stairs some times, or walk a longer route to the loo or the kitchen can all lead to an increase in the steps you've walked. No more short cuts for us!
5. Make it a game
We're finishing our walk with a treasure hunt. There's no walking route for our one, but we've divided the campus up into zones, with 5 questions per zone. It's designed to be completed over the course of several lunchtimes, completing it section by section and hopefully leading to lots of steps as we try to complete it. If you're on campus and want to take part in the treasure hunt for fun, we've attached it below. We'll post the answers in another blog post in a few weeks time.
Campus Treasure Hunt – QUESTIONS blog
The main thing we've found is to make it fun. Constantly pushing people to walk more steps is not at all motivational and can often have the opposite effect, but gently supporting each other, with a little friendly competition thrown in, can lead to some great lifestyle changes and help to make us all feel a little bit healthier.
Happy Stepping! 🙂