Dr Bridget Jones, CPsychol, Health Psychologist, RHAPSODY researcher, Surrey Health Economics Centre
Although commonly viewed as a health and social condition related to old age, dementia also strikes younger people when they are leading busy working lives and fulfilling multiple family roles. Receiving a diagnosis of dementia at a young age comes as a shock. The high impact on all the family is heightened by low levels of support and a lack of joined-up information.
Multidisciplinary international team work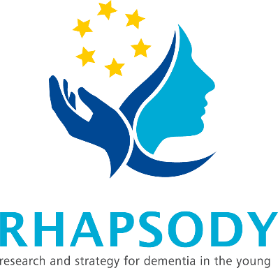 RHAPSODY is an EU Joint Programme Neurodegenerative Disease Research (JPND) project involving multidisciplinary collaborators from eight partner institutions across six countries – France, Germany, the Netherlands, Portugal, Sweden and the United Kingdom. The UK contribution is funded by the ESRC. Led by Professor Alexander Kurz from the Technological University of Munich, the UK team is led by Professor Heather Gage from the University of Surrey. Professor Jan Oyebode from the School of Dementia Studies at the University of Bradford contributes her clinical and qualitative experience to the group.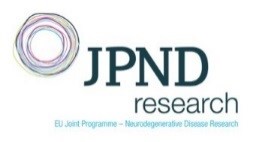 Clear aims based on carers' opinions
The project sets out to improve care and support for people with young onset dementia by considering requirements as described and explained by family carers, who share the process of diagnosis and the experience of living with the condition. Four key aims provide a focus for each phase of the work with the ultimate goal of creating and evaluating an on-line program providing the type of information and support carers need.
1 To evaluate the policy and information environment in the partner countries, including the frameworks for the treatment and care of people with YOD, and information available.
2 To assess the specific information and support needs as expressed by carers.
3 Design an internet-based, multimedia, interactive program for carers.
4 Evaluate the program in France, Germany and the United Kingdom by conducting a pilot study to assess the feasibility of an online course, its suitability and acceptability for carers.
The two first phases of research looked at the information available and investigated the situations family carers face when they find themselves supporting someone close who is diagnosed with dementia before the age of 65 years. Following in-depth interviews in the Netherlands, each country conducted research to understand the local needs of carers.
Learning from real life
Here in the UK, we listened to the opinions of carers at discussion groups in Birmingham and Guildford. Simply coming together to meet others in a similar situation was a revelation for some participants. As experiences were exchanged and individual anecdotes were shared, we began to appreciate the extent of the struggle everyone faced, not only during and after diagnosis but also on an ongoing daily basis. Finding age-appropriate information, dealing with social and health services, and accessing suitable support was a real problem. The same was true across all countries, with a clear need for information about young-onset dementia – explaining symptoms, considering how and where to seek support, and bringing together advice and insights from professionals as well as those who coped with similar situations.
Developing and testing the program
Built on the multidisciplinary experience within the research collaboration team, and grounded in the needs described by the carers, the RHAPSODY program is designed to bring together important information in one resource. It sets out to make the information accessible and to demonstrate ways of coping that may be helpful to carers.
Developed in German, French and English the program offers background information on young onset dementia and provides practical information about where to get help, with links to relevant websites and resources. The seven parts cover themes such as A Medical Perspective on Young Onset Dementia; Dealing with Challenging Behaviour; Family Issues; and How to Get Help.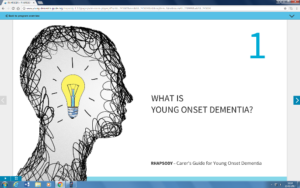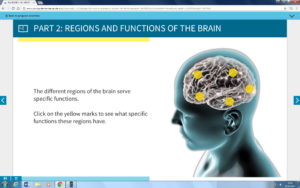 There are video case studies to illustrate ways in which some carers cope with activities that may become problematic. Other clips act as reminders about the complicated processes we take for granted when we carry out everyday tasks. Interactive sessions and reflective questions help to provide information, build knowledge and promote confidence. Some parts of the program can be downloaded and printed for off-line use.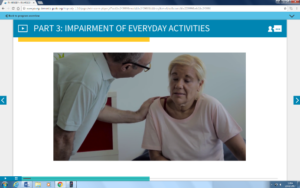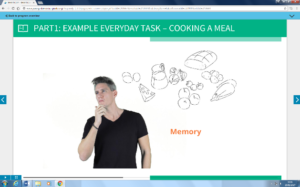 We are grateful to carers who participated in the pilot study and have recently finished testing the RHAPSODY program here in the UK. Participants tried the program over a period of six weeks, evaluating its usefulness and considering the practicalities of using the online course. As well as completing questionnaires to indicate how the program may have helped with caring and coping, participants have provided generous feedback and suggestions.
The next phase: Analysis, results and impact
With data collection complete, the data processing and analysis stage is now underway. The results will inform the future for the RHAPSODY program, from suggestions for content and media styles to indicating likely stages when carers may benefit most from improved information. This user-friendly model of information and support provides an opportunity for raising awareness among organisations working with people with young dementia across Europe.
The RHAPSODY program aims to highlight and meet the needs of carers.
For more information on the RHAPSODY project visit www.rhapsody-project.eu
Dr Bridget Jones b.e.jones@surrey.ac.uk