Dr Kieren Egan and Dr Treena Parsons
Introduction
Technology is all around us. As the saying goes, "necessity is the mother of invention", and the needs of society continue to be broad yet acute; paradoxically simple and challenging. Technology inventions over the last century have propelled us to an age of rapid transactions, communication and modes of transportations which previous generations would have marvelled at. Even at this very moment in reading this blog post, you are not bound to a certain time, geographical location or specific electronic device. You could be reading this in the urban metropolis of Sao Paulo or the wilderness of the Scottish highlands. This is possible, because technology has become accessible, and it frequently is geared around the needs of one person, you.
With this in mind, we can now introduce one specific use of technology; to help assist those with or affected by dementia, where there are exciting ambitions in the years ahead. Dementia is a condition both compelling and complex, which has many needs without a 'one fits all' size. The experience of dementia is different for every single person and will be affected by factors such as individual personality, biography, physical health and social psychology. Dementia is an "umbrella term" used to refer to a collection of symptoms that can be caused by a number of disorders that affect the brain. There are more than 100 conditions that cause dementia with the most prevalent dementia sub-types being Alzheimer's disease, vascular dementia, mixed dementia (a mixture of Alzheimer's disease and vascular dementia) and dementia with Lewy bodies or frontotemporal dementia. The Alzheimer's Society has defined dementia as
"a set of symptoms that may include memory loss and difficulties with thinking, problem-solving or language. These changes are often small to start with, but for someone with dementia they have become severe enough to affect daily life. A person with dementia may also experience changes in their mood or behaviour."
              Alzheimer's Society Website
There are truly diverse needs in dementia care and you can read more about the condition here. It's a condition which is affecting over 40 million worldwide and with the biggest risk factor of all being increasing age, the dementia population will grow substantially in the years ahead (reaching 135 million by 2050 globally). So the question is, could the latest innovations in technology help? Further, could we individualise it to the needs of people with dementia and their families/friends?
Technology Integrated Health Management study
In order to understand this question further, the School of Health Sciences and the 5G Innovation Centre at the University of Surrey are collaborating on a novel, high quality study called the 'Technology Integrated Health Management (TIHM) study' which you can read more about here. The study is a large, randomised controlled trial involving 1400 participants led by Surrey and Borders Partnership NHS Foundation Trust and is part of an innovative two year 'Internet of Things (IoT)' Test Bed. Partners involved in the study include: Alzheimer's Society, University of Surrey, Royal Holloway University of London, Kent Surrey Sussex Academic Health Science Network, Public Intelligence, six local clinical commissioning groups and several technology companies. It has already attracted a lot of interest, with national media coverage including an article from the guardian.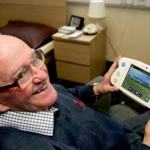 The technology devices will use a combination of connected apps, sensors, monitors and other devices that are inter connected and set up in the person's home. These devices collect health and environment related information on the person with dementia 24 hours a day. The information collected by these devices include monitoring sensors of blood pressure and oxygenation, glucose levels, heart rate, hydration, weight, motion, location tracking, humidity, light, smoke and carbon monoxide levels. The health information collected by the devices is then transferred in real time, securely to a clinician at Surrey and Borders Partnership using the IoT intervention, who will view the person's reports and contact them directly if any of the readings require further action. Thus, we will test a whole system approach which will be built around the needs of the person with dementia and their carer. We will evaluate the effectiveness of this technologically assisted intervention statistically, and through the perspectives of all involved. The results of this study are anticipated in Spring 2018.
Find out more/ Get involved!
There are many ways to find out more or get involved with the study. If you would like to be kept up to date with the study news you can find our twitter feed here.
For those living in Surrey and North East Hampshire: