Hello everyone;
This is the last week of the fist semester here in Surrey. Everybody has worked so hard and now looking forward to the Christmas break. The last official day of this semester is this Friday so only two more days to go. As you may know, each university has two semesters starting at different times either in September or October depending on the university. Here in Surrey, the first semester starts on 5th of October and finishes on 5th of February with a Christmas break in between. However from the student point of view, the term finishes on 3rd week of December (this week) and then we straight sits the exam in January usually around 18th-30th. So from this week all the way to 18th of January is all about revision and preparing for the exams. It might seem long but trust me once you start revision you realise how much work needs to be done and you might think there is not enough time to go through everything. The big mistak that most first and second year students would do is to leave all the work for Christmas break and, therefore, end up with not having enough time to finish the revision. The point here is to be organised and revise from the start of the semester especially if you course requires you to understand the materials like engineering courses. During the semester, you have the opportunity to discuss the problems with your peers and also during the tutorial sessions once a week you have one hour for each subject, to ask any questions you might have with your professor. My advice is to make the most of these tutorial sessions and ask as many questions as you wish to understand the subject.
Ok, enough of studying let's talk about the fun stuff☺, Christmas here in Guildford. Guildford is such a beautiful town with a lot of history. There are so many shops around that you can go and do your Christmas shopping. Every year there is an annual day of November usually around 19th that everybody gathers on the high street in the evening to celebrate the Christmas Lights On. This year about 2000 people turned up including me; I totally recommend you to go to town on that day if you come to Guildford. It is so much fun.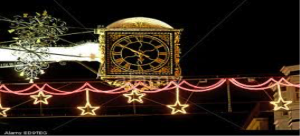 The  Clock that you see in the picture is the iconic timepiece in Guildford High Street (main street) since 17th century 1683. Recently Guildford council spent more than £44,000 worth of work on it to make sure it continuous the good work for more decades to come. You are probably thinking why does it cost too much to repair?!! The reason being is that the work has been done by a specialist clock maker; Smith of Derby and the clock itself is made of the 23-and-a-half carat English gold leaf, so yeah it is an expensive clock.
I also would like to add that Guildford is only 35 minutes away from London by train. So whenever you want, you can pop in to the train station that is only 10 minutes walk  from the University.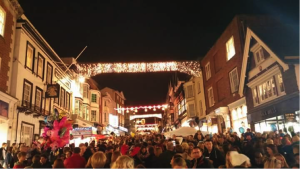 Have great day.
Zohal