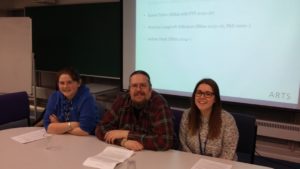 Three current and former Surrey BMus Music students addressed the annual Surrey ExciTeS Excellence in Teaching Symposium at the University of Surrey on Wednesday 4 January 2017.
Karen Taylor (BMus with PTY 2012–16), Octavius Longcroft-Wheaton (BMus 2013–16; PhD 2016–), and Jadene Doak (BMus 2014–) (pictured, l-r) addressed questions from academics drawn from across the University.
The panel discussion focused on the use of an innovative student-led online discussion forum in a final-year undergraduate module on Musical Theatre taught by Dr Christopher Wiley, who convened the session.
Education conferences are increasingly witnessing the inclusion of student speakers on panels, but this was a first for the University's Surrey ExciTeS conference, which is now in its fourth year.
The full programme for Surrey ExciTeS 2017 (including abstracts) is available here: http://www.surrey.ac.uk/dhe/surrey_excites/Surrey%20ExciTes%202017%20Programme.pdf