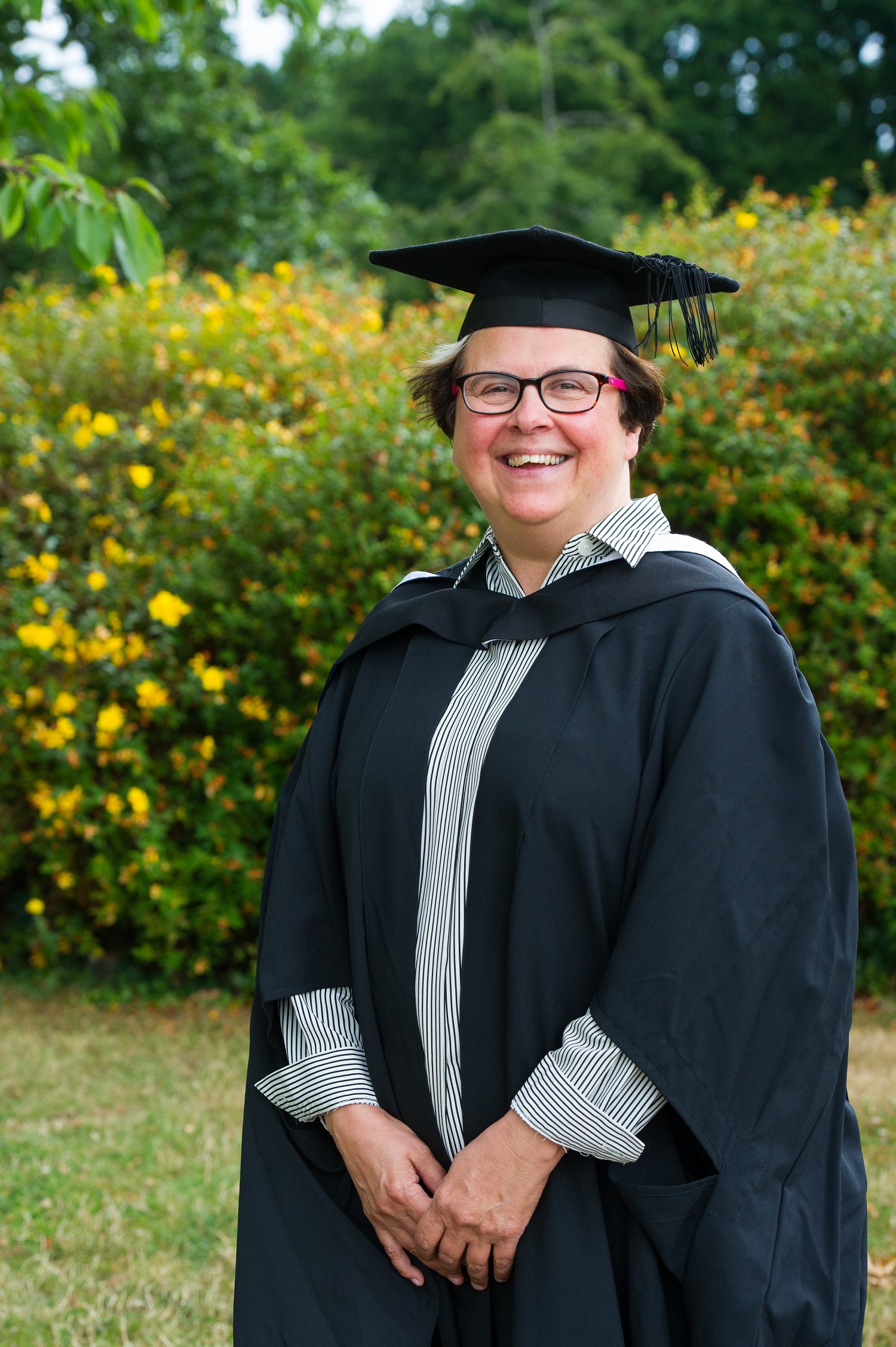 Odaline de la Martinez graduated from the University of Surrey with a MMus in 1977 and has pursued a demanding and successful international career as a composer, conductor and producer.
Martinez was the first female in history to conduct a complete BBC Prom at the Royal Albert Hall. She is internationally recognised for her promotion of Latin-American and contemporary composers and the work of women composers.
She has been the artistic director of contemporary music ensemble Lontano which she founded in 1976. She founded the LORELT record label in 1992 and in 1994 the performance and first complete recording of Dame Ethel Smyth's great opera, The Wreckers. In 2016 Martinez conducted the first complete recording of Ethel Smyth's The Boatswain's Mate by Retrospect Opera.
Martinez grew up in the USA studying at Tulane University, New Orleans, where she read both music and mathematics. Following the award of a Marshall Scholarship, she continued her studies in the UK. Martinez attended the Royal Academy of Music where she studied composition with Paul Patterson and piano with Else Cross. At the University of Surrey she studied with Reginald Smith Brindle before graduating with her MMus in Composition.
Martinez has worked with orchestras across the world, recorded extensively and conducted repertoire from Mozart symphonies to the latest contemporary music. She has received numerous awards including a Guggenheim Fellowship (USA), and won the Opera Award for Female Composers in 2015. Her first opera, Sister Aimee: An American Legend (1984), was premiered at Tulane University in 1984 followed by two other productions at the Royal College of Music (1987) and Marin County College, California (1995).
Her second opera Imoinda  (2005-2008) was commissioned by the Caribbean Women Writers' Alliance (CWWA) with funds from the Heritage Lottery Fund, UK. The Crossing, the final instalment in her Slavery Opera Trilogy, was commissioned by Tulane University and premiered in New Orleans in April 2013, whilst she was there as composer in residence. This work received a UK premiere in November 2014 at the opening concert of The Fifth London Festival of American Music.
In 2015 Martinez was awarded an Opera America grant to produce a video of Imoinda. More recently, in 2016, she received a Women Make Music grant from the PRS for Music Foundation toward the writing of her next opera, Plantation.
Martinez is in demand throughout the world both as an orchestral and opera conductor and with her own ensemble, Lontano. She has recorded numerous CDs for LORELT, her own record label, as well as Summit, BMI and Albany Records based in the United States, Chandos, Metier and Conifer Classics based in the UK and Da Capo in Denmark.
As a musician, Martinez has acquired a remarkable reputation for her versatile and eclectic vision, and her supreme ability to work with others to make that vision a reality.
In 2016, Martinez was the first recipient of the Vice-Chancellor's Alumni Lifetime Achievement Award at the University of Surrey.
What attracted you to choose to study at music at Surrey?
It was because of Reginald Smith Brindle who was a professor at Surrey, a composer and a well-known writer about contemporary music across the world. There was no other choice for me – I always say in this regard that Surrey chose me. He was excellent and one of the best teachers I have ever had.
How did your musical career progress?
At around the same time as joining Surrey, I founded, with flautist Ingrid Culliford, Lontano, a London-based contemporary music ensemble. I realised that people had very little knowledge of the diversity of contemporary music and I wanted to make the work of women composers, in particular, and Latin-American music more widely known. Women composers didn't really get a look in and I thought here's my chance to make a difference.
Lontano became successful very quickly; within a year we were performing on BBC Radio 3 while still students. I started out as a pianist at Lontano but I always knew I wanted to be a conductor and it has enabled me to have a great career working all over the world.
I am still artistic director at Lontano and, as well as performing all over the world and recording, we are also dedicated to providing valuable music experiences for children and adults in East and South-East London. We aim to reach the most deprived and isolated communities, bringing people together through the creation and performance of original music.
Our flagship education programme, Connections, has been running since 2008 with the aim of celebrating Gypsy Roma Traveller music and culture. We work with children across London as well as musicians of Gypsy Roma Traveller heritage in order to encourage community cohesion amongst people of all backgrounds.
What are your career highlights?
In 1984, I became the first woman to conduct a complete BBC Prom at the Royal Albert Hall. I was surprised and delighted but at the same time sad that it had taken so long – to think that not one woman had been asked before.
I am inspired by the work of Ethel Smyth, the first female composer to receive a Damehood, in 1922.  For years Ethel was remembered more for her work as suffragette than as a composer but she wrote in the brightest, largest scope, which was not common for women. She was a close friend of conductors, composers and soloists of the time and in later life wrote about them when deafness prevent her from composing.
I have recorded a lot of her music and conducted the first modern recording of her comic opera The Boatswain's Mate.
One of my highlights was receiving the Villa Lobos medal in 1987 from the Brazilian government for championing the music of Heitor Villa Lobos and other Brazilian composers.
How did you feel to be named as our first winner of the Vice-Chancellor's Alumni Lifetime Achievement Award?
I was delighted, honoured, humbled and surprised.
What are your aspirations for the future?
I am really looking forward to the premiere of my complete 'Slavery Trilogy', at the London Festival of American Music in 2018.  To my knowledge, it is the first Afro-Cuban opera on slavery.
I love Afro-Cuban music. It brings back memories of my childhood, falling asleep to the drumming and waking up when it stopped in the middle of the night. It has influenced me greatly.
I have one more opera in me and it will be about Cuba. I want to tell the story of the people who tried to escape to the US in boats and rafts, not always succeeding. I would also like to perform the Slavery Trilogy in the country which inspired it.
What advice would you give to students hoping to work in your field?
As a career, music can be very up and down but stick with it. Don't wait for someone to give you a break, just carry on.