It's that time of the year when glitter, tinsel, colourful lights, and the delicious aroma of festive smells and delights brighten up the dark, cold winter days. Positive vibes, good mood, feeling inspired, hopeful, and optimistic are all swirling in the air too. But this is also a time in the academic year when Music students searching for a placement start to draft their applications and target prospective employers. There is a good analogy here between the surge of positivity this mid-winter season brings and putting our best self forward when preparing personal statements, CVs, and cover letters for placement applications.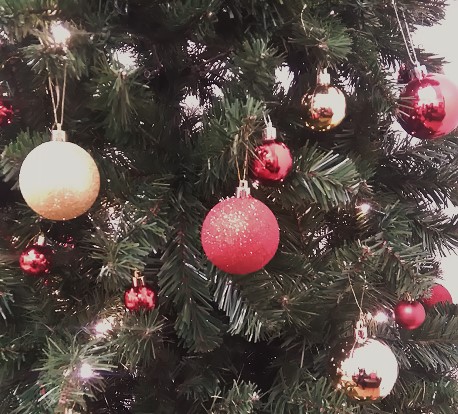 (Photo: Department of Music & Media, this year's festive tree with lots and lots of sparkle and glitter balls!)
Presenting yourself on paper to a prospective employer can feel like a daunting task at first. And time after time I've encountered PTY tutees feeling hesitant or finding it difficult to capture their subject-specific and transferable skills concisely yet in a manner that effectively accentuates their capabilities. But the key is to be yourself while also presenting yourself in the most positive light possible. You want to sparkle and stand out from other applicants – it's a bit like that shiny glitter ball hanging from a tree that unexpectedly catches your eye with its iridescent luminosity among many other decorations. Now, I am not talking exaggerating the facts unduly or faking it. Any employer who has screened and read dozens of placement applications and has interviewed many candidates, would be able to sniff fakery from a mile. After all, there is beauty in the simplicity of truth about who we are, what inspires us, and who we aspire to be.
So, it's all about selecting the right words while also tapping into your inner, intuitive side to express who you are. CVs and cover letters tend to comply with a more-or-less standard format, but there is flexibility here too that allows you to explore how best to find your own unique balance between appealing to employers' language and fulfilling the skills they are looking for, and maintaining a sense of individuality. Ultimately you want to put your best assets forward, elaborate on your key strengths with concrete examples, demonstrate your ability to overcome challenges resourcefully, show that you have the willingness to learn new things, and, overall, convince any prospective placement employer that you are the best person for the job.
So, go on! Start experimenting with those draft CVs, personal statements and cover letters, and turn the challenge of placement applications into something a little bit more fun – a thoughtful game in search of your unique glitter and sparkle.
Additional resources:
Judith Leigh, How to Write Successful CVs & Job Applications (Oxford University Press, 2013)
University of Surrey Careers and Employability. For drop in sessions or pre-booked appointments to discuss CVs and cover letters for placement applications, visit https://www.surrey.ac.uk/employability-and-careers
(1 December 2017, blog text by Dr. Georgia Volioti)