The end of another academic year is a time to reflect on our sense of community and celebrate students' success, especially achievements that have gone unnoticed amidst an unusually challenging second semester!
In May, earlier this year, Music BMus graduate Amy Kearsley was the recipient of the prestigious FASS Placement Student of the Year Award. This is an outstanding achievement and recognition for Amy's commitment, enthusiasm and talent demonstrated during her placement year, and we warmly congratulate her for this wonderful accomplishment. The award also marks an opportunity to recognise the impact and success of Music placements, within the Department of Music & Media, and the passionate work that goes into supporting students achieve their full potential, enjoy their placement experience, and excel in their chosen roles.
Amy completed her placement with the English National Opera and worked in a range of demanding and public-facing roles, including the production of performances at the London Coliseum and educational music projects with ENO's Baylis Department. Reflecting on her experience Amy comments:
I've wanted to be a singer for as long as I can remember, and I fell in love with opera at the age of 16. I specifically came to the University of Surrey with the goal of gaining a placement with an opera company. When I started my placement at ENO I had no idea that it would open so many doors for me. I was introduced to the world of opera from an entirely different angle and it was incredibly motivating to learn about the different roles and jobs that happen behind the scenes. Winning this award has meant a lot to me. It is great to know that my hard work has been recognised and it is really encouraging that music placements are valued within the University.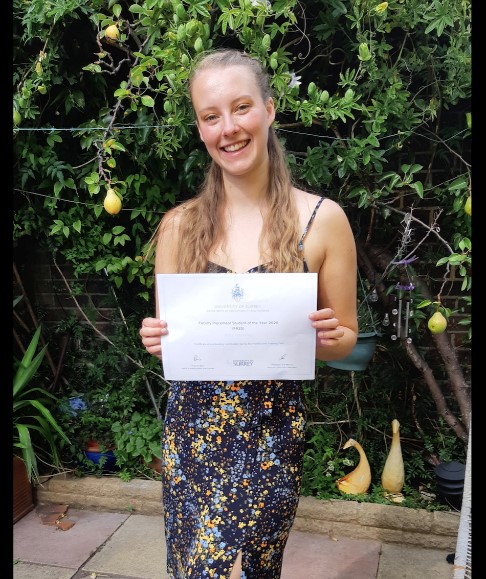 Moving on from University to the next stage of her career, Amy adds as an afterthought:
A placement in music is the perfect learning environment to broaden one's skill set, make connections with professionals, and prepare for the real world. It is all about making the most of every opportunity that is offered to you during your degree and creating opportunities for yourself too!
We wish Amy and all recent Music BMus graduates every success in the future!
(9 August 2020, blog text by Dr. Georgia Volioti and Amy Kearsley)