Hi there! I thought I would do a post about the ways you can get around The University of Surrey and the surrounding area. If you have any questions let me know in the comments down below!
The University of Surrey is not a massive one. It's a 10-minute walk or so from one side of the Stag Hill campus to the other, and if the weather is nice it's quite an enjoyable walk! Although you will spend a lot of time on Campus, it is nice to get to know the area around the University and Guildford.
The area around the University is really nice and there are loads of footpaths which make you journey a safe one. Guildford Town Centre is only a 15-minute walk and so is Manor Park Campus (which includes the Sports Park and the Vet School). Walking will also make you win points on SurreyMoves – which you can exchange for a free coffee, Surrey branded water bottles and other prizes!

Footpath from Manor Park to Stag Hill.
Like walking, cycling is another enjoyable way (weather permitting) to get around the University and surrounding area! There are several bicycle storage facilities all around campus which is extremely convenient. If you don't have your own bicycle, there's always the option of using the NextBike renting service: there are 8 docking stations spread around campus and the discounted membership for students is £30/year.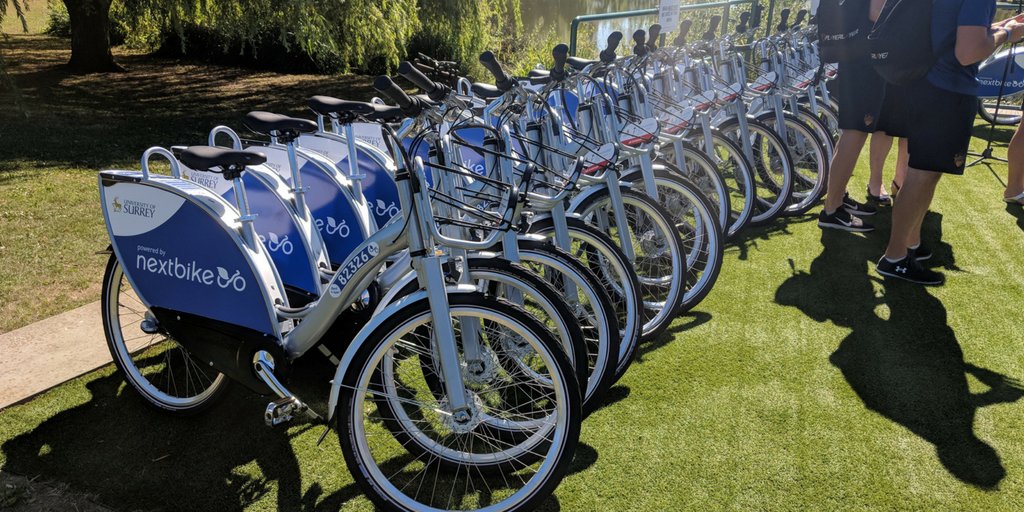 For several reasons my top pick goes for buses! During the winter months it can be quite unpleasant to walk from one place to another, and buses are quite cheap especially if you get the University subsidised pass.
The annual pass for unlimited travel on all Stagecoach routes around the Guildford and Godalming area is £155 (saving of over £600) i.e. just over £12/month. The pass will be especially useful if you are staying over at Manor Park (5 minutes to Stag Hill) or generally living off campus and it also includes the night service route, great for coming back home from Rubix on a night out!
There are several routes that serve quite well the Guildford area, and the Route 1 service (Town Centre > Stag Hill > Sports Park & Manor Park > Stoughton) very regularly – approximately every 10 minutes in both directions during term time! All information available on the Stagecoach website!
The University of Surrey is extremely well served in terms of rail, with Guildford Station being just a 10-minute walk from Stag Hill Campus. There are frequent services to central London and all over the South East. The station is extremely convenient for International students as there is a direct GWR service taking you to London Gatwick Airport in around 40 minutes. For cheaper tickets I recommend getting the 16-25 Railcard which costs £30/year and will give you 1/3 discount on all tickets! You only need to travel to Central London or Gatwick a couple of times to get the price of the railcard back.