Almuth McDowall will be speaking at the British Psychological Society's Psychology 4 Students event in Sheffield on 21 November on her research with the UK police. This BPS event series aims to give A-level, Pre-tertiary and 1st year undergraduate students a glimpse into the exciting world of Psychology and where a psychology degree could take you. Almuth's talk is entitled "Work-life balance in the UK police – understanding the challenges and opportunities."
Almuth says:
"Funnily enough, my long standing collaboration with the Police started years ago on the back of my undergraduate project! Just goes to show that you never know, and it's doubly fitting to be presenting my research to tomorrow's students."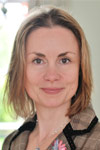 Almuth is  director of the MSc Occupational and Organistional Psychology course and a member of the Enhancing Thinking research theme.