Children are born into a world infused with gendered information, and an understanding of what it means to be a boy or girl can have critical effects on the formation of their identity, behaviour and relationships.
Dr Harriet Tenenbaum, Reader in the School of Psychology, has co-edited a new volume on this issue, Gender and Development, with Professor Patrick J. Leman at Royal Holloway, University of London. The book looks at a range of contexts in which gender affects development and socialisation – from the child's relationships with parents and siblings, to their communication with peers over the internet. The book integrates both theoretical and applied perspectives, and addresses scientifically the age-old issue of gender equality throughout.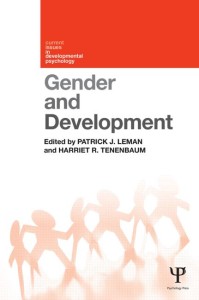 Gender and Development will be essential reading for students and researchers in developmental psychology, social psychology and gender studies.
___________________________________________________
Dr Tenenbaum is also co-leader of the Enhancing Thinking research theme at Surrey, and editor of the British Journal of Educational Psychology. Her research focuses on children's cognitive, social and emotional development in relationships.