When is nature healing and when is it scary?
On Wednesday 11 June, members of the School of Psychology's Environmental Psychology Research Centre (EPRC) explored ideas of the natural world as both a healing place and a scary space. Birgitta Gatersleben, Eleanor Ratcliffe, and David Uzzell spoke at a symposium on risk and restoration in nature, organised by the BPS Wessex branch and held at the University of Surrey. The event drew on research conducted by the EPRC which demonstrates how nature can be psychologically beneficial in some contexts, but threatening in others, and how best to communicate such risks to the public.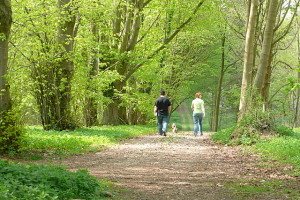 Eleanor discussed the perceived benefits and threats associated with birdsong, linked to the acoustic, aesthetic, and associative properties of the sounds. Birgitta presented findings showing that dense nature, or natural spaces in which one might get lost or attacked, can inhibit restoration, but walking with a friend can help. David discussed risks and behaviours associated with ticks and Lyme Disease in the UK. The recommendations from his research included increasing the pereceived salience of risk of catching Lyme Disease, and encouraging members of the public to take action after, rather than before an outdoor visit.
The event, chaired by Ian Christie of the Surrey Centre for Environmental Strategy and the Sustainable Lifestyles Research Group, was very well-attended and stimulated discussion about varied sources of restoration in the natural world and how the UK differs from other countries in its communication regarding risks such as Lyme Disease. A follow-up event is planned for the autumn of 2014.
For more on the Environmental Psychology research conducted here at Surrey, see our Research Centre's page.
For information on studying our MSc programme in Environmental Psychology, see our postgraduate training page.