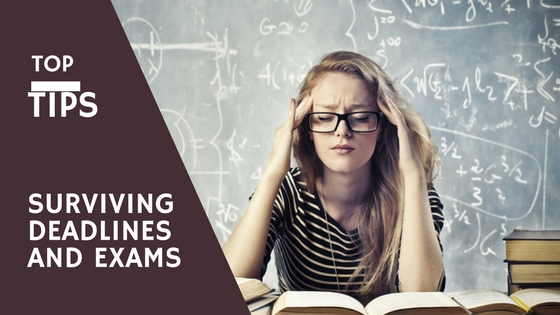 Hello guys. I hope everybody has had some fantastic holidays and time to reflect on their goals for 2018 (hopefully starting your degree at Surrey is at the top of your list).
Now, I know I have not been active and consistent with my blog posts these past 2 months, but this is about to change. I have to say it hasn't been exactly the most relaxing holiday ever. Why? Well, final year is no piece of cake – deadlines, exams, graduate jobs and/or master's applications. Who said figuring out your future is an easy task? The more choices you have, the better. Oh yes, and all while trying to balance your 8h of sleep/night, 3 healthy meals a day, maybe a social life aaand some spare Netflix time?! Yeah sure: not happening. Okay, I know – sounds scary, but it is not all that bad.
As a student mentor I always advise my mentees on organising study time in a way that allows them to make the most out of their student experience at Surrey, but let's face it – nobody thinks working around holidays is fun. So what is there to do? Over the years I have learned that cramming for exams is actually stressful and not the best solution for maintaining top marks. But just like many others, I struggle with procrastination. However, what has helped me so far are the tools available at Surrey.
So, I thought I would share my top tips on surviving deadlines and exams period.
PLAN YOUR WEEK AHEAD
Uni of Surrey has a really cool online timetable that you can synchronise with your phone and add important notes, deadlines for assignments or group meetings to keep track of your to-do-list easily. Last semester I had the chance to work with the Department of Technology Enhanced Learning to improve user experience (UX) on SurreyLearn, the University's Virtual Learning Environment as well as designing an all-inclusive mobile app for our students. In the next couple of weeks we will be finishing the initial prototype and I can tell you straightaway – it will be better than anything we've experienced before.
SCHEDULE AN APPOINTMENT WITH YOUR MODULE COORDINATOR
Remember the High School Musical anthem-"We're all in this together"? Of course you do. We all do, right?! Well, here at Surrey things are no different. The best way to revise is definitely by practising and sharing your knowledge with a group of friends. However, if you feel uncertain about the outline of your assignment or how to prepare for an exam, the easiest and best thing one could do is to contact the lecturer. Our academic staff is known for their friendliness and needless to say that interacting as much as possible with people who are already in the industry is an amazing tool to start building a strong network.
SPLASH, SPLASH, SPLASH
No, not that kind of splash, although it does rain a lot here so watch out for those less considerate drivers. SPLASH (Student Personal Learning and Study Hub) is the university's learning development team and you can easily find them on the 3rd floor of the library. With over 60 workshops available throughout the year, drop-in and counselling sessions, this is one of the best tools available for Surrey UG or PG students. Their workshops are designed around the most common issues students struggle with: from how to overcome procrastination, to everything related to academic writing such as referencing or literature review, as well as how to apply your research skills in the workplace.
REMEMBER TO RELAX AND REWARD YOURSELF
Smashed that never-ending revision session or finished the first part of your reflective essay? Well done! Then it's time to take some time off and do something you like, meet up with some friends, hit the gym or maybe a yoga class. There are some really nice short hikes around Guildford for a quiet afternoon break. Also, Surrey Sports Park is one of Europe's premium centres for sport, wellbeing and health, having hosted significant events such as the 2017 Women's Lacrosse World Cup, 2013 Danone Nations Cups and the inaugural Paralympics GB SportsFest. And have I mentioned the student discounts?!
DO NOT PANIC!
Houston we've got a problem! Over-stressing about your academic commitments will not help you achieve the results you want. Sure, sometimes working under stress can be beneficial, but bear in mind that a poor mark or failed exam is not the end of the world and there is always a second chance for everything. On this note, I encourage my mentees to practice mindfulness (knowing directly what is going on inside and outside ourselves, moment by moment). How can you do that? Our Centre for Wellbeing promotes meditation as a great technique to unwind and relax. And it's easy. Mobile apps such as Headspace or Calm only take 10 minutes of your time daily and trust me, you'll see results quite quickly. And they are free! So take 10!
Hmmm, this pretty much sums up how I survive deadlines and exams, but I will let you in on another secret: what really motivates me is planning a getaway after I am done with all the stress. It is a reward mechanism I have been using for the past 4 years and it really works. You should all know by now how much I love travelling! So there you have it! My top study tips! I will catch you guys next time.
XOXO
Ana