Hey Everyone 🙂
So the past week, I've had the most amazing time travelling to Manila, Philippines with one of my friends, His name is Sam! 🙂 It was my very first time to the Philippines so I was beyond excited !
Also, Sam had spent part of his childhood there so I felt so thankful that I had the oppurtunity to just see where he grew up and actually be immersed in the culture because I was living among the locals, aka his extended family who were so sweet and definitely made me feel so at home.
One thing that I'll definitely remember about Philippines, is for it's insane amounts of  traffic. hahaha  It was to the point that we had to catch a flight at 1am from Singapore to reach Philippines at about 4am so as to avoid the traffic.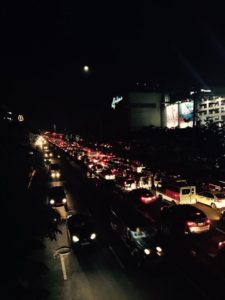 and Even when we landed, it was such a struggle to get home! We only got to his home at about 8am despite landing at 4am ish! so you can already imagine how that went haha. dark circles and no caffeine was definitely not a good match.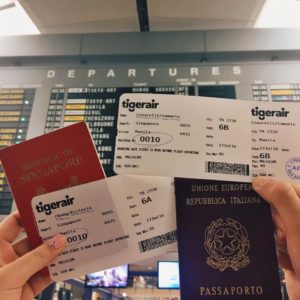 A little later on the first day after we landed, at about 1pm, some of Sam's family friends were so sweet to drive us to this place called Tagaytay which is located on a ridge overlooking an active volcano separated by the Taal lake. The view was absolutely *breathtaking* and I still get goosebumps just thinking about the view cause it was so beautiful!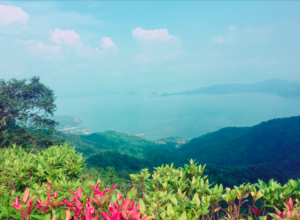 They also took us to this local restaurant that served authentic Filippino food which was so delicious! and one of the classics that everyone who went to the Philippines would've had to try was BUKO anything.
Buko = Coconut (in Tagalog – the language widely spoken together with English)
So that's me just enjoying my fresh Buko Juice! It was so yummy and fresh! And when I meant Buko anything I was not kidding cause for dessert, they brought us to have Buko Pie which is actually a coconut custard pie! It was so goood and let's say, I'm gonna want this instead of a proper birthday cake for my 21st birthday hahaha take note guys!
While I was enjoying my Buko Juice, Sam got this drink called Gulaman which is almost like a dessert but in the form of a drink! It has these "tapioca" like pearls at the bottom but apparently, they're usually more of a brown colour like the boba ones! I personally prefer the pink colour ones though 😉
The following day, or should I say, Later that night…. cause we had to leave home at 3am so as to avoid traffic as we were heading off Island hopping at this place called "The Hundred islands!" It was about a 4-5 hour drive away and we had to leave super early so we would beat the traffic.
When we got there, the view was all worth it.
It was so breath-taking and everything was just so picure-worthy, I ended up using up about 32GB of my SD Card! We had to rent a boat for about 6 of us that included two boat-drivers who brought us to the different islands whenever we wanted to island-hop!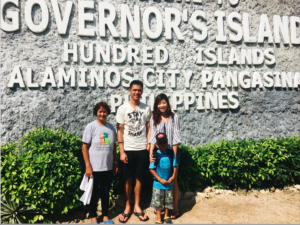 So here's a lovely picture of Sam, his nephew (who is like the cutest toddler ever!) and his Lola (aka his grandma!) who was such a good sport for making it through all the island hopping and swimming we did! 🙂
It's been almost a week since I've left Philippines but I'm already missing it so bad ! I'm definitely gonna miss waking up and seeing Sam's lovely family each morning and how they never failed to buy us this breakfast/dessert called "Taho" – it's kinda like the tauhuay (soy beancurd) we have in Singapore drowned with a slightly sweet gula melka like syrup, with some boba like jellies 🙂 It was so so good and I think it tasted even better because I could taste the warmth of their hospitality and love!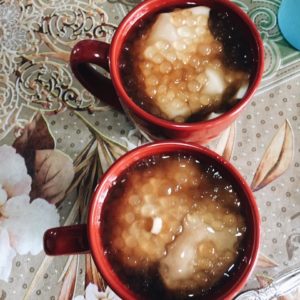 Secondly, I'm gonna miss Flippino food…. no joke D: I've been craving it every day since I left 🙁 Especially the stew I always got there, Sinagang! basically like a non-spicy tomyum like soup with a very soury yet flavourful taste! and of course, the rice and ULAM (aka… cai fan, we have in Singapore)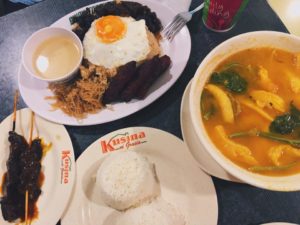 And of course, I'm gonna miss Sam! the next time we meet is going to be in both our final years at University ! I'm beyond terrified but excited ! 🙂 and I can't wait already!

I'll definitely be back Philippines! 😉 cause I'm definitely having the "feels" for the Phils haha!
Love,
Ecclesia !