Hi everyone,
Since I started working (and even now when I'm back studying again), holidays have become extra precious to me because I always see it as a time to rest and recuperate. When there's a break, I was always eager to use it to just not do anything and rest at home rather than go on short trips to the nearby countries like Malaysia/Thailand/Indonesia. I was intending to do much of the same here for most of April because I needed to balance my research work with time to just ease away from it. Being at home in Guildford also meant that I would naturally end up going into the kitchen a lot more. One of the things I learnt when I went on exchange back then was to enjoy cooking and have fun when you're preparing meals.
Cooking is a therapeutic experience for me each time. Even if it were just whipping up a quick meals, I've learnt to enjoy putting that extra effort in making something nice to reward myself after spending a good long while doing my work. Unfortunately, when there's research stuff running in the back of my mind, I'm quite reluctant these days to spend too long in the kitchen because it's at the expense of the golden hours of productivity during daytime. That's also why I always enjoy inviting friends over for a meal because it's a good reason/excuse for me to prepare something special (which usually means something Singaporean).
While the hawkers back home prepare our hawker favourites with lightning speed, I take a good long time to prepare my dishes. Truth is, Singapore dishes take a long time to prepare when you prepare them from scratch. Ingredients play a big part of the preparation and picking the right ingredients makes a huge difference although you'll have to make do with substitutes when they're not available.
Day 1 of the Spring Break was the best day to restart my kitchen adventures again! I invited my coursemate, Filipo, who's from Florence, Italy over for Laksa and Fried Hokkien Prawn Mee, with a Beef Stew. He'd prepared a delicious mushroom risotto a couple of weeks back and I had to return the favour. I'd prepared Laksa and Fried Hokkien Prawn Mee before so I was hopeful that I wouldn't mess it up when an Italian MasterChef came over as a guest.
I'm a big fan of spicy food but many of my European friends from before couldn't take that level of spicy so I had to learn to tone down the spiciness by A LOT whenever I have guests over. To be honest, even some of my friends back in Singapore can't handle my level of spicy… 😜
Preparing the chilli paste for the Laksa requires a blender and a good mix of spices which are actually available. If they don't work out too well, there's always a back up plan with some premixes! Once that's settled, the other important ingredient is coconut milk. Coconut milk doesn't just add flavour to the "soup" but it also brings out the chilli even more. (Just a stray observation, which may not be true.) So to counter that, I used a mix of both coconut milk and the regular fresh milk. I couldn't bring myself to use spaghetti as the noodles for my laksa because my guest was Italian so I bought some beehoon (way too expensive, but for guests, I guess it's fine). Here's how it turned out: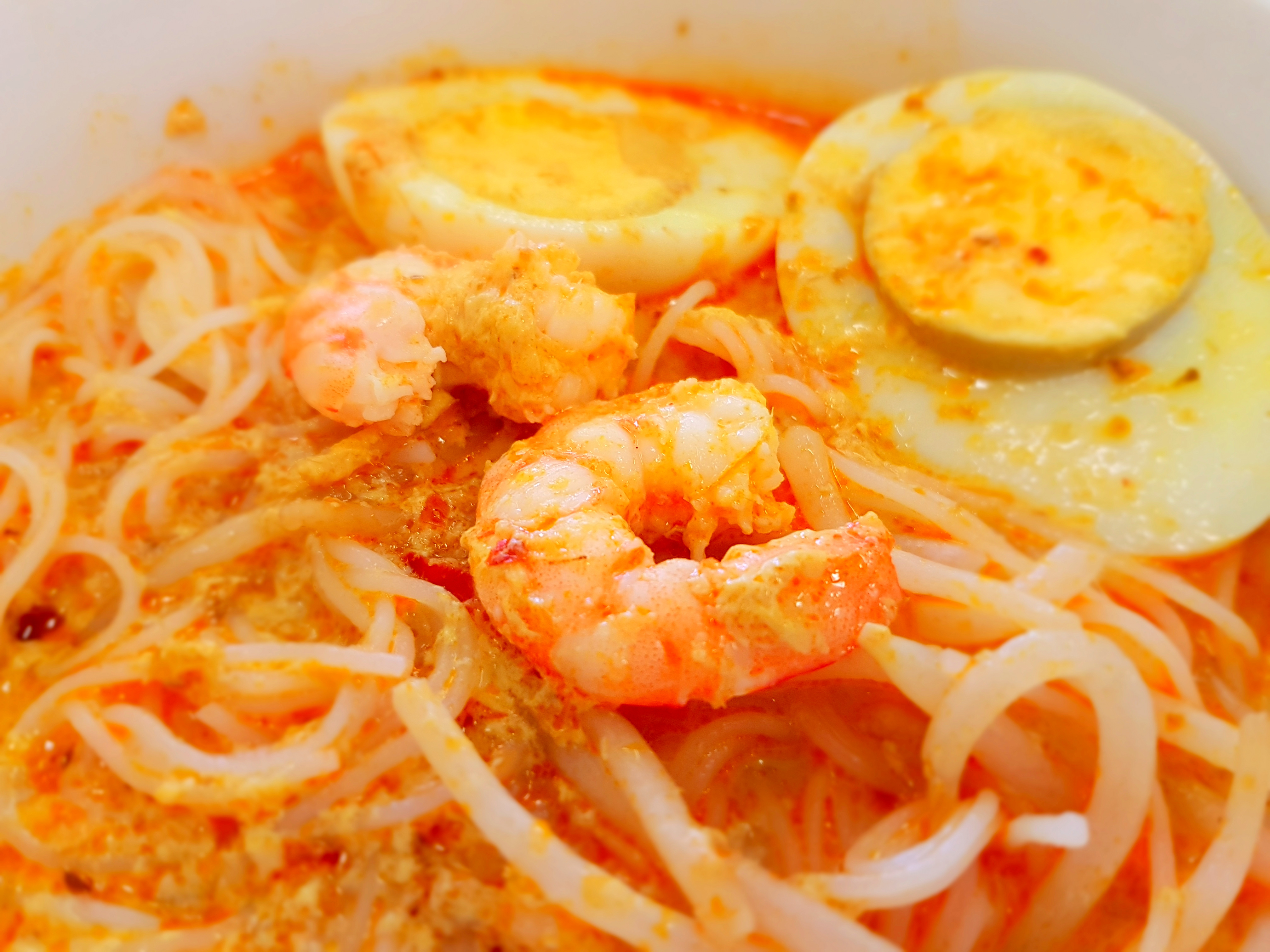 Once again, what was lacking was taupok, fish cake and the all-important laksa leaves!
There was also a Beef Stew that I had prepared some hours before and left on the stove to slow cook the meat till. I must admit that it was still a bit Western for my liking but the star anise retained a bit of the Chinese food flavour. It's got beef pieces with potatoes in a tomato-based gravy made from blended tomatoes. The beef was first marinated in black pepper and red wine before browning them in a wok. As red as it looks, it's not spicy at all: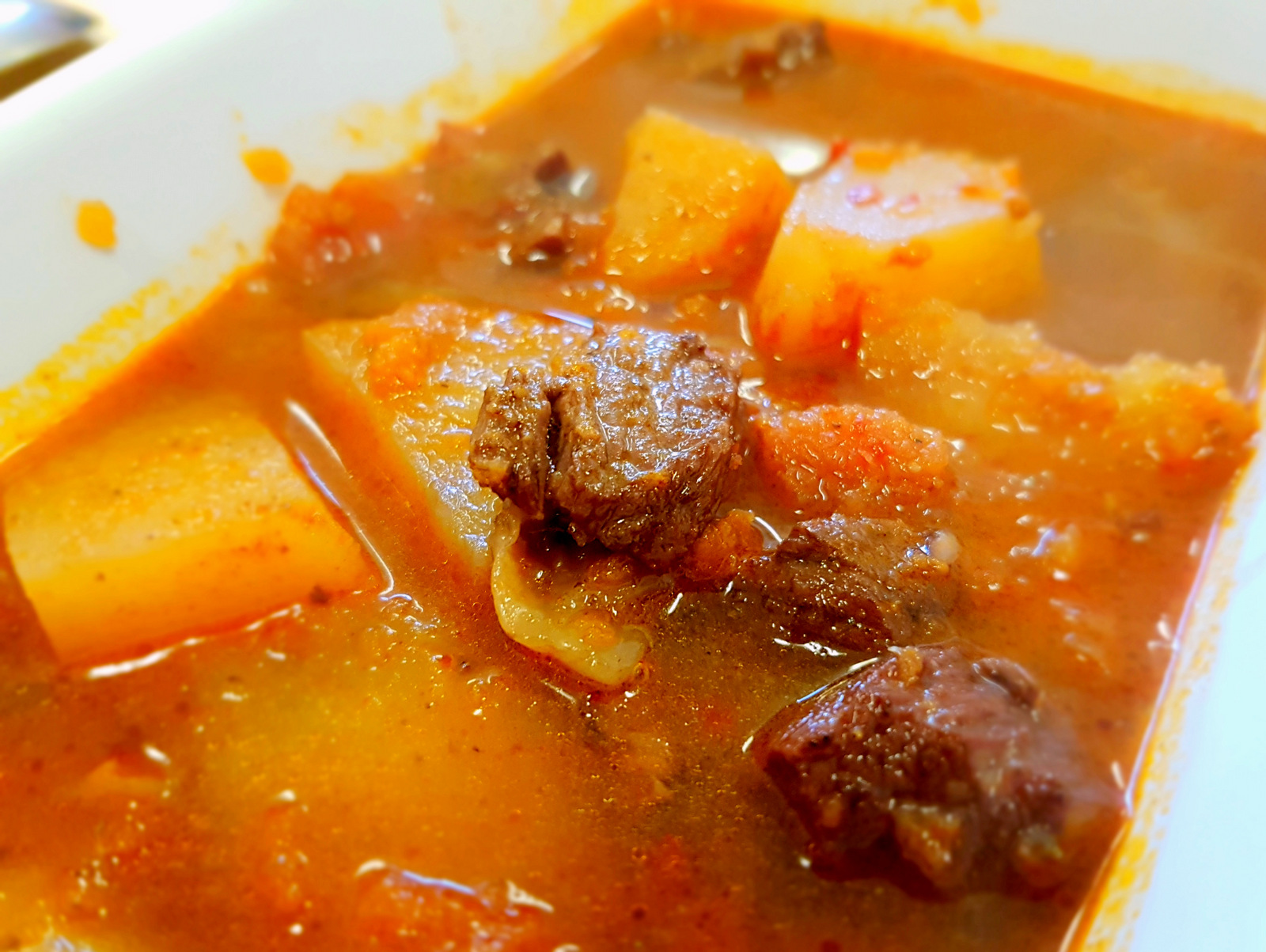 For the Fried Hokkien Prawn Mee, it required a prawn and pork broth beforehand so I had to cook a pot full of prawn with pork ribs. Ideally, it should be the prawn shells and heads but I had to make do with cooking the raw prawns. Hawkers would use pork lard and the oil with it but I had to compromise with using bacon instead (not because there's no lard but because I wouldn't usually use it so I decided not to buy it). Doesn't have that authentic taste but it was decent enough. Cooking the noodles requires plenty of patience because it's like preparing risotto where you add broth bit by bit while continuously stirring. I don't know why the hawkers make it looks so simple to prepare! Here is my improvised version, with pork scratchings featuring instead of pork lard pieces: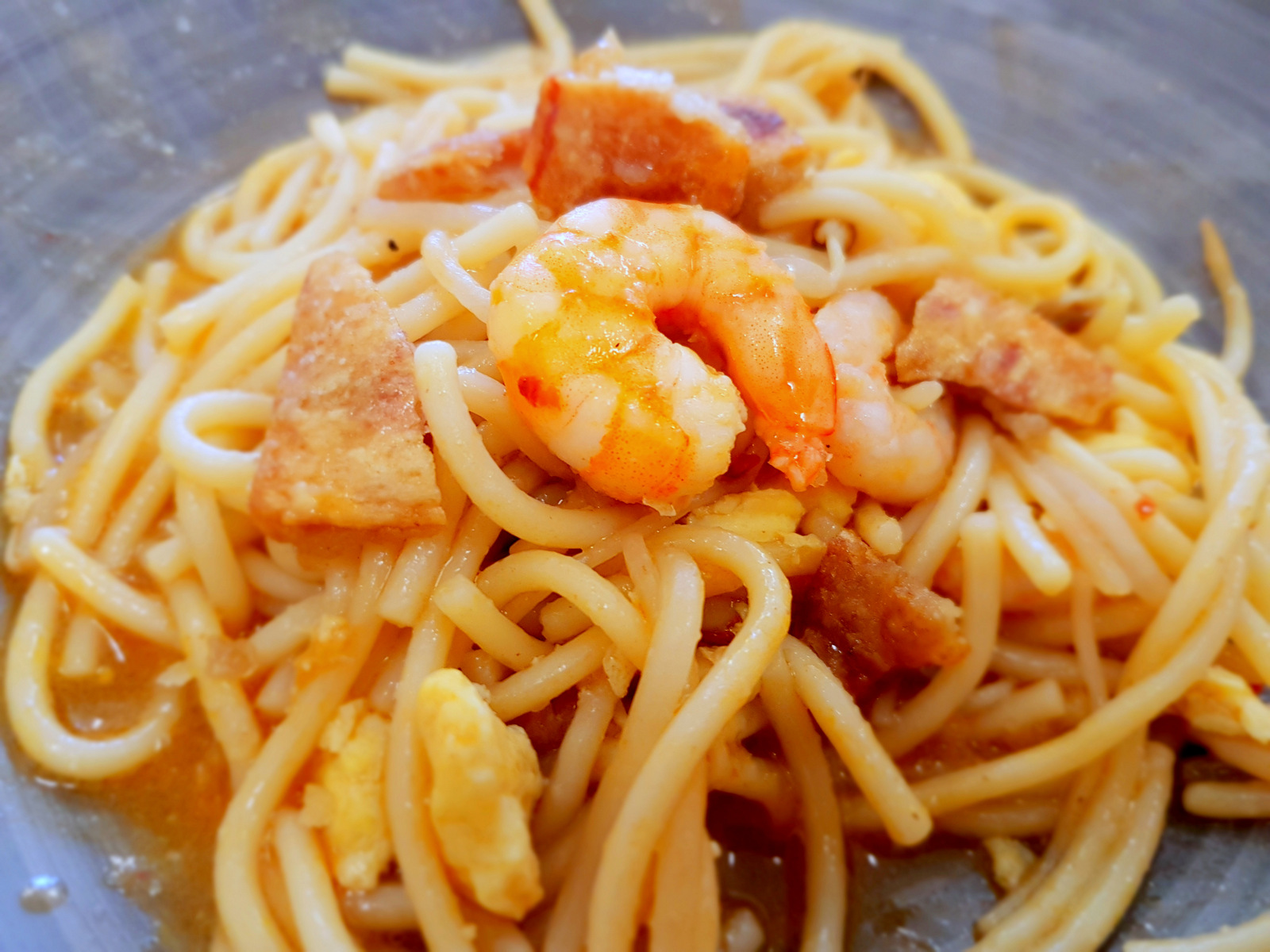 Filipo left for home a happy Italian because he got a decent taste of Singapore food but I was very insistent that whatever he tasted was a far cry from what proper Singaporean hawker food is like…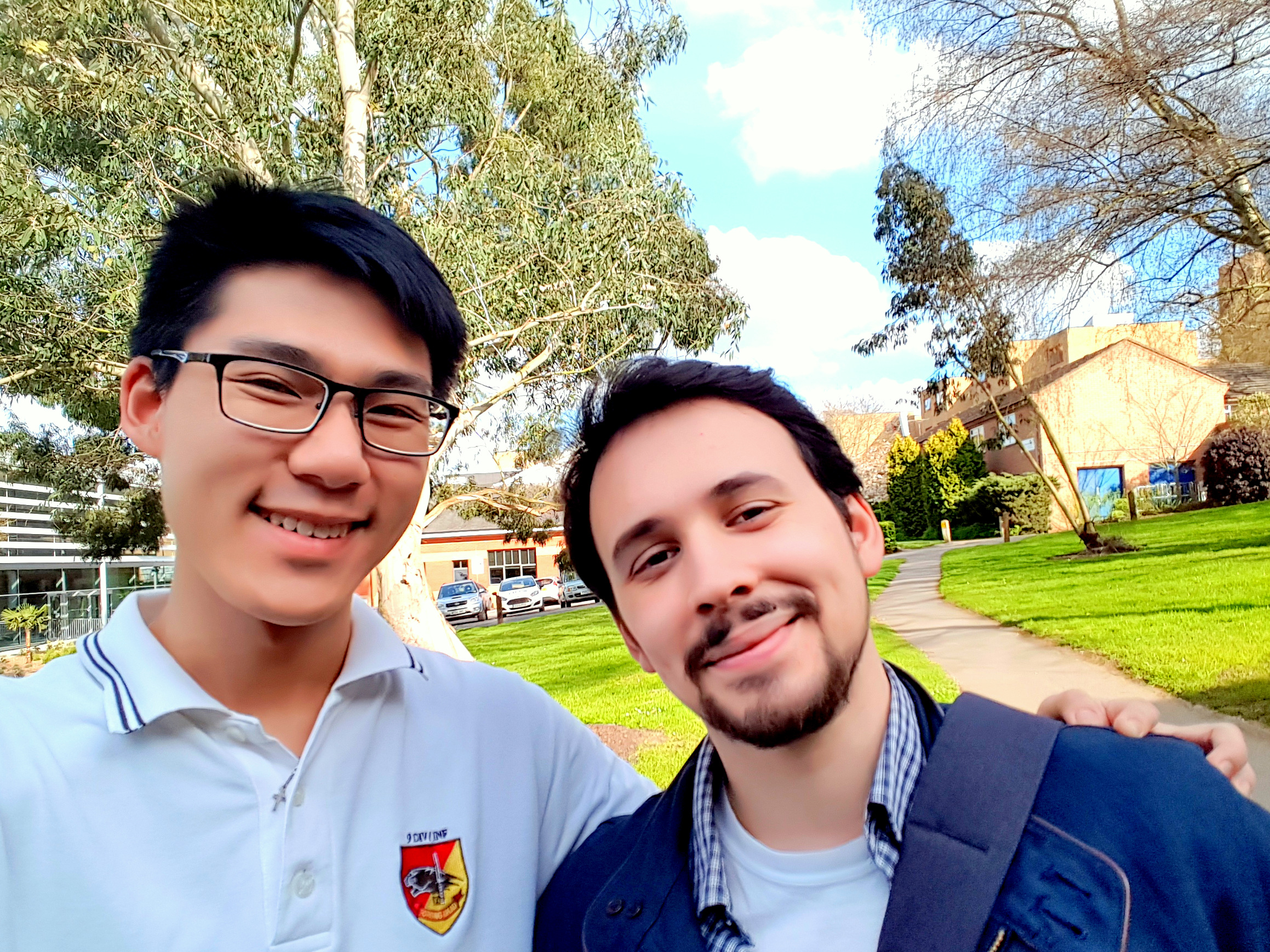 I wasn't done with my kitchen adventures just yet because I invited another special guest over on Thursday for something different. This time it was Beef Noodles Soup (or bee hoon rather). Wasn't confident in doing the "dry" version so I decided that preparing a proper Beef soup was the best thing to do. Again, to ensure the meat was tender, I needed the soup to be slow-cooked for at least 2 hours. That meant I had to start preparing immediately after having breakfast. In this soup was beef, mushrooms, onions and of course the wonderful star anise! The final one to be added into the soup was the beef balls (from the supermarkets), which are quite different from the chewy ones we're used to in Singapore. Perhaps that's another reason why the soup flavour wasn't as strong. The soup was then added into the beehoon which also had beansprouts. The missing ingredient this time was salted veggie, which is apparently very important!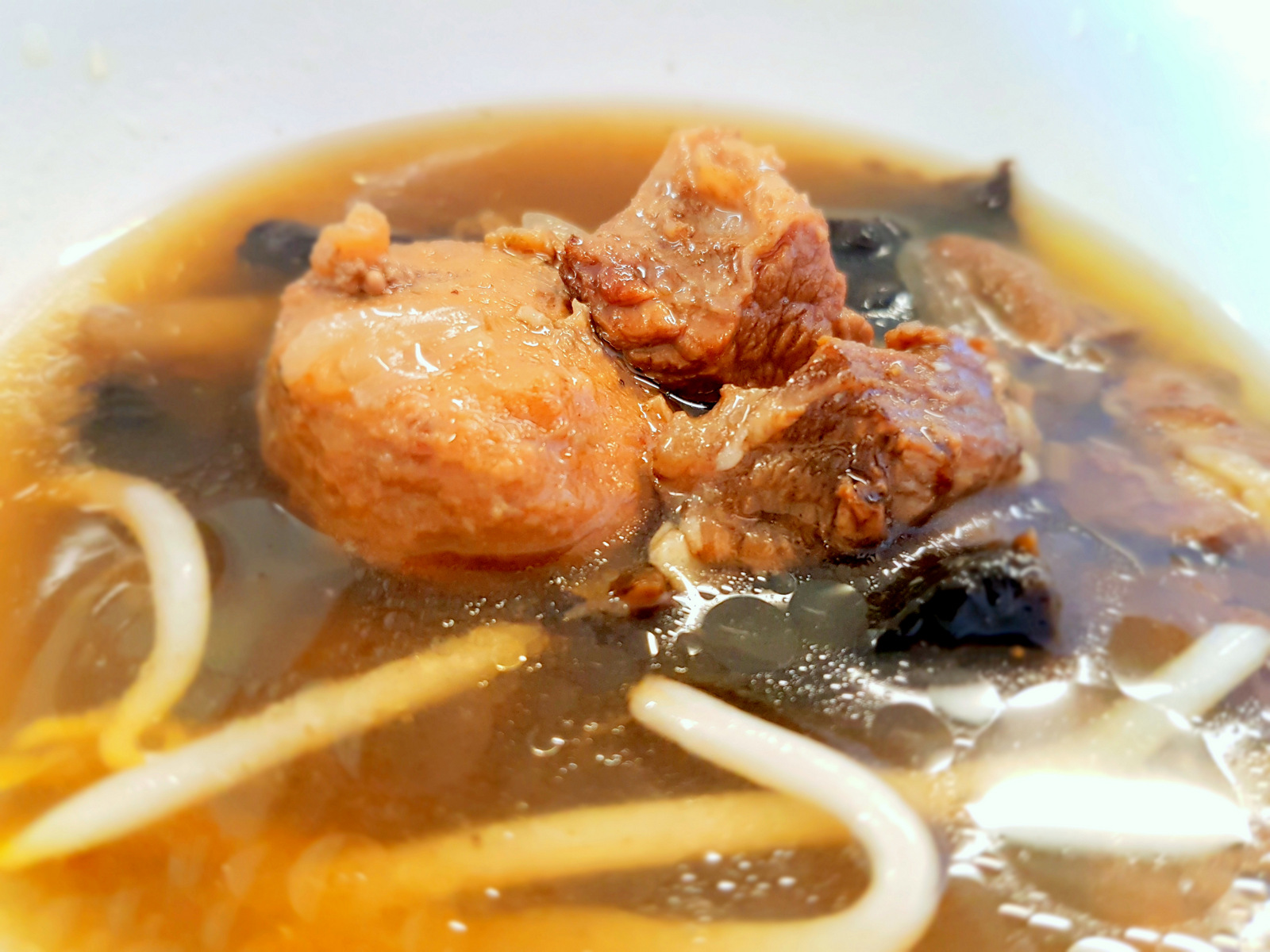 There was so much beef and mushrooms that the beehoon looked like they were completely submerged. I should also point out that mushrooms don't usually feature in this dish at the hawker centres back home but I just thought maybe it could add a bit of extra taste. Overall, it had a local flavour and was decent but for some reason, I wasn't too satisfied with it. I attribute it to the fact that I completely forgot to have a bowl of the beef noodles in Kovan before I left and I really super duper miss it now!
The other dish that came with it was Curry Vegetables, one that's usually seen at the Cai Peng stall a.k.a economical mixed vegetable rice stall. This had a mix of all sorts of veggies, from lady's fingers (orca), long beans as well as chinese cabbage. It's hard to tell from all the curry gravy though. I'm not usually a big fan of this item at the stall but I figured that curry veggie is something that's quite a local thing and I do my own take with whatever vegetables I have left rather often. All you need is curry powder, that's readily available! Then it comes back to the coconut milk and milk dilemma again. Here it is looking like a mess as all Cai Peng dishes do: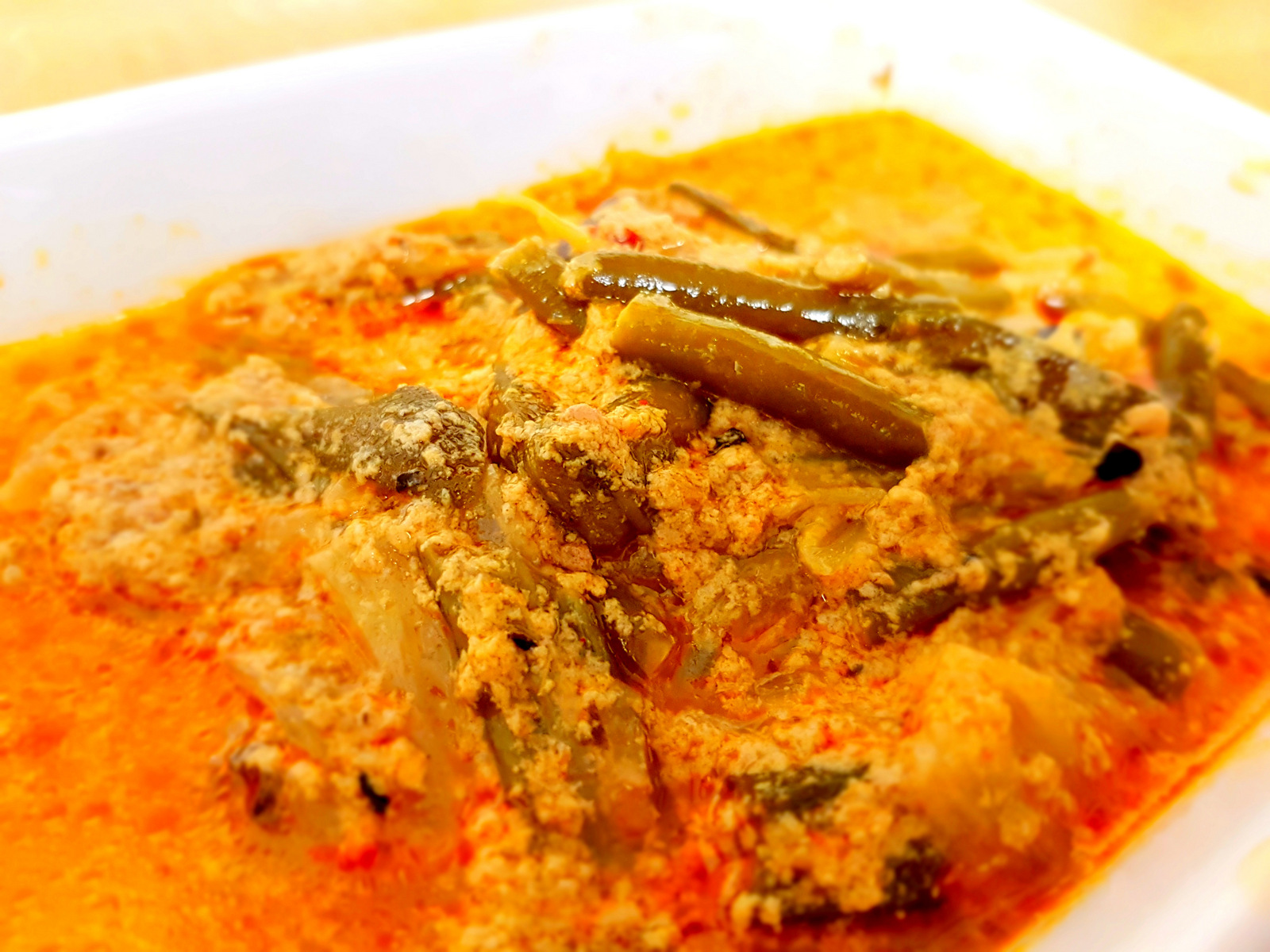 My special guest that Thursday was Becky, VP Activity at the Student Union. Singapore dishes are not easily found outside of Singapore unlike Hong Kong, Thai and Indian food. So it's always fun to give my friends a tiny little taste of Singapore. I usually accompany the meal with a crash course about Singapore trivia, including my favourite topic: Singlish! It seems everyone outside of Singapore is intrigued by Singlish and that's something I absolutely love telling people about. It's what makes Singapore uniquely Singaporean 🇸🇬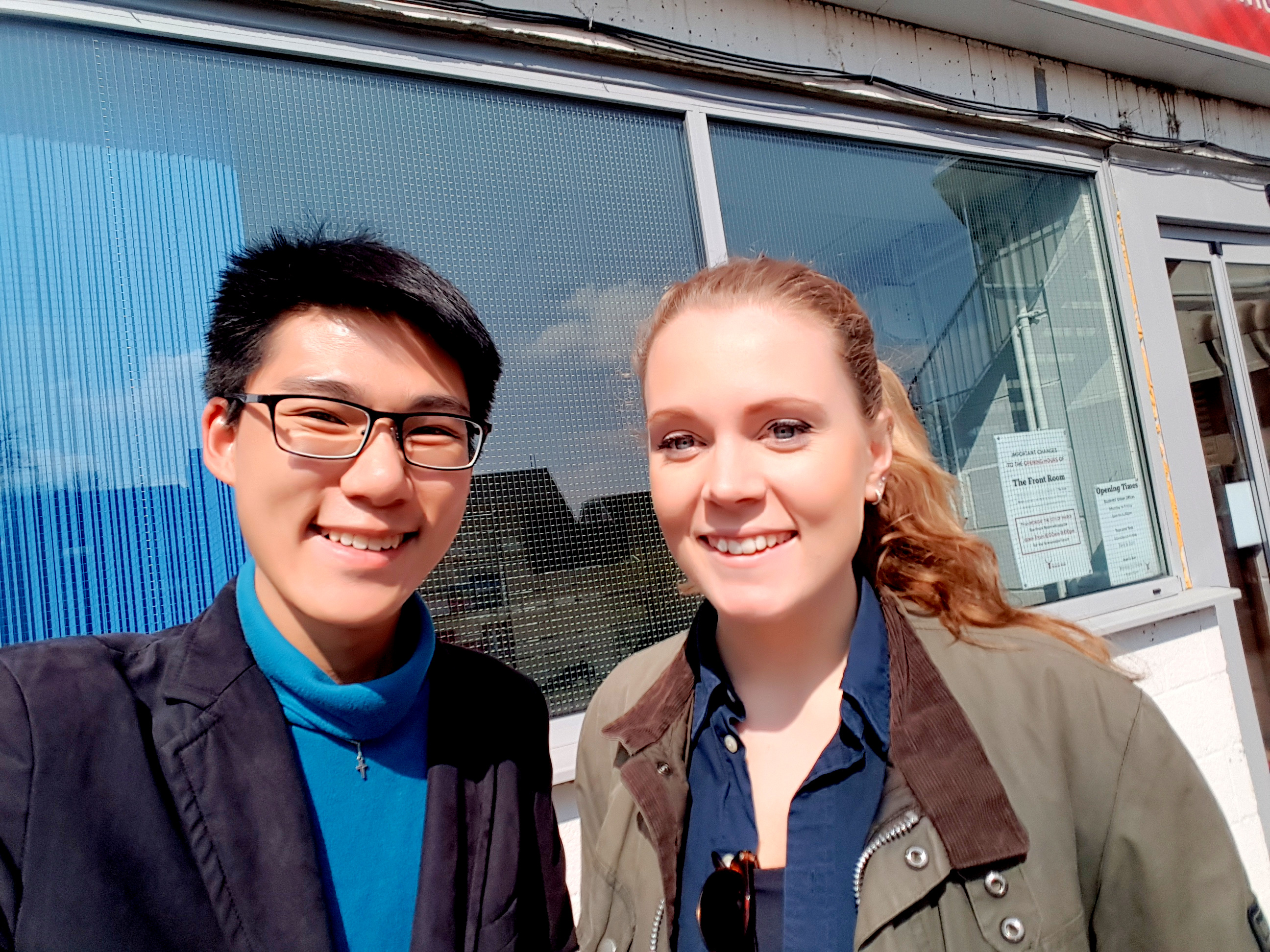 If you thought that was it… you're wrong because there's more! A good number of my housemates had left for their holidays but the usual "suspects" in the kitchen aside from me were the 3 guys from China. I suggested that we should prepare a feast that Saturday, something we should have done way back in September. At the end of the feast, we decided we should do this more often, when our other housemates would return from their 3-week long vacation! We each prepared 4 huge dishes and I added an additional pot of vegetable soup.
My dish is known in Teochew as Tau Yu Bak, which I think translates to Soy Sauce Pork. My love for slow-cooking my meat dishes meant this one sat on the stove for a good 4 hours. It's an overload of potatoes, mushroom, pork and hard-boiled eggs. Star Anise was again the small but important ingredient. The slow-cook process is crucial to this too because it gives the meat time to soak up all the soy sauce. I added a little bit of wine to it when I was browning the meat at the start too to give it a little boost in flavour. The gravy preparation starts off with caramelised sugar actually, something I picked up from my mum. It involves heating up sugar in a hot wok/pan before adding water to it. Of course, if the gravy is not dark enough, you'll need to add some dark soy sauce to give it colour. Here's the product of 4 hours of slow-cooking: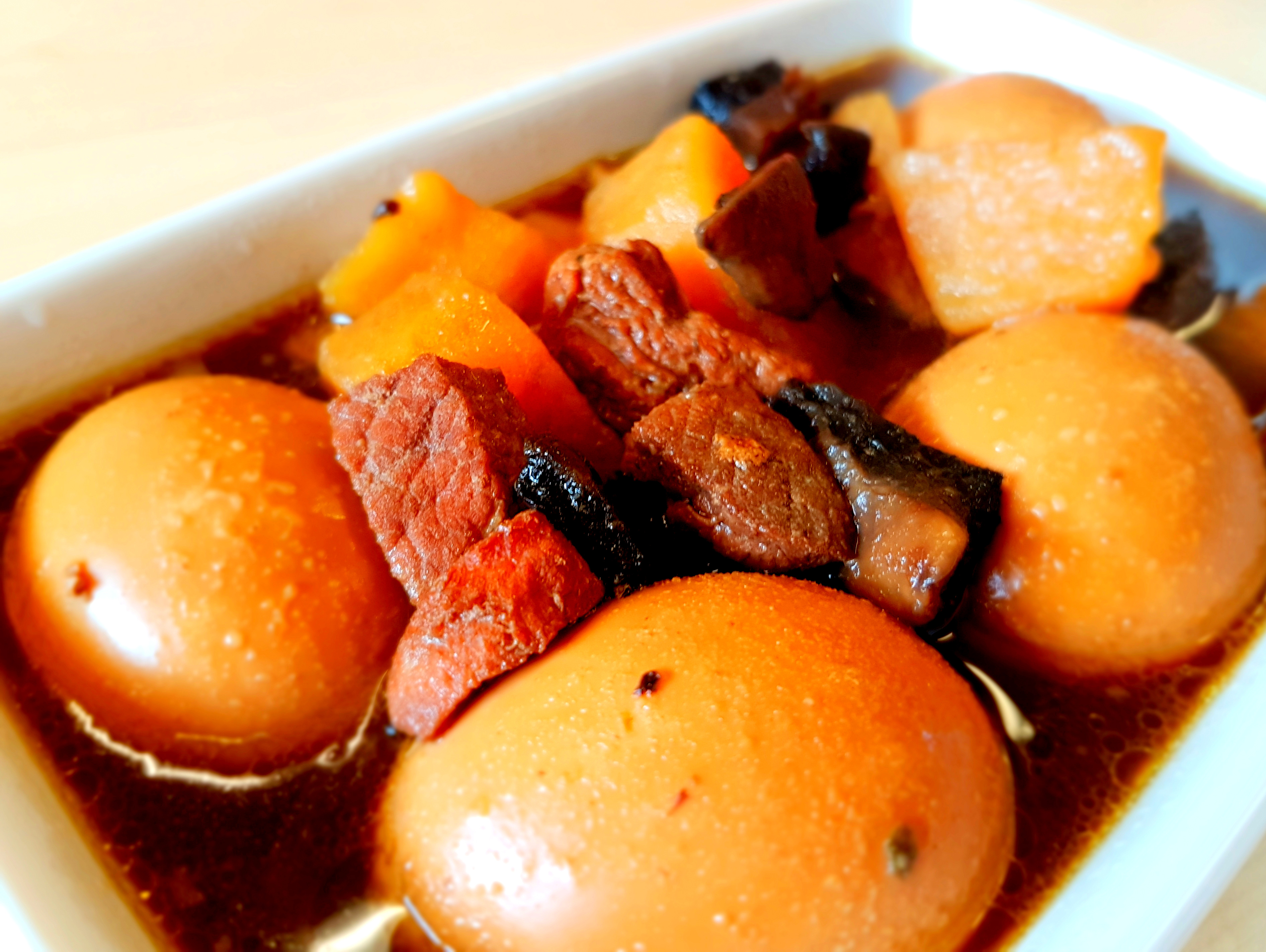 Prepared by the other guys, this here is Soy Sauce Chicken: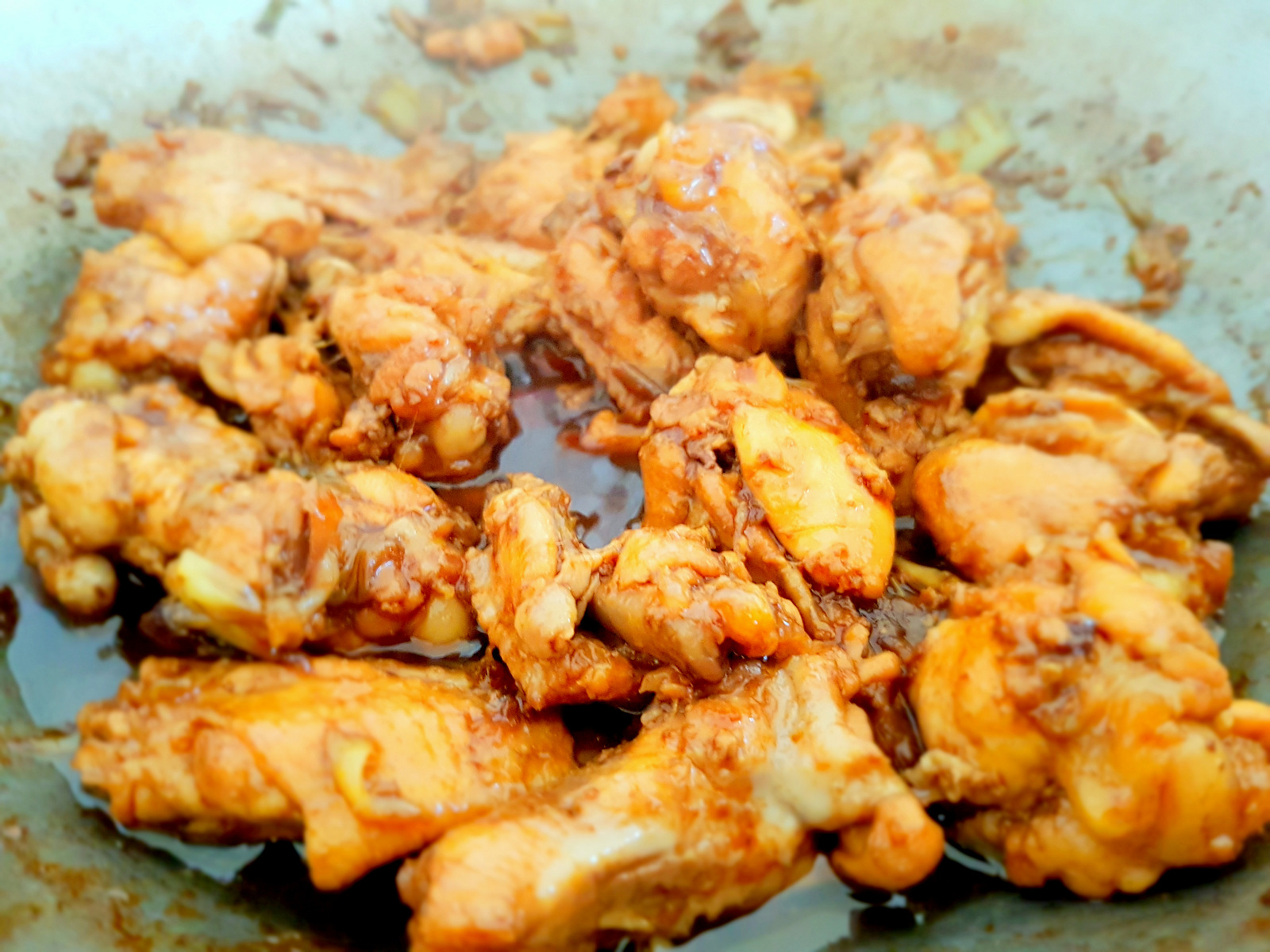 While this is a Vegetable Mix dish which has Brinjal (known here as aubergine), Potatoes (lots of it) and capsicum. A very sweet and tasty yet also savoury dish!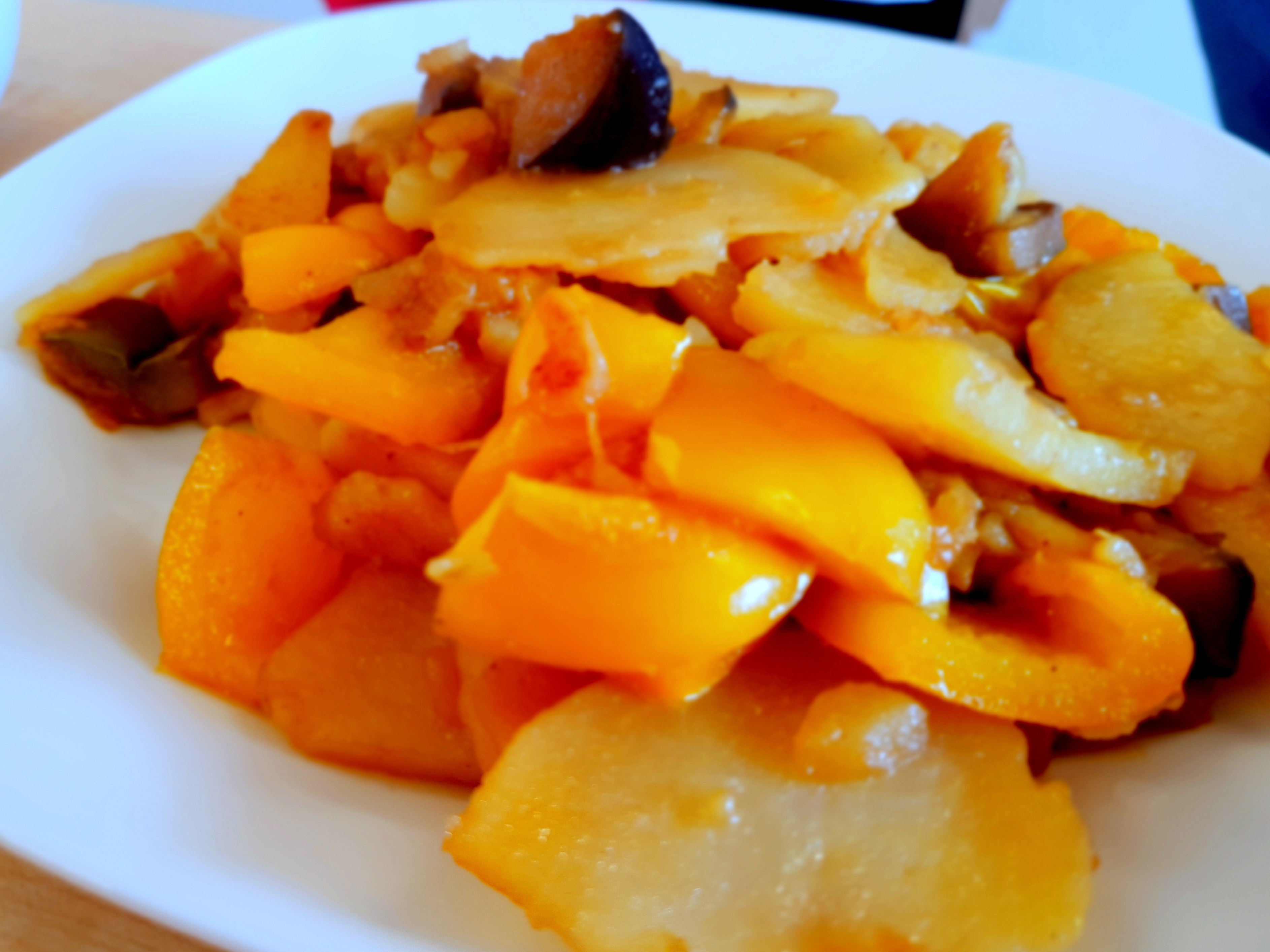 You must be wondering what happened to the 4th dish and where's the soup? Well, it turns out we were too hungry and tucked in immediately after this photo: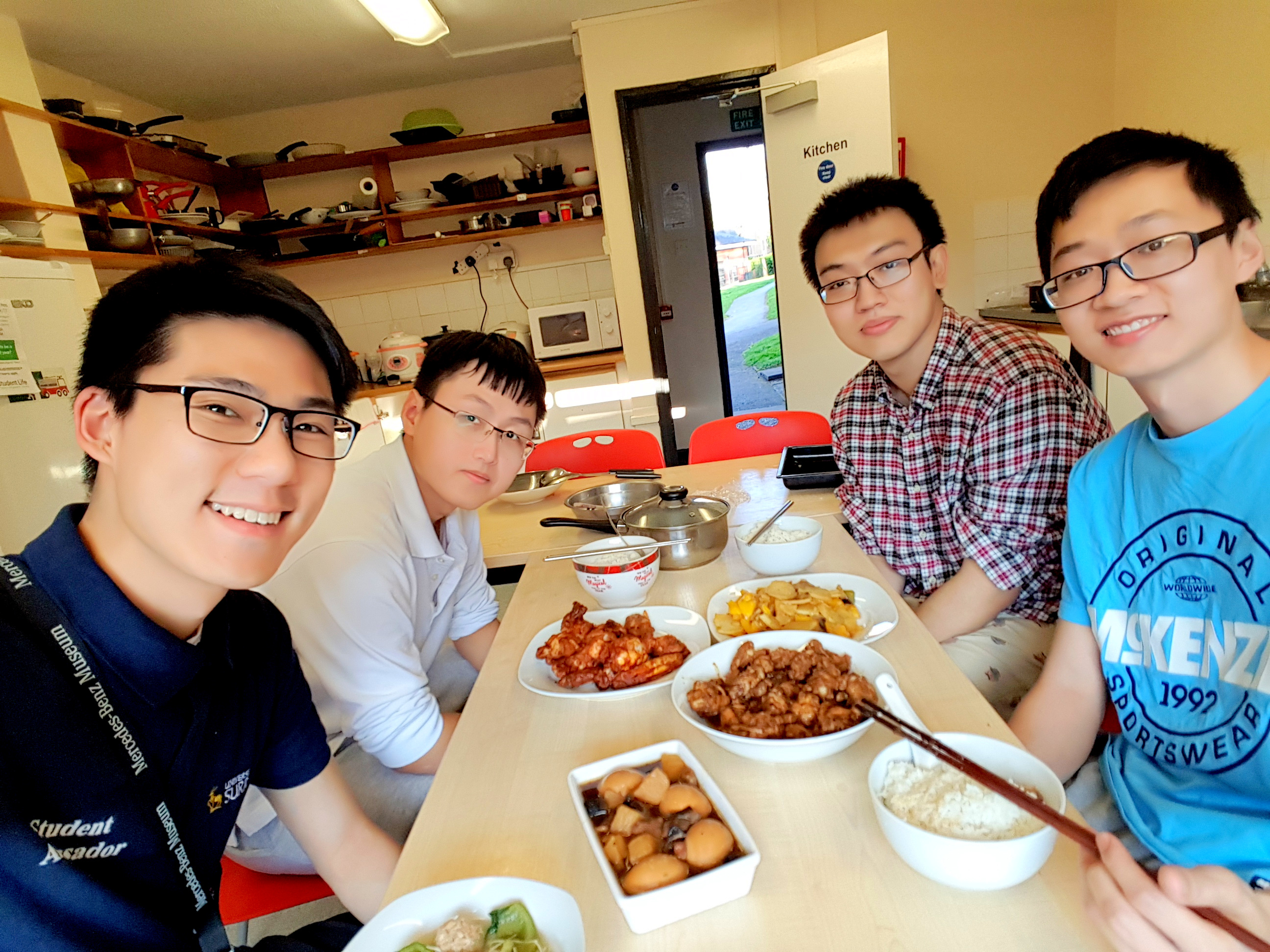 You should notice that each plate of food was filled to the brim so that was A LOT OF FOOD!
Well, that's it then. There's just too much food in this post, I'm getting hungry again even though it's late at night 😋 I'm just going to try and sleep it off 😴
Anyway, it's already Week 3 of the Spring Break! They always fly by in a flash don't they? I remember going on a full 4 week holiday when I was exchange some years back and it was the fastest 4 weeks ever. Back then, there was no research work to worry about so I just had as much fun as I could travelling across 13 cities in Europe. I guess it's always about making time for travelling and you tend to want to do that more during your undergraduate years so if you're on exchange or doing your undergrad studies, I highly encourage you to explore when you've got the chance to. Just remember to stay safe wherever you go. Don't do crazy stuff like climbing cliffs when they say "no climbing"!
Next up will be a couple of posts from my short little trip to the Netherlands from Week 2. I'm going to split it up into 2 posts because I covered a lot of ground while there and there's a good story worth telling in each post so until then…
God bless you! 🌈
Ben