In this month's roundup we'll be exploring the new features introduced by Instagram, Snapchat, Facebook and Twitter. Let's get started!
Instagram – Face filters and new Stories options
Instagram are continuing the process of ensuring their Stories platform has the features to compete with rival Snapchat. Midway through May, Instagram released 'face filters', which, like Snapchat filters, interact with your facial features. For example, if you select the koala ears filter, a pair of koala bear ears will appear on top of your head and twitch as you move your eyebrows. Some of the filters can be used with a friend too, just like Snapchat filters. There has been an initial release of eight filters, but hopefully more will be introduced as time goes on!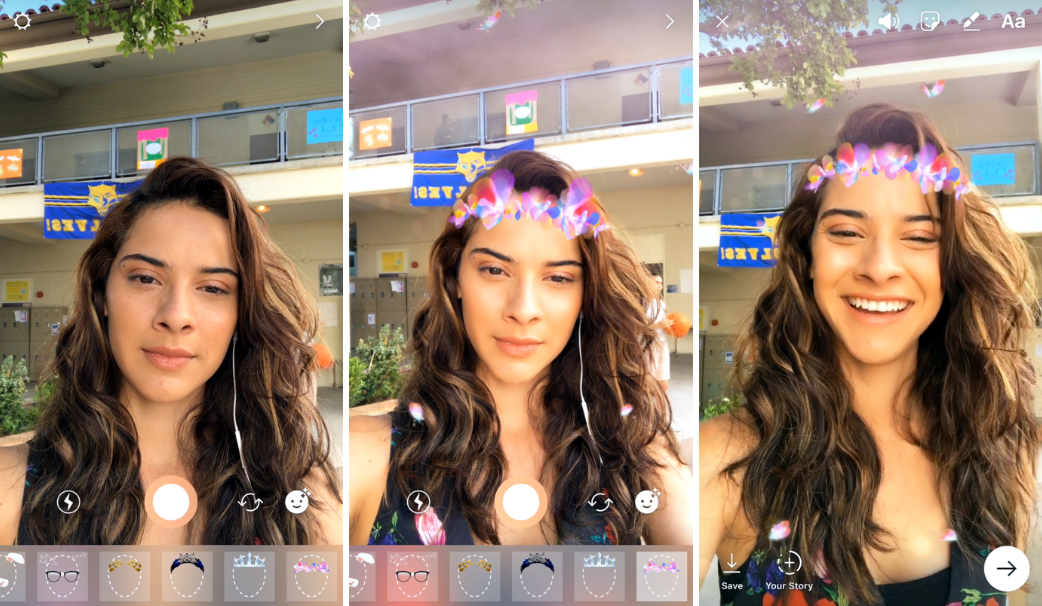 Does cropping photos from your camera roll to send in Instagram Direct cause you endless annoyance? If so, I've got some good news for you! Instagram have introduced both portrait and landscape orientations, which mean cropping your pics in Direct will become a thing of the past. In the same announcement, they have also added support for links within Direct. This means that you'll be able to preview links to websites whilst in your message thread, and also see links for phone numbers and addresses. The links feature is available now on both iOS and Android, while the orientations feature is on iOS and will roll out to Android soon.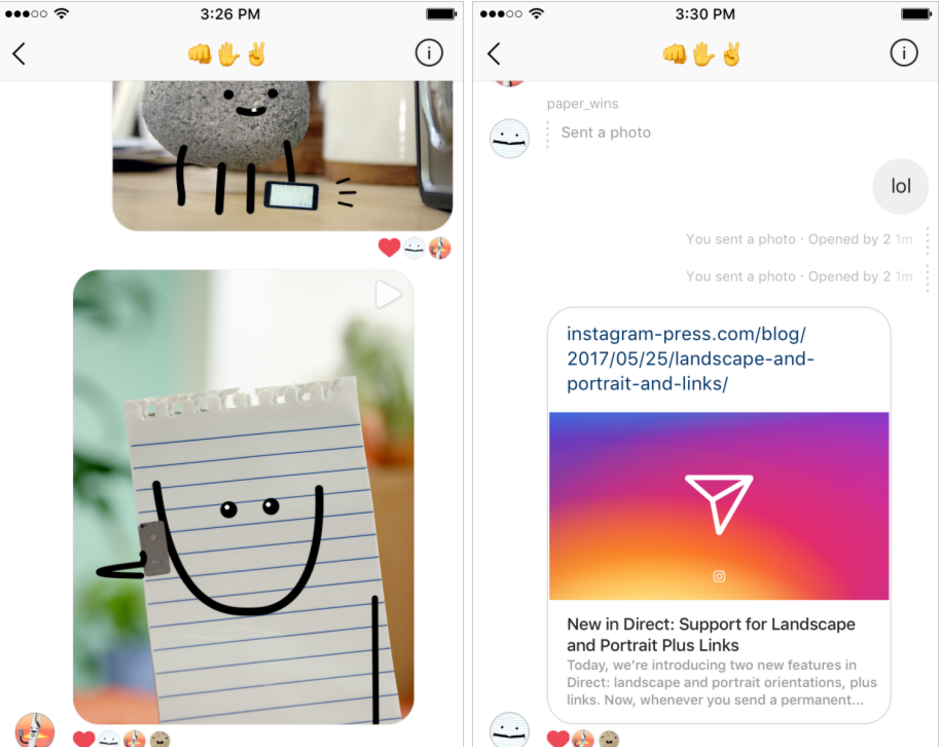 Our final Instagram update is the introduction of hashtag and location stories to Explore. At the top of the Explore page, you'll see a new story ring with things happening in your location. Images/videos get added to the location story when people use the location sticker in their content. Similarly, when you search a hashtag in Explore, a story containing content that has used stickers with that hashtag will appear in a story ring at the top of the page. The location stories are available on iOS and Android, and hashtag stories will be rolling out in the coming weeks.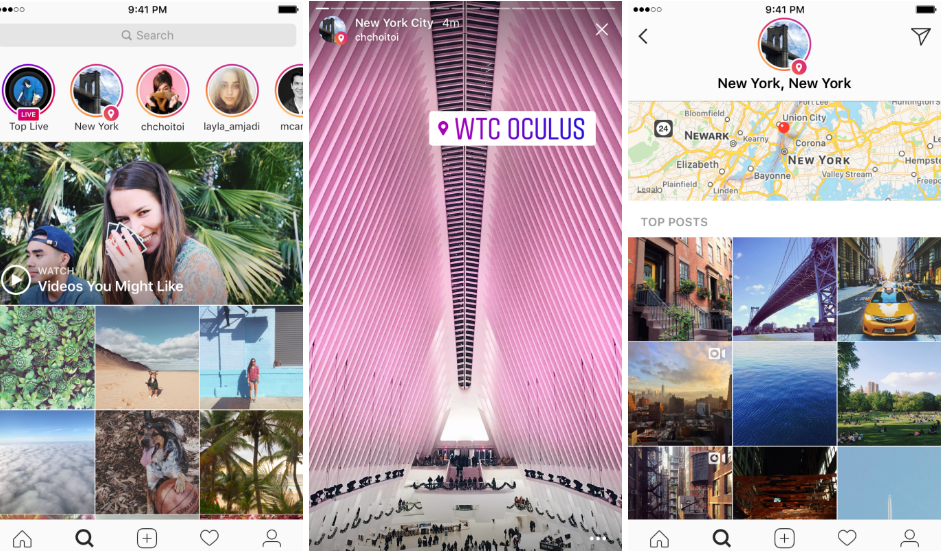 Snapchat – Custom and geolocation stories
In a bid to differentiate Snapchat Stories from Instagram's Story offering, Snapchat have added the ability to create custom stories. To create your custom story, just tap the 'new story' button at the top right hand side of the Stories screen. You can then name your story, choose who can add snaps to the story and who can view the story. You also have the option of setting a geofence for the story. This means that Snapchatters who are in the specified area or who have recently left that area can add to the story and see who views the snaps they've added to that story. Watch the video below for an overview of how custom stories work.
You may create up to 3 custom stories at a time, and the entire custom story will vanish once no new snaps have been posted in 24 hours.
There have also been a number of smaller features introduced in the past month, including the eraser tool, limitless snaps and looped videos. The eraser tool does what it says on the tin – when you take a snap, simply click on the scissors tool, choose the star icon and swipe your finger across whatever you want to delete from the picture and vóila, it's gone! To make a snap limitless, click the stopwatch icon and choose the 'no limit' option. After you've taken a video, you can click the loop option to make it loop endlessly or play once. If you choose the limitless or looped options on your snaps, they will play until the user clicks out of them, after which point they will disappear (unless it's in your story, where the normal 24 hour time limit still applies).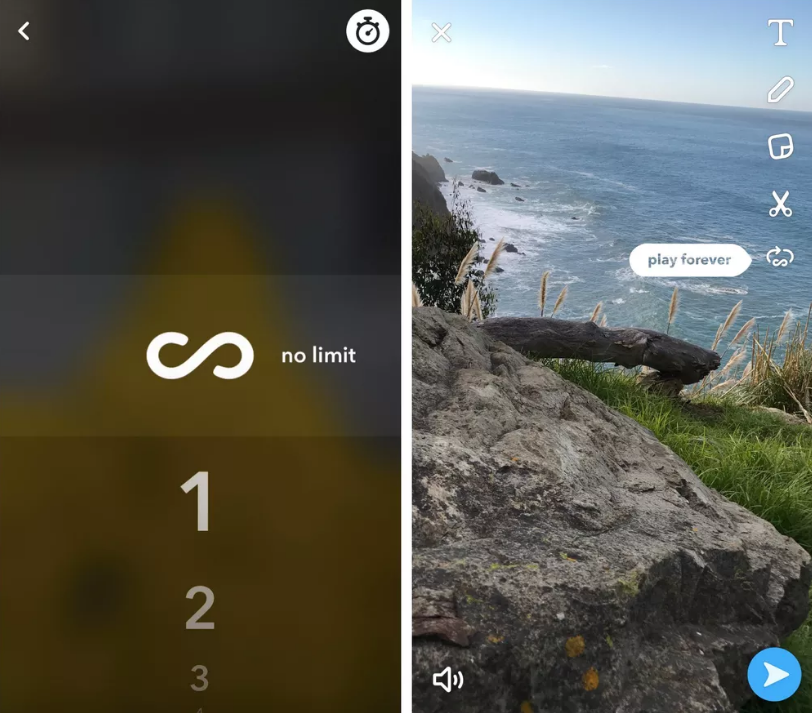 The last piece of exciting news is that Snap Inc have purchased a drone making company. With the company having already expanded into making wearable tech in the form of Spectacles, it would not be unreasonable to assume that the next step for Snap is to venture into flying hardware. We're certainly excited by the possibilities that a Snap drone could offer – imagine the Snapchat Stories when you have an eye in the sky to capture a seaside sunset!

Facebook – Games in Messenger and new features in Facebook Live
Chatting to someone on Facebook Messenger and don't know how to liven up the conversation? How about suggesting a game? You can now play a number of games in Messenger, including multiplayer games such as Words With Friends. Depending where you are in the world, there are up to 50 games available to play, and you can track your progress on the leaderboards or play in tournaments with other Messenger users.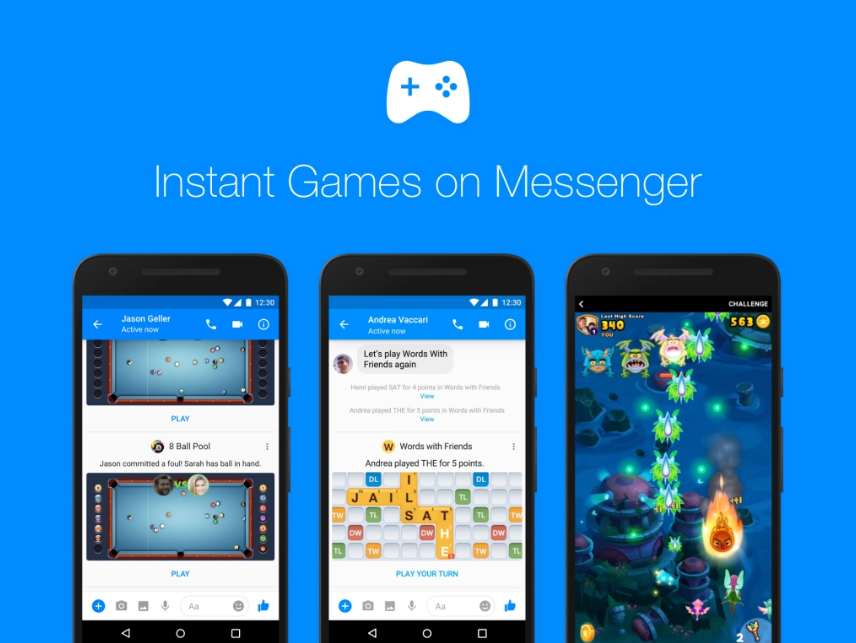 In terms of live-streaming, Facebook have this month introduced two new features. Firstly, you will now have the ability to start a direct conversation via messenger about the video you are watching with a feature called Live Chat With Friends.You can discuss the video with someone who's already watching, or invite someone who isn't tuned in to talk about. This feature is currently being tested in select countries on mobile only, with the aim of making it more widely available by the end of summer.
Posted by Facebook on Monday, 22 May 2017
The second feature is Live With, which allows you to invite a friend to join your live stream. They will show up on the screen alongside you, in either portrait or landscape mode. All profiles and Pages on iOS now have the option to invite a friend to guest star in their live vid. To invite a guest using Live With, just select a person from the Live viewers list or tap on the name of the person if they've left a comment in the stream. The person then has the opportunity to accept or decline the offer to join your live stream.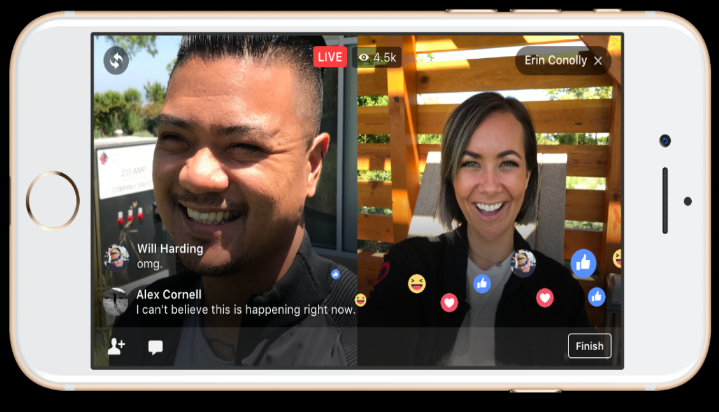 Twitter – Filters for spam
If you hate getting spammy DMs on Twitter, then we have great news for you! This month, Twitter have announced that they are adding a filter which directs messages from people you don't follow to a 'requests' folder. You can then review the messages and choose whether to accept them or delete them. If you delete them, the other Twitter user won't be informed, so no need to worry about hurting anyone's feelings! This filter is now rolling out to users who have their accounts set to accepting messages from anyone.
If you've opted-in to get Direct Messages from anyone, messages from people you don't follow will go into requests. https://t.co/n1qasb7JZC pic.twitter.com/HQY20T5f6t

— Twitter (@Twitter) May 30, 2017
In other news:
Check back next month for all the latest in social media news!