February elicited mixed emotions from social networking users; sometimes these mixed emotions were even directed at a single app! From outrage at the new Snapchat update to elation at the introduction of creator analytics on the same platform, read on for more updates about all your favourite social channels.
Snapchat – New update tanks, but creators finally get in-app analytics
Snapchat's new update, which was meant to boost engagement with the app, has undeniably backfired. The app is now split into two sections. All of your friends' content (including stories) is accessed by going to the "Friends" screen to the left of the camera, while content from Publishers (such as celebrities, news/entertainment publications and brands) is on the "Discover" screen to the right hand side.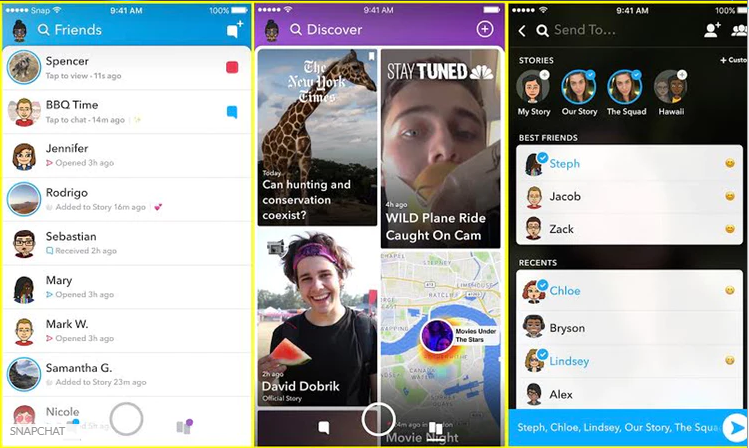 This update has caused outrage amongst many of Snapchat's users, with over 1.2 million of them signing a petition to reverse the redesign. Once-avid Snapper Kylie Jenner has even voiced her displeasure at the changes, asking fans if she's the only one that doesn't bother with the app anymore. After her tweet, shares in Snap plummeted 6% in a single day, which translates to a loss of roughly $1.5 billion in monetary terms.
In response to users' concerns, Snap Inc have promised that they will make a few changes to the Friends and Discover sections in order to address concerns. They'll want to make these adjustments fairly quickly, or they may end up losing even more of their market share to Instagram Stories
It's not all bad news for Snap this month though; creators have rejoiced at the introduction of analytics to the app, and bringing GIF stickers to the app's sticker picker (following in the footsteps of Instagram Stories) has gone down well with the Snapchat community. One downside is that the analytics are only available to those who make 'Official' stories (such as brands or creators with large followings, like celebrities or social media stars). We have yet to see if the insights will roll out to more users in the future, but we'll keep you updated!
Instagram – Screenshot alerts in Stories and carousel ads
Your days of anonymously creeping on people's Insta stories may be coming to an end with the latest feature that's being tested within the app. When taking a screenshot of someone's story, some users have had a message appear on screen saying that the other person will be able to see that they've taken a screenshot. The user won't get a direct notification about the screengrab, but a shutter icon will appear in the story insights next to the account that the screenshot was taken by. There is a way to get around this at the moment though; you can go undetected if you put your phone in airplane mode before taking the screenshot.
chose insta stories over snapchat stories cos of the screenshot thing but…. whats this instagram pic.twitter.com/tOi2rP7cWb

— 뿌까됴 (@dyomongi) February 9, 2018
Advertisers got a boost through Stories this month, when Instagram began offering the chance to purchase carousel ads. Selected brands can now have an advert which is a mini-story in itself, featuring up to 3 pieces of content (image or video). This will make it easier for advertisers to tell a bit of a story in their advertisements, and they can use the usual Story tools such as stickers, links and drawing instruments. This form of advertising is only available to select brands at the moment, but will be rolled out to all advertisers in the future.
Facebook – Testing a Downvote button and updates to desktop Stories
Facebook users have been asking for a 'dislike' button for years, and although this still hasn't materialised, the latest function being tested may satisfy their requests (to an extent). The social media giant has begun testing a 'downvote' button for comments, as seen below.
A quick video of what the #FacebookDownvote button looks like for me. Coming up next, a video of putting it into action thanks to a willing volunteer. #smm #socialmedia #socialmediamarketing pic.twitter.com/LlJG8fVwdA

— Christina Hudler (@hudlersocial) February 8, 2018
Once a user downvotes a comment, they are given the option of choosing why they took that action. The options given include: offensive, misleading, and off-topic. The downvoting process is geared towards feeding back to Facebook rather than the user whose comment is being downvoted, and the amount of times that a comment has been downvoted will not be shown publicly.
The feature is currently being tested on a small number of US-based public Pages, and it has yet to be seen whether the company will choose to roll out the downvote button to more users in the future.
Something Facebook has rolled out is the ability for users to edit their photos before uploading them to the Stories via desktop. While this has been available in the mobile version for a while now, it took its time coming to the desktop version. Users can now click on the 'edit photo' button in the bottom left hand corner when uploading a picture to Stories from their PC. This allows the user to add stickers, text and drawings on their photo before publishing it. However, as Facebook Stories has failed to take off in the same way as rivals Snapchat and Instagram stories, this update may be fairly meaningless to the majority of Facebook users.
Twitter – Crackdown on bulk tweeting
Twitter announced that they are taking a much harder line against how developers use automation in order to bulk-tweet, like, retweet or follow from multiple accounts. Users can still tweet from one account and have their other accounts retweet it en-masse, but can no longer use aggressive/high-volume automated retweeting. There are exceptions to this though, including situations where a tweet is of broad community interest for example a weather warning, an emergency or other public service announcements.
The hope with this move is to shut down any attempt to artificially influence a particular topic or hashtag. It's no surprise that Twitter have decided to take this action, especially since bots were accused of influencing the 2016 US Presidential Election and the Brexit Referendum.
In other news:
Facebook

bans

ads for cryptocurrencies

Instagram tests

regram-ing

posts to Insta Stories

Tweet frequency has

increased

with the introduction of 280 character limit