We take a look back at just some of the recent developments in the social media world and how they might impact your approach to social.
GoPro and Periscope integration
In the world of social media, Periscope is one of the relatively new kids on the block. It is a live streaming app, which, according to their website states that it lets you "explore the world through someone else's eyes." Early this month, Periscope announced something that will make this even better – an integration with GoPro. On their blog, GoPro stated:
Periscope let's you see what's happening in the world right now, unedited and unfiltered. Integrating GoPro offers Periscope broadcasters a new tool to help tell their stories more creatively, while GoPro content creators now have a new platform and audience with Periscope and Twitter to share their experiences, live!
Live broadcasting is set to be a huge trend in social media for 2016, and this will only enhance this experience. It could entirely change how events and products are marketed, providing an authentic, live experience.
New Twitter customer service tools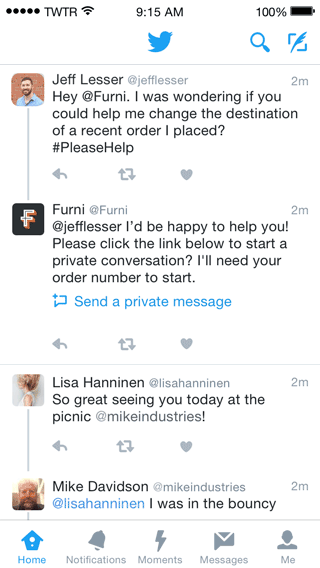 Over the past few years, Twitter has become a hub for customers to voice their opinions and ask their queries – and they increasingly expect a fast turnaround! For some companies, up to 80% of their inbound customer service enquiries happen on Twitter – however depending on what you read, anywhere between 50-85% of these go unanswered.
Twitter is looking to make it easier for brands to deal with customer service issues on the site – those that do customer service well on Twitter can see higher levels of engagement and brand advocacy.
They also announced a new feature Customer Feedback that enables people to privately share their opinions with a business after a service interaction. This aims to provide a structured way to better measure and improve the customer service experience.
Image Credit: http://ow.ly/YTdB8
#RIPTwitter – a 'new and improved' timeline
If you were on Twitter at all on the 6 February, you might have noticed that #RIPTwitter was trending. Users worldwide feared a new feed would replace the current reverse-chronological timeline – Buzzfeed News reported that these changes would occur 'as early as next week'. Needless to say, users weren't happy.
Twitter CEO Jack Dorsey had to step in, and through a series of tweets allayed fears of a new timeline.
However, days later Twitter announced a 'new and improved timeline' that would surface the tweets that people are most likely to care about.
They stated on their blog that:
Every day, millions of people come to Twitter to discover information about the topics they're most passionate about — but we know that it can be easy to miss the best Tweets from people you follow because there's so much happening on the platform.

We want to make it even easier and faster for people to discover and catch up on what's happening right now… Upon opening Twitter, the Tweets they're most likely to care about from the accounts they follow will appear at the top of the timeline. The rest of the Tweets will then be displayed directly underneath in reverse chronological order, like always.
InstaSwitch
If you've ever needed to look after multiple Instagram accounts, the inability to switch between accounts may have been off-putting – and potentially limit your usage of one of these accounts. In February, Instagram accounted that you can now easily switch between multiple accounts without having to log out and log back in.
Private comment replies on Facebook 
Have you ever seen a comment on a Facebook post on your company page and wished you could easily, directly reply as your page? Now you can. Facebook introduced functionality for pages to privately reply to comments on their posts. It seems both the major players are looking at ways to improve their customer service functionality. This is a fantastic addition, allowing brands to take the conversation offline themselves.
Facebook Reactions are here
In our last blog, we announced that Facebook had finished their testing phase, and that Facebook Reactions would soon be on their way. Towards the end of the month, Facebook began to roll them out, globally.

If you've been on Facebook over the past week, you'll most likely have noticed the addition. To add a reaction, hold down the Like button on mobile or hover over the 'Like' button on desktop to see the reaction image options, then tap either Like, Love, Haha, Wow, Sad or Angry. We're yet to see whether these new ways of interacting with content will lead to changes in the Facebook Algorithm – but I'd say it's highly likely.