December was an exciting month in terms of developments in the world of social media! Read on for the latest innovations being touted by all the major social channels…
Instagram – Highlight stories/story archives and follow hashtags
Instagram have introduced a number of new features in December which could be of interest to users. The first of these is Stories Archive. The app now automatically creates an archive for all the images and videos that you post to your story. You can opt out of auto-archiving in your settings, but it's a great way to save your story content that would have otherwise been lost after 24 hours. You can access the archive by clicking on the clock symbol to the right of your username at the top of your profile.
Two new tools to help you hold on to your favorite Instagram moments: Stories Highlights and Stories Archive: https://t.co/KOTqFp91Cm pic.twitter.com/YDhpiNzBfc

— Instagram (@instagram) December 5, 2017
The Story Archive goes hand in hand with Stories Highlights. Highlights allows users to pick their favourite snaps from their stories and have them permanently available to view on their profile. There is a special Stories Highlights section on each user's profile below their bio, where you can view their chosen images/video clips. To add clips to your highlights, simple click into your Story Archive and select the pictures or video content that you wish to add via the 'highlight' icon at the bottom of the frame (for Android). For iOS users, go into the Story Archive and tap on the ellipsis (…) button, then select which clips you wish to include. You can name your highlights to differentiate between them, and the number of highlights you can have is unlimited. You can find examples of highlights on our Instagram, @uniofsurrey.
The final new feature we're covering from Instagram this month is the ability to follow hashtags. Following a hashtag is just like following a regular user. To start following a hashtag, just type the hashtag into the search bar or click on a hashtag that's featured in a post or story. From there, just click on the 'follow hashtag' button that appears at the top of the screen. Once you follow it, you'll begin to see top posts featuring the hashtag in your feed as well as in your stories.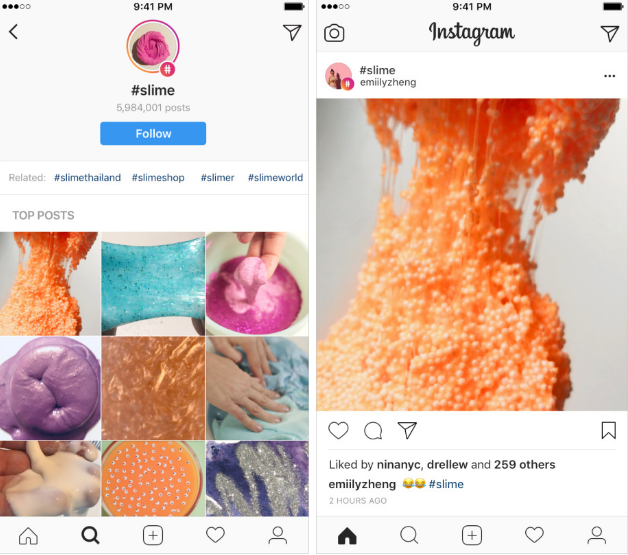 Snapchat – Lens Studio
Have you ever wanted to emulate the success of the person who created the famous dancing hotdog lens on Snapchat? Now's your chance! Snap have introduced the Lens Studio, a desktop app for Windows and Mac where users can create their very own world lenses to share with the Snapchat community. Anyone can use Lens Studio, from brands and developers right through to regular users who just want to try their hand at designing.
Once you finish creating your masterpiece, you'll receive a unique snapcode which you can share with other users. When a user scans this code, they'll be able to access your lens. We're looking forward to seeing what the Snap community comes up with!
Facebook – Snooze and a Messenger app for children
As we reported in our September roundup, Facebook have been testing a new feature which allows you to temporarily unfollow a user for a set period of time. The social media giant has now decided to roll out this feature, which they have named Snooze, to all users.

To utilise the Snooze feature, just click on the ellipsis at the top right corner of a post from the page, group or user that you wish to temporarily unfollow and select 'Snooze'. This will prevent posts from the profile showing up on your newsfeed for 30 days. The page/group/user will not be notified that you've snoozed their profile, and you can reverse the decision at any time.
In December, Facebook also launched a child-friendly version of the classic Messenger app called Messenger Kids. The app is aimed at children aged 6-12 who are not yet old enough to have a Facebook account of their own. The entire premise of the app is based around allowing children to connect with pre-approved contacts who have been selected by their parents. Like in the regular Messenger, children will be able to video call, message via text and use GIFS which have been made age-appropriate. Unlike Snapchat, proactive detection filters have been built into the app in order to prevent users from sharing any explicit or violent content. The face masks available in video chat are also more childlike, for example, a mask which makes it look like you've got crayons stuck up your nose.
The child's parents set the Messenger Kids up via their own profile, and there is an authentication process in place to ensure that they are the parent/guardian of the child. Once they have done this, they can add contacts from their friends list as approved contacts that their child can message/video call on Messenger Kids. The children have the ability to block or unblock any of these contacts. The app works alongside the original Messenger, meaning that adults who the parent approves to connect with the child do not have to download an additional app to contact them. So far, Messenger Kids has only been rolled out in the US on iOS, but if it proves successful it may make its way across the pond. Watch this space!
Twitter – Taking decisive action against hate speech
As of 18 December 2017, users who affiliate with violent organisations via Twitter or outside of the platform may have their profiles suspended. They have updated their rules to include a hateful conduct policy, which prohibits users from making violent threats, using degrading language and inciting harm towards others, amongst other things. In addition to this, hateful images, symbols and language cannot be used within one's profile picture, display name, username, profile header or bio.
We've updated our rules around abuse and hateful conduct as well as violence and physical harm. These changes will be enforced starting December 18. Read our updated rules here: https://t.co/NGVT3qGFvg

— Twitter Safety (@TwitterSafety) November 17, 2017
Twitter hopes that this will help curb abuse on its platform, and follows on from the banning of alt-right troll Baked Alaska and the stripping of the verification ticks on the profiles of alt-right activists Richard Spencer and Tommy Robinson.
In other news: