They say that copying is the sincerest form of flattery, but I'm not entirely sure Snapchat will be in agreement with that sentiment. Throughout this year, we've seen more than a few stories of blatant Snapchat feature-stealing by all of the main social channels; especially in the past few months. I think it's safe to say that Snapchat is being considered a threat, and is forcing the social media world to up its game. 
The start of the Snapchat obsession
Did you know that Facebook actually tried to buy Snapchat back in 2013? 23 year old Snapchat C.E.O. Evan Spiegel rebuffed Facebook's $3 billion offer to buy the fledgling social-media start-up. At the time, Snapchat only had 6 employees. Mark Zuckerberg had obviously already seen their potential and considered them a viable threat to Facebook.
And since then? Well, Facebook has continued to pile on the pressure. If they couldn't have Snapchat themselves, they just needed to mimic their ephemeral messaging features instead.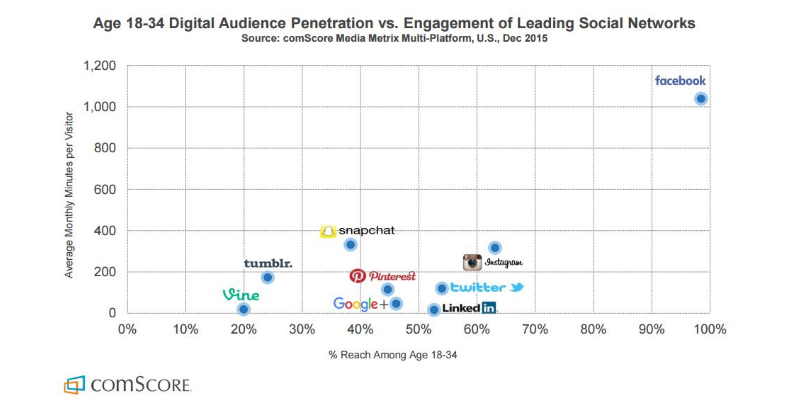 I believe that the Facebook-Snapchat relationship is more than just copycat behaviour. I think it's safe to say that Facebook want to be Snapchat in the eyes of younger audiences (and thereby secure world domination). When you look at the stats, you'd be forgiven for thinking Facebook have already reached that world domination stage. It's by far the most used social channel and racks up the highest average monthly minutes per visitor. Yet Facebook is just not seen as 'the place to be' by younger users; it's where you'll also find your parents (and maybe even grandparents) – and they're just not on Snapchat yet. 

Since Facebook's attempted acquisition, Snapchat has seen considerable growth (and now boasts some impressive stats). When you couple this with just how unique Snapchat's offering is (or was), you begin to appreciate why the other social sites feel threatened.
Copycat behaviours
It's not just Facebook that's been playing the copycat game; the majority of the other social channels have been at it too (some more subtly than others). These feature-steals include…
Snapchat's biggest challenge so far
In my opinion, the biggest swipe at Snapchat was the introduction of 'Stories' by Facebook-owned Instagram back in August 2016. Kevin Systrom, Instagram's co-founder and CEO, even credited Snapchat for developing the format.

But he actually had an interesting take on it. In an interview with The Verge, he stated:
"My thesis is a story is a slideshow format. Just like when Facebook invented the [News] Feed, and every social product was like, 'That's an innovation, how do we adapt that to our network?' You're going to see stories pop up in other networks over time, because it's one of the best ways to show visual information in chronological order."
I hadn't thought of it that way, but it's true. We use hashtags on most of the social channels these days, but they were of course pioneered by Twitter, and as Kevin Systrom rightly said, Facebook pioneered the News Feed.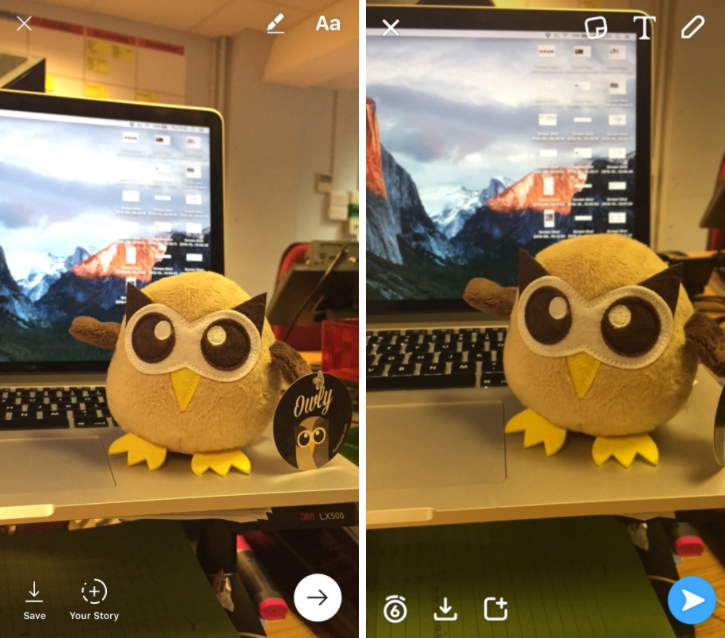 As you can see, the similarity in the designs of the Snapchat / Instagram interfaces is uncanny. At present, the only distinct difference is the ability to set time limits on each frame and add stickers to Snapchat Stories.
Beyond this, the only thing to really set them apart is Snapchat's range of lenses and filters. With Facebook having acquired a couple of facial recognition companies this year, will it be long before this tech makes it way into Instagram Stories too?
If you're looking to take the plunge and get involved in the ephemeral content action, there are pros and cons to each of the channels. In summary, Snapchat has better customisation for now, but Instagram has the potential for wider reach (partly assisted my parent company Facebook); so you just need to make that call on what will work best for you.
Adapting to survive; Snapchat's big challenges for 2017
2016 has been a tough year for Snapchat; I think 2017 will be even tougher. In just a few months, Instagram Stories has racked up 100 million daily active users (that's about ⅕ of its user base). Snapchat is currently attracting 150 million daily active users; so Instagram is well and truly on their tail. The copycat behaviour is also likely to continue; some say that Facebook are looking to move to a camera-first interface, for example.
Snapchat now need to work out how to appeal to older audiences. I've heard Instagram Stories dubbed a 'Snapchat for Adults', and I can see why. Older users often find Snapchat difficult to use, so making it easier for users to learn about their functions could be the key to unlocking growth.
Their next challenge will be to work out how to effectively monetise the platform. Snapchat's younger audience has appealed to marketers, but it needs to get more users engaging with branded content. Likewise, Snapchat must also be able to prove to advertisers its worth through targeting, analytics, and other useful metrics. Let's be honest, Snapchat's analytics are fairly shocking at present; there is very little opportunity to prove any return on investment.
In fact, according to an unnamed executive quoted in Digiday, Snapchat is "a black hole of nothingness" when it comes to disclosing performance metrics that advertisers crave.
However, if Snapchat's to some day overtake Facebook, it's not going to be by playing Facebook's game.
Facebook and Google dominate digital advertising. They aren't just big—they also account for just about all the industry's growth. This level of advertising spend by brands is what Snapchat is also gunning for. Snapchat is reportedly set to bring in around $350 million in 2016, almost entirely through advertising. Their goal for 2017? $1 billion.
What's next?
I feel as though all the social channels could become one big homogenised mass very soon; or could this pave the way for a new and unique social channel (and then the process to begin once again)?
Next up: Instagram rebrands to Snatchap

— Romain Dillet 🙃 (@romaindillet) November 21, 2016